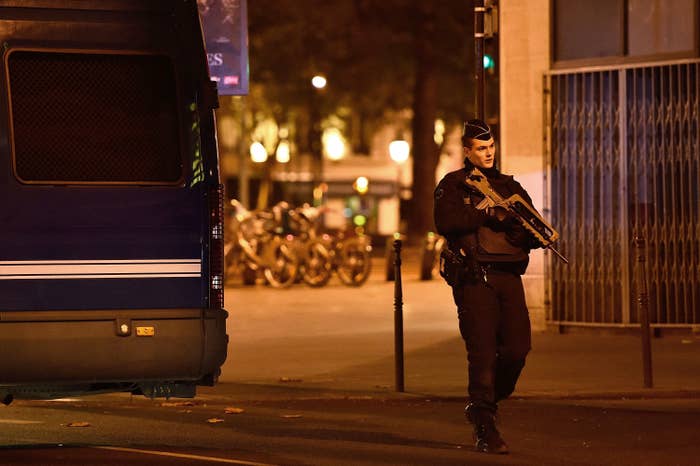 PARIS — As Parisians woke up to surreally empty streets on Saturday, they confronted an uneasy question — how could France's security services have failed to prevent the previous evening's terrorist attack, the worst in Europe for a decade, just months after allowing another?

The highly coordinated nature of Friday's attacks, in which at least eight assailants launched near-simultaneous assaults in six different locations across Paris, killing over 120 people, has raised questions about whether French counterterrorism units received any warnings that an attack was imminent. Though all but one of the assailants detonated suicide vests, French President François Hollande declared within hours that they were ISIS militants directed from abroad. French media reported that one of them was previously known to police.
"We were expecting something. We knew it was coming," said one western diplomat who spoke to BuzzFeed News on condition of anonymity because they were not authorized to discuss the subject. "The fact that we failed to stop it is definitely a failure. But you can't imagine the number of attacks we have stopped. This was the nightmare scenario. The targets were all soft targets. How can you protect against people determined to attack a bar or concert?"
At the Place de la République, a few minutes from Bataclan, where at least 100 people were killed on Friday, Parisians gathered to leave candles and flowers at a makeshift memorial. A banner hung reading "J'ETRE HUMAIN," an ungrammatical pun on the "Je suis Charlie" rallying cry from the January killings. Graffiti artists painted the city's Latin motto, "Fluctuat nec mergitur": "Tossed, but not sunk."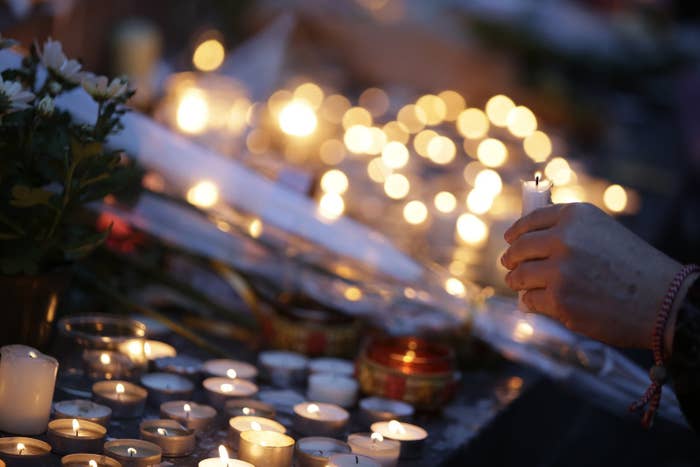 "It was so well organized — they must at a certain point know something and find something out," said Miet Coppens, a Belgian woman who is in her thirties, and lived in Paris. "I understand it's difficult to run a police force and secure an airport, but I don't think they realized they would attack small, unprotected spaces."
Alain Charret, an expert on France's surveillance system, said it was hard for the military to be everywhere and for intelligence to predict everything, "but the reason why it is usually difficult to track people is because one or two people on their own are involved — here, it seems like it was a big group of organized people, so it should have been tracked more easily."
France's counterterrorism system is said to be one of the world's best. Efforts are directed by special counterterrorism magistrates who can quickly mobilize France's security apparatus against specific threats, a tactic unique in Europe.
But a former senior intelligence officer very familiar with France said he and a lot of French intelligence officials think that after two internal services — the Central Directorate of General Intelligence (RG) and the Directorate of Territorial Surveillance (DST) — were merged, it created a larger, but far weaker, General Directorate for Internal Security.
"I think it probably weakened their grasp on the situation," he said of the merger. "I've got friends who were in the RG and the DST and they both say the new organization is weaker."
The country's security services have been on alert since January, when three homegrown radicals — two of whom had been known to French counterintelligence for years — killed 12 people in attacks on the satirical magazine Charlie Hebdo and a kosher deli, prompting massive demonstrations that turned Paris into a symbol of anti-terrorist defiance. In August, French intelligence detained a 30-year-old man on his way back from Syria who said militants were planning attacks on French concert halls.
Marc Trevidic, a leading former counterterrorism magistrate, told Le Figaro "it was absolutely obvious" that a major attack was being prepared. Returning militants he interrogated in recent months told him that "France is the biggest enemy of [ISIS] and the terrorist organization is going to punish us and hit us from all directions," Trevidic said. "Their fighters' resources are inexhaustible. Their hatred will not stop there."
Daragahi reported from Istanbul. Cyrielle Bedu contributed reporting from Paris.