Olympic Sponsors Stand By Sochi Games As Criticism Of Anti-Gay Law Mounts
Coca-Cola and McDonalds condemned Russia's new law banning public LGBT advocacy Tuesday. But they aren't calling on Vladimir Putin's government to repeal it before February's games.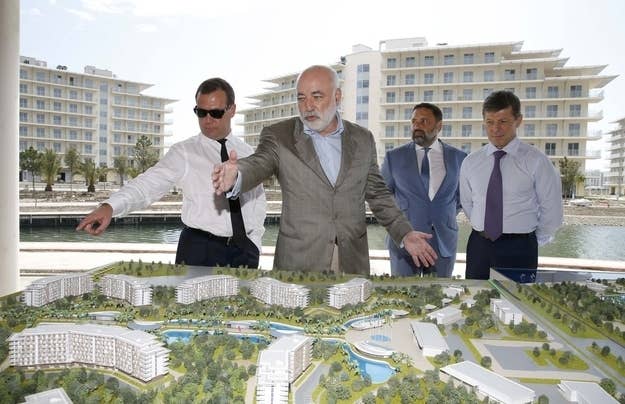 The intensifying reaction against Russia's treatment of the LGBT community is beginning to bear on the International Olympic Committee's financial backers, which include some of America's largest corporations.
But Coca-Cola and McDonald's are sticking with the Olympic Committee's conciliatory line toward the host of the 2014 games in Sochi. The companies think the law contradicts the Olympic charter but, like the IOC itself, declined to call for a reversal.
"We have long been a strong supporter of the LGBT community and have advocated for inclusion and diversity through both our policies and practices," Coca-Cola spokesperson Kate Harman told BuzzFeed. "We do not condone human rights abuses, intolerance, or discrimination of any kind anywhere in the world.
"As a sponsor since 1928, we believe the Olympic Games are a force for good that unite people through a common interest in sports, and we have seen firsthand the positive impact and long-lasting legacy they leave on every community that has been a host," she added.
When asked about the risks the new law poses to LGBT Coca-Cola employees who travel to Russia for the Olympics, Hartman said that "the IOC has received assurances from the highest level of government in Russia that the legislation will not affect those attending or taking part in the games."
"There's no room for discrimination under the Golden Arches," Heidi Barker, a spokeswoman for McDonald's, said in an email. "Regarding the recent Russian legislation, we support the International Olympic Committee's belief that sport is a human right and the Olympic Games should be open to all, free of discrimination, and that applies to spectators, officials, media and athletes," she added.
Both companies have also made bullish bets on Russia's rapidly expanding consumer market. Coca-Cola is two years into doubling its investment in Russia through a five-year, $3 billion plan. McDonald's announced plans in February to add 150 more restaurants across Russia in the next three years, an increase of about 50%.
The widening international story, though, began to sweep in the sponsors Tuesday as Kenneth Roth, the president of Human Rights Watch, called on Olympic sponsors to pressure the Russian government to repeal the law.
"Companies that are concerned about their image with consumers are not going to want to be associated with a gay-bashing exercise — the commercial advantages are going to be completely undone," Roth told BuzzFeed. "Olympic sponsors make enormous investments by being associated with the Sochi Olympics. They don't want to be part of a debacle."
The alternative could be disastrous both for the Kremlin and the IOC's Western sponsors, Roth added.
"It's easy to imagine a confrontation taking place on global television. It's almost certain that athletes will flaunt their homosexuality or support for gay rights," he said.
"That'll create a potential conflict with Russian authorities. There's the fear of this all going horribly wrong. The Kremlin cares about its reputation and the Olympics going off smoothly — they don't want this to be a new embarrassment," he added.
Max Seddon is a correspondent for BuzzFeed World based in Berlin. He has reported from Russia, Ukraine, Azerbaijan and across the ex-Soviet Union and Europe. His secure PGP fingerprint is 6642 80FB 4059 E3F7 BEBE 94A5 242A E424 92E0 7B71

Contact Max Seddon at max.seddon@buzzfeed.com.

Got a confidential tip? Submit it here.