KIEV, Ukraine — A Russian online marketing firm's covert American trolling campaign to create a tidal wave of Kremlin-approved online comments is more ambitious than previously thought, new leaked documents show.
Reports leaked by a hacker collective on Tuesday appear to have been written by an employee of the Internet Research Agency, a St. Petersburg-based company with apparent ties to Russian President Vladimir Putin's favorite caterer, and detail the company's efforts to create a million-dollar "troll army" in the comments section of American websites, including the New York Times, Washington Post, and BuzzFeed, among others.
The documents were posted online by a group called the Anonymous International, the source for an earlier leak BuzzFeed wrote about Monday.
In a report dated May 21, Internet Research Agency commercial director Svetlana Boiko discussed the progress of the trolling project's $75,000 trial period, which began April 10. The report says that during that period, the trolls left more than 2,500 comments on 30 different news websites, tweeted 1,220 times from 12 accounts, wrote 85 Facebook posts, posted 175 times in an unspecified number of forums, and made five bizarre YouTube videos attacking the U.S. government and Harry Potter star Daniel Radcliffe.
The new documents draw conclusions from the trolling campaign's test period. "We can note from the results of testing the comments that thoughtful, argumentative comments which give specific examples and statistics go unnoticed, a good reaction can be noted for aggressive comments directly addressed to the user (trolling)," Boiko wrote of the CNN homepage, where the trolls left 1,808 comments. "The portal has a mass of mindless and meaningless small comments, and some comments in Russian," she added.
The trolls had far more luck in the more refined comments sections of the New York Times, Washington Post, and fringe conspiracy site WorldNetDaily, Boiko wrote, where they could "actively ground [their] position on some or other theme." Boiko urged the trolls to concentrate on those sites and develop strategies for the Huffington Post — where she had earlier argued for creating 100 accounts to bypass its complicated comments system — and BuzzFeed.
Calls to Boiko and Igor Osadchy, the Internet Research Agency's department head who sent the emails, went unanswered. Osadchy told BuzzFeed on Monday that an earlier hack of his inbox was an "unsuccessful provocation" and declined to comment.
The new files detail an ambitious effort to turn public opinion against the U.S. government on 40 different subjects ranging from Russia's role in the world and the Ukraine crisis to unrelated American domestic issues like gun rights, taxes, and religion. The trolls also campaigned heavily against U.S. President Barack Obama on Twitter, where they used the hashtag #Obama to promote the keywords "fuck obama," "ass obama," and "ObamaCare." The most popular account, @I_am_ass_, has 3,363 followers.
During their trolling, the Russians adopted various guises to fool commenters into thinking they were real, unpaid users. Some pretended to be American, despite making English mistakes often directly traceable to Russian word usage and syntax. "The US is at the ende of failure. That;s really amazing how our president leads the foreign policy. I wouldn't be surprised if somebody would enslave our country," a troll wrote on the forum of torrent site The Pirate Bay. (The link has since been deleted, but the trolls saved a screenshot, which appears in the leaked documents.)
Others tried to promote Putin. "The lates [sic] events show us that Obama tries to provoke EU and UA to undertake sanctions agains [sic] Russia. Is seems to be a little bit foolish taking into consideration the economic and political situation of the USA. Obama has gone bats," troll angelina87 wrote on the forum of online computer magazine AnandTech.
On WorldNetDaily, the troll comments were barely distinguishable from the replies of real users.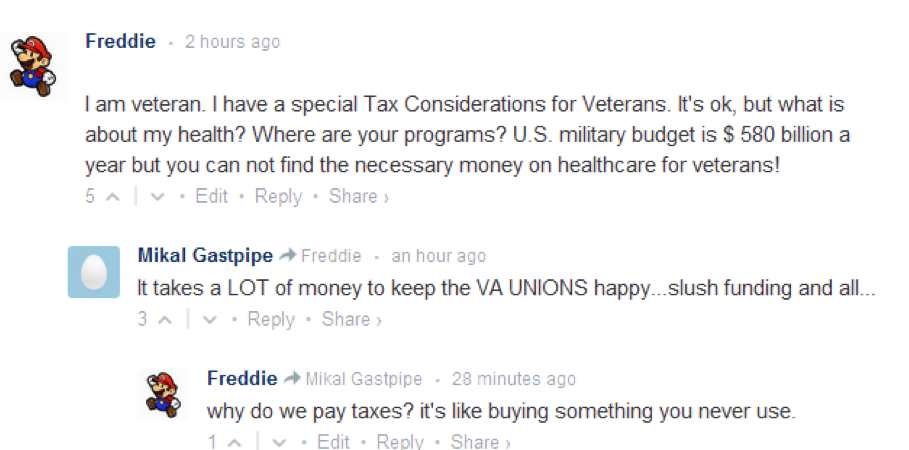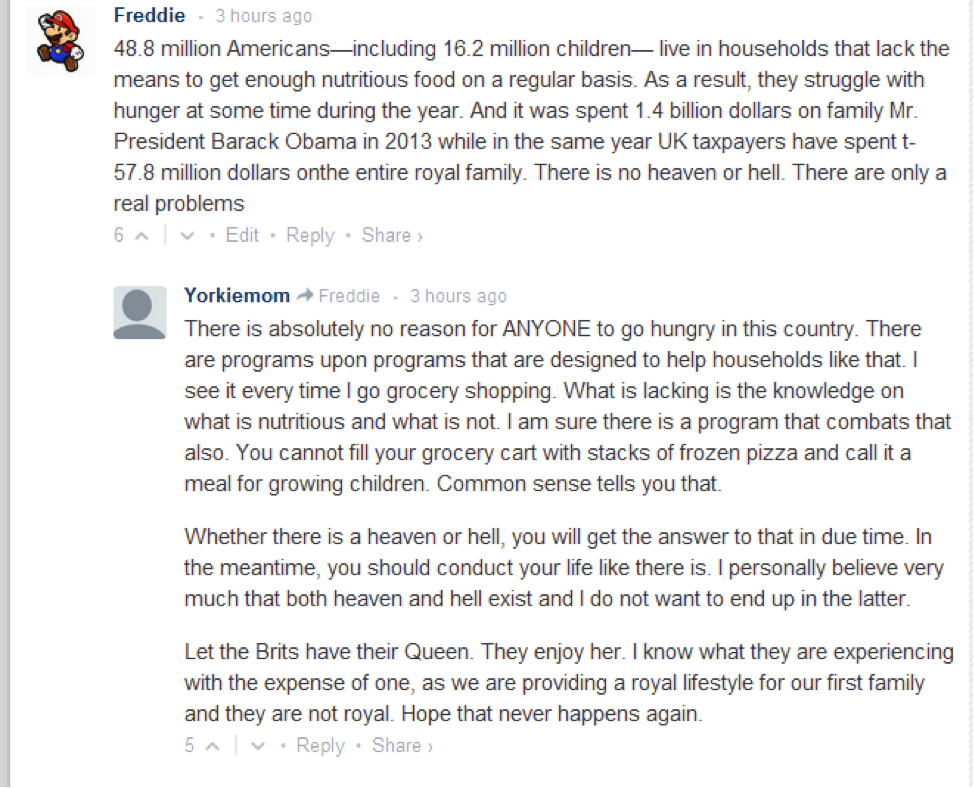 Any discussion of Russia or Ukraine inevitably gave the trolls away as Russian regardless, since they stuck to a predetermined script closely following the Kremlin line. The entry for Russia in a document that lists 40 subjects for commenting says the trolls' goal is to "draw opinion to Russia's military and political might in the global space" by showing "the appearance of panicked fear before Russia as the mightiest global power."
Most of the other themes simply aim to undermine the U.S. by any means possible. An entry on religion entry says its goal is to "form mistrust to the church as an institution of morality." The entry for the Senate wants to discredit "every individual senator as a politician and person."
Those topics often give themselves away as Russian-inspired, however. One troll video attacked bearded Austrian drag queen Conchita Wurst, criticized by numerous Russian politicians along similar lines after she won the Eurovision song contest.
A troll Twitter account, since deleted, appears to have spent a considerable amount of time warning Harry Potter fans that Daniel Radcliffe, the British actor who played the boy wizard, went on to film a gay sex scene in the recent Allen Ginsberg biopic Kill Your Darlings and was thus "promoting homosexuality," echoing the Kremlin's attempts to redefine Russia as a bulwark against LGBT rights.
It didn't seem to work.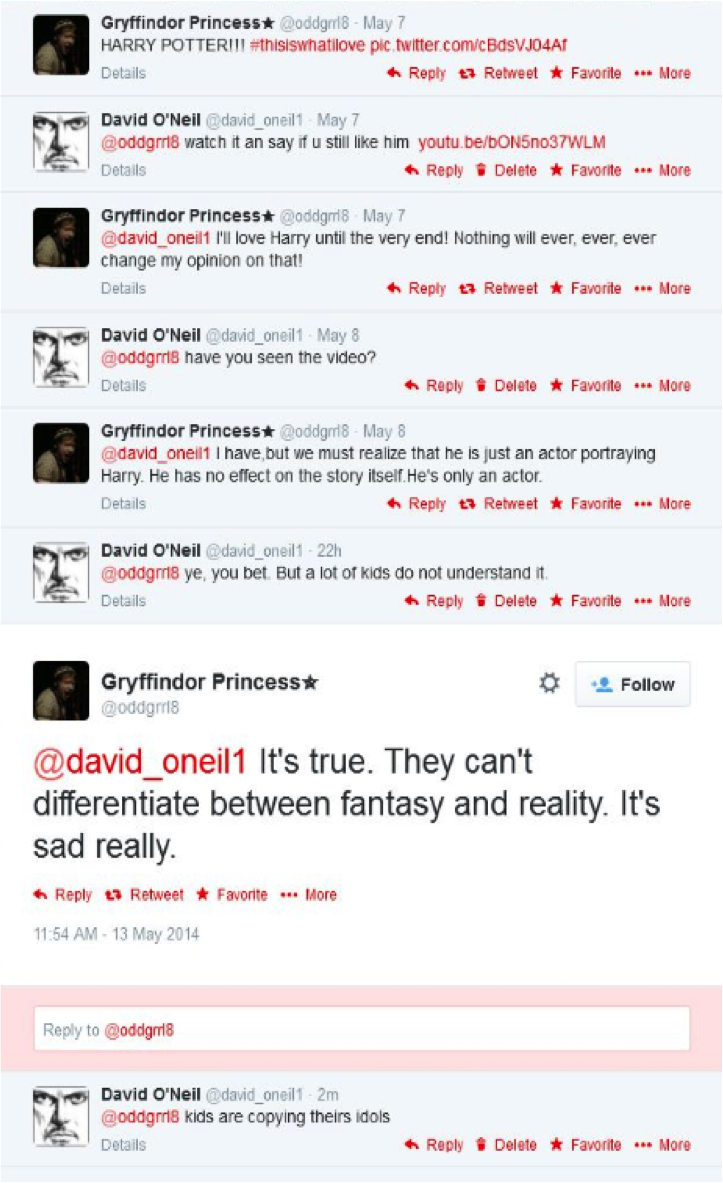 Another video, seemingly influenced by mystical American Dream rumination Southland Tales, director Richard Kelly's legendary flop follow-up to Donnie Darko, attempted to convince Americans their existence was meaningless.