A new ISIS propaganda video purports to show a Kazakh child soldier executing two men identified as Russian "spies."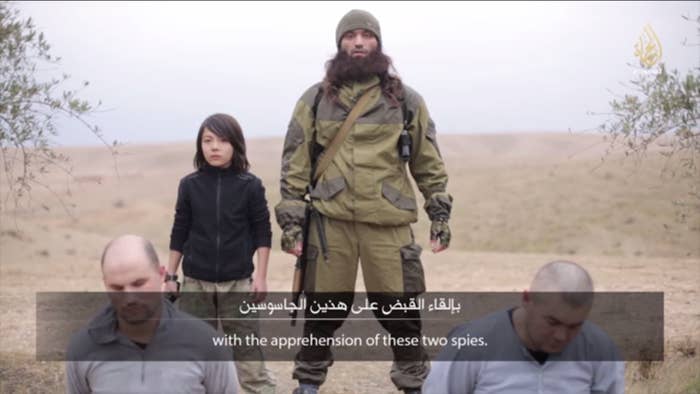 The seven-and-a-half-minute Russian-language video, published by official ISIS propaganda arm Al-Hayat Media on Tuesday and shared widely by pro-ISIS Twitter accounts, features the confessions of two men who say they were recruited to spy on the group by the FSB, the successor agency to the KGB.
BuzzFeed News could not immediately verify the authenticity of the video, in which a bearded, Russian-speaking militant pronounces a death sentence for the men, who are wearing gray jumpsuits. "And we say to all those tempted by their inner selves to spy on the secrets of the Muslims and mujahedin that we will not have any leniency or mercy towards them," the man says.
The video appears to show the young Kazakh boy shooting the gray-clad men in the back of the head with a pistol. A first glance, however, suggests that the video may have been staged. No blood or entry wounds appear when the boy seemingly fires the gun, prompting the men to fall limply to the ground.
The FSB told Western news agencies in Moscow that it had no comment on the video, though it "confessed" to spying on ISIS. The group executed a Russian hostage, Sergei Gorbunov, after Moscow failed to pay a ransom for his release last year, the New York Times reported.
The first man gives his name as Dzhambulat Mamaev, 38, and says he is a Kazakh national recruited by the FSB to gain access to an unnamed top ISIS leader and steal information from a computer he said the leader uses while in Turkey.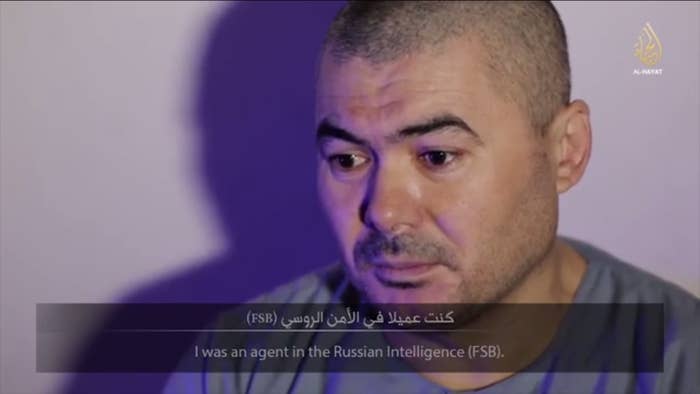 The second man, who says he is Russian and gives his name as Sergei Ashimov, 30, claims the FSB sent him to assassinate a top ISIS leader in Syria, whose name is also censored.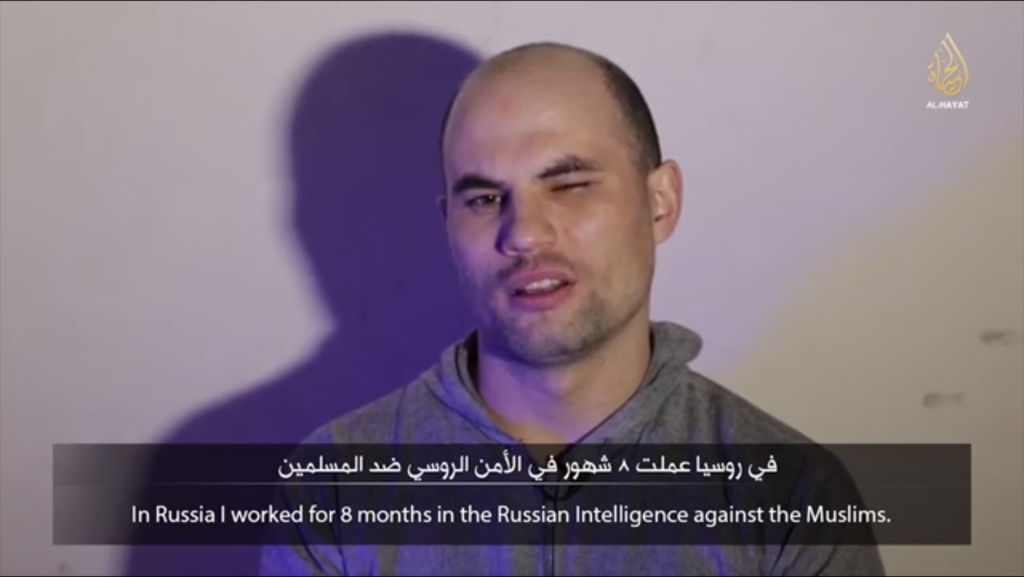 In the November video, the boy, who appears to be about 10, says in Kazakh that his name is Abdallah. Kazakh officials appeared to confirm that video's authenticity by first insisting that outlets in Kazakhstan and Kyrgyzstan delete it, then claiming to know the children's identities. Most of the children traveled to Syria with their families, Kazakh deputy prosecutor Andrei Kravchenko told local media in December, adding that the country's secret services were working on repatriating them.
Officials in Russia and the five mostly Muslim former Soviet nations in Central Asia have increasingly raised the alarm in recent months about Russian-speaking foreign fighters in Syria. FSB boss Alexander Bortnikov worried last November that the countries were "becoming convenient targets" for home-grown Islamic radicals, who Security Council chief Nikolai Patrushev claimed could return home and carry out further attacks. Zamir Kabulov, Russian President Vladimir Putin's special envoy to Afghanistan, told the Interfax news agency last week that Moscow would step up security at its border with Kazakhstan and on the Caspian Sea to prevent radicals returning. Tajikistan and Uzbekistan are working with Russia to prevent a "spillover" of fighters from neighboring Afghanistan, Kabulov added.
"At the moment, ISIS is actually doing Russia a favor — terrorism has declined, partly because the people who would strap on a bomb are heading down into Syria and Iraq," Mark Galeotti, a professor at New York University who studies the Russian security services, told BuzzFeed News. "They don't want to find themselves unprepared when the tide's suddenly rolled the wrong way."
The threat Central Asian jihadis pose to their home countries is unclear. No reliable figures exist for the number of Central Asians who have joined ISIS. A Kazakh think tank published a report in September claiming that 250 fighters had travelled to Syria from Kazakhstan, 100 from neighboring Kyrgyzstan, 190 from Tajikistan, 360 from Turkmenistan, and over 500 from Uzbekistan.
Central Asian countries, however — particularly the despotic rulers of Uzbekistan — have a record of exaggerating the threat posed by Islamic militants as a way of cracking down on political opposition that long predates the formation of ISIS in 2013.
Though the group is said to be rapidly gaining popularity among militants in the troubled, mostly Muslim Russian province of Dagestan, fears of ISIS-inspired terror attacks in Russia have, likewise, so far not been borne out. Russian media widely claimed that a group of Muslim immigrants nicknamed the "GTA Gang" for a series of random murders of drivers along a highway last year were training to join ISIS in Syria, though links between the suspects in the case and the group have yet to be proven.