Vladimir Putin Announces Intention To Send Troops To Ukraine
Ukraine has accused Russia of an "armed invasion" of the separatist peninsula.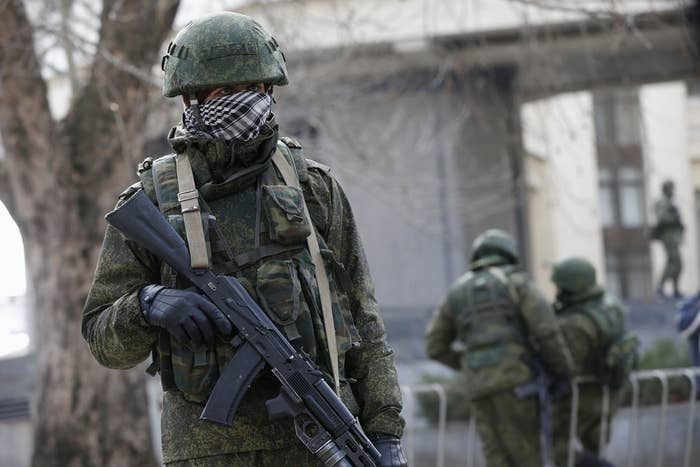 SIMFEROPOL, Ukraine — Russian President Vladimir Putin announced his intention Saturday to send troops to neighboring Ukraine, fueling fears of war as thousands of soldiers seized key infrastructure in Crimea and demonstrators raised Russian flags over government buildings in the east and south of the country.
Putin asked Russia's upper house of parliament for permission "to use the Armed Forces of the Russian Federation on the territory of Ukraine until the normalization of the socio-political situation in that country," the Kremlin said in a statement. The body is a rubberstamp institution that fulfills Putin's every wish and voted unanimously to approve his request less than two hours later.
In an extraordinary session of the Federation Council reminiscent of a Soviet party congress, senators accused protesters in Kiev of having been trained in Lithuania and Poland to overthrow President Viktor Yanukovych and moved to ask Putin to recall Russia's ambassador to the United States as a rebuke to U.S. President Barack Obama, who warned Putin Friday there would be "costs" for invading Ukraine.
After less than an hour, a senator said, "I think we're wasting the president's time," and the vote was held: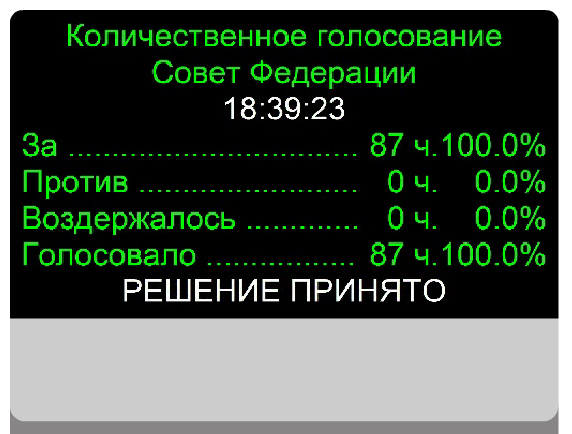 Ukraine has accused Russia of an "invasion" of Crimea, where Russia has a key naval base, but Putin's request would give him the right to send troops anywhere in the country. There was no indication Putin had sought permission for an intervention from the United Nations Security Council, where Russia habitually uses its veto to block interventions in other countries.
Nor was it immediately clear whether Putin's announcement intended to legalize Russia's effective occupation of Crimea after the fact or preceded further Russian troop movements into Ukraine. Russia mobilized its army for surprise drills earlier this week along the Ukrainian border, where protesters from the local, mostly Russian-speaking population hoisted Russian flags over government buildings Saturday.
Ukraine's acting foreign minister Andrei Deshchitsa said Russia had refused to hold consultations on the basis of the 1994 Budapest Memorandum, under which it swore to uphold Ukraine's territorial integrity alongside the U.S. and the UK. The agreement also, however, binds Russia not to put economic pressure on Ukraine, which it flaunted with impunity for months last fall and winter to prevent then-president Viktor Yanukovych from signing a deal with the European Union.
Putin's statement came after the acting leader of Crimea's new government called on Moscow to intervene to keep the peace in the separatist, pro-Russian Ukrainian province.
"I ask Russian President Vladimir Putin to help keep peace and calm on the territory of the Republic of Crimea," Sergei Aksyonov, the autonomous republic's new prime minister, said in a statement broadcast on Russian state television. Aksyonov added that he had taken over all Ukrainian security forces in Crimea and said he had the situation "under control," in collaboration with Russia's Black Sea fleet. Acting Ukrainian president Olexander Turchynov signed a decree refusing to recognize Aksyonov later Saturday.
"All commanders are to fulfill only my orders and commands. I ask those who disagree to leave the service," Aksyonov said. Russian TV then switched to a documentary on the Nazi occupation of the Crimea that highlighted atrocities committed against the local population during World War II and interviewed survivors thrilled when the Red Army liberated the peninsula.
Russia's presidential administration replied shortly after to say that Aksyonov's appeal "would not go unattended" in a statement carried by the state ITAR-Tass news agency. The Duma, Russia's lower house of parliament, then asked Putin to "take measures to stabilize the situation in the Crimea and use all possibilities at [his] disposal to defend the population of Crimea from mayhem and violence." Leaders of the Duma's parties and speaker Sergei Naryshkin said that it believed holding legitimate elections in Ukraine while the political crisis was ongoing was impossible.
Valentina Matvienko, speaker of the Federation Council, the upper house, envisioned Russia sending a "limited contingent" of troops to Crimea. "We need to defend people," Matvienko said in comments carried by the RIA Novosti state news agency.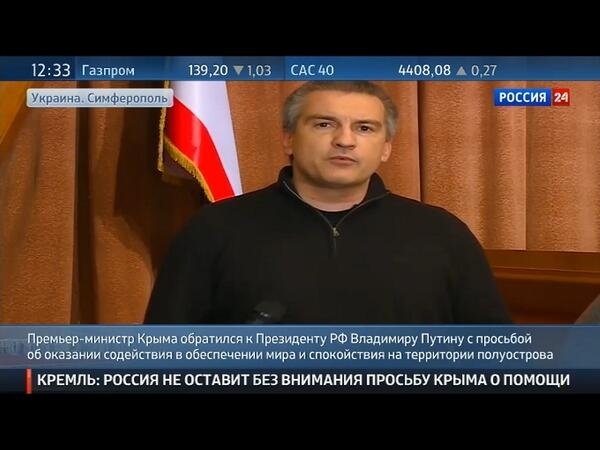 Crimea has been on effective lockdown since armed men seized its two main airports in the early hours of Friday and hundreds of other troops were spotted around the peninsula. Flights in and out of Simferopol are suspended until at least Saturday evening, bar the odd connection to Moscow. Internet and telephone access is scarce after unknown men cut off Ukraine's telecommunications nodes. Russian troops are blocking a Ukrainian coast guard base. The main state TV channel has also been seized, according to local media.
Mysterious soldiers in combat uniforms, who appeared at Crimea's airports and other strategic points on Friday, guarded Crimea's cabinet building on Lenin Square as it, known as the Council of Ministers, met Saturday. The soldiers wielded machine guns and wore black masks that exposed only their eyes.
One soldier claimed to be "local" when asked where he came from, but declined to provide further details. Most in Crimea presume the armed men to be Russian military personnel, though there has been no official confirmation.
Ukraine's new government, which replaced President Viktor Yanukovych after he fled Kiev Feb. 22, says the troops are Russian and has accused Putin of an "armed invasion." Acting defense minister Igor Tenyukh told Russia's RBK newspaper Saturday that Russia has sent 6,000 troops and 130 armored personnel carriers to the peninsula.
Russia, which has 15,000 men stationed at a base in the Crimean port town of Sevastopol on the Black Sea, says the men seizing vital infrastructure are Crimean "self-defense" units who do not recognize the new government and fear right-wing groups prominent in the violent protests in Kiev that led to Yanukovych's ouster.
"I don't know if he knows who they are," Aksyonov's spokeswoman Yekaterina Polonchuk told BuzzFeed.
A small crowd of curious onlookers gathered on Lenin Square on Saturday, most of them thanking the armed men and voicing their support for greater independence from Kiev. One man who announced that he supported the interim government in Kiev was whistled off the square. Soldiers also held a position in the town's pedestrian zone but let passersby move unhindered.
Thousands took part in anti-government rallies in the Russian-speaking east of the country. Protesters stormed the provincial government buildings in the major cities of Kharkov and Donetsk, threw trash and Molotov cocktails, fought with police, and waved Russian flags. Footage streamed from outside the Kharkov building by pro-Kremlin channel LifeNews showed protesters storming into the building as gunshots were heard.
Pro-Kremlin bloggers wrote of a "Russian Spring" in southern and eastern Ukraine after pro-Russian protests in half a dozen cities: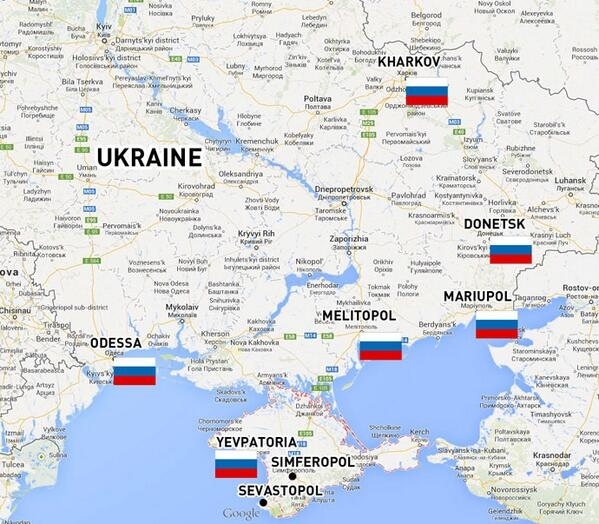 New Ukrainian prime minister Arseny Yatsenyuk said during a cabinet meeting Saturday that men with machine guns seen at key points in Crimea were Russian soldiers and blamed Putin for "provoking a confrontation" in violation of an agreement allowing Russia to base soldiers in Crimea.
"In the worst-case scenario, responsibility for a confrontation will lie exclusively with the Russian side and on the leadership of the country personally," Yatsenyuk said, in comments carried by local media. "We demand that the Russian government and authorities recall their troops and return to their places of deployment. Stop provoking civil and military confrontation in Ukraine."
Russia's foreign ministry claimed in a statement that "unidentified armed men" from Kiev attempted to seize Crimea's interior ministry early Saturday morning, but were repelled by "self-defense" units it claims are keeping the peace in violent clashes. Russia did not say how many "victims" there were or how badly they had been hurt.
The alleged incident "confirms the desire of well-known political circles in Kiev to destabilize the situation on the peninsula," the statement continued. "We call on everyone who gives similar orders from Kiev to [show] restraint. We consider further incitement of the already tense situation in Crimea extremely irresponsible."
Under the watch of men with machine guns, Crimea's parliament dismissed the provincial government on Thursday and appointed a new one chaired by Aksyonov, whose pro-Russian party got four percent of the vote in 2010 elections. Parliament also voted to hold a referendum on Crimea's effective secession from Ukraine on May 25, the day new Ukrainian presidential elections are slated to be held. That referendum was moved forward to March 30 on Saturday, Aksyonov said, according to Russian media reporting from a special session of Crimea's parliament.
Russia's general consul in Simferopol told the Russian state news agency RIA Novosti Saturday that Russia may soon begin offering residents citizenship. That raised the specter of Russia's 2008 war with Georgia over the breakaway region of South Ossetia, where locals were handed out Russian passports. Russia intervened in the conflict by saying it was protecting Russian citizens.
The ministry had earlier announced plans to give passports to members of the Berkut riot police unit after the new Kiev government disbanded it.
The 4,000-strong Berkut unit is widely reviled throughout Ukraine for its role suppressing protests in Kiev in which over a hundred people died, but popular in Crimea, where local residents see it as protection from hostile anti-Russian forces. Russia's parliament is fast-tracking measures that would make it easy for Crimea to join Russia and for Ukrainians to receive Russian citizenship.
Moscow has not recognized the new Kiev government and insists that parties observe a European Union-mediated agreement struck Feb. 21 that lasted a few hours before Yanukovych fled. In recent days, however, Russia has appeared to drop its support for Yanukovych, who complained at a press conference Friday that Putin would not arrange a meeting with him.
In a sign the Kremlin was returning to tried and tested tactics of pressuring Ukraine, state gas monopoly Gazprom, which supplies Ukraine with most of its energy, said it might cancel a massive price discount it gave Yanukovych in December. The deal and a simultaneous $15 billion bond purchase staved off imminent default. It was seen as Yanukovych's reward for moving away from Europe towards Russia in November, which sparked the first protests against him.
Russia has only bought $3 billion of the bonds so far, however, and suspended the rest indefinitely as the political crisis in Ukraine spirals further out of control. Western powers and the International Monetary Fund are preparing a new aid package for Ukraine, which says it needs $35 billion in two years to avoid economic catastrophe.
Full text of Putin's statement:
"In light of the extraordinary situation that has taken place in Ukraine and the threat to the lives of citizens of the Russian Federation, our fellow citizens, and the personnel of the military contingent of the Armed Forces of the Russian Federation, stationed on the territory of Ukraine (the Autonomous Republic of Crimea) in accordance with an international agreement, on the basis of point G of Part 1, Article 102 of the Constitution of the Russian Federation, I am placing a request to the Federation Council of the Russian Federation to use the Armed Forces of the Russian Federation on the territory of Ukraine until the normalization of the socio-political situation in that country."
By Saturday afternoon Eastern time, Ukraine's acting president Oleksandr Turchynov was reported to have put military units in a state of combat readiness.