Journalists Killed By Mortar Fire In Eastern Ukraine
The killing of Italian photographer Andrea Rocchelli and his Russian interpreter, Andrei Mironov, mark the first journalist deaths in the conflict.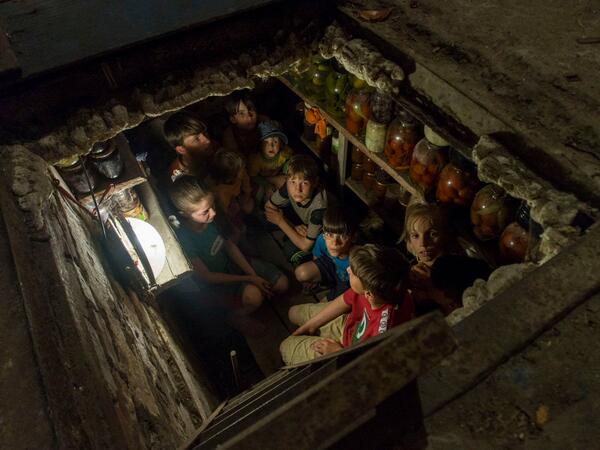 KIEV, Ukraine — The conflict in eastern Ukraine has claimed its first victims in the press corps after Italian photojournalist Andrea Rocchelli and his Russian interpreter were killed by mortar fire near the rebel stronghold of Slovyansk on Saturday.
Italian Foreign Minister Federica Moghernini confirmed the men's deaths, first reported on Twitter by the rebel "Donetsk People's Republic," in a statement on Sunday. A French photographer, William Roguelon, was also wounded in the attack.
Roguelon told Le Monde that the three men came under fire from "40 to 60 shells" in the village of Andriivka near Slovyansk, a 118,000-population town about 100 miles north of the industrial center of Donetsk, while they were sheltering in a roadside ditch. After seeing Rocchelli and Mironov lying motionless on the ground, Roguelon escaped to rebel-held positions and was driven to the hospital to treat shrapnel wounds in both his legs. Rougelon later left the facility on his own.
Rocchelli, 30, was a co-founder of his own photo agency, Cesura, and had worked in hotspots like Russia's Caucasus, Kyrgyzstan, and Tunisia and Libya during the Arab Spring. Mironov, 60, was a Soviet-era dissident who had served time in prison and was friendly with many Western journalists in Moscow.
Ukrainian forces have surrounded Slovyansk and shelled it sporadically for the last several weeks in an attempt to wrest out the approximately 1,000 separatist militants there. Andriivka had been a regular target for Ukrainian mortar fire. Local residents told Kremlin propaganda channel Russia Today they found mortar shells near the scene of the attack.
Ukrainian officials have yet to comment on the incident.
Max Seddon is a correspondent for BuzzFeed World based in Berlin. He has reported from Russia, Ukraine, Azerbaijan and across the ex-Soviet Union and Europe. His secure PGP fingerprint is 6642 80FB 4059 E3F7 BEBE 94A5 242A E424 92E0 7B71

Contact Max Seddon at max.seddon@buzzfeed.com.

Got a confidential tip? Submit it here.