Putin's Aid Convoy Raises Fears of A Russian Invasion Of Eastern Ukraine
Prospect of a prolonged standoff on the border tailor-made for Russian TV looms large.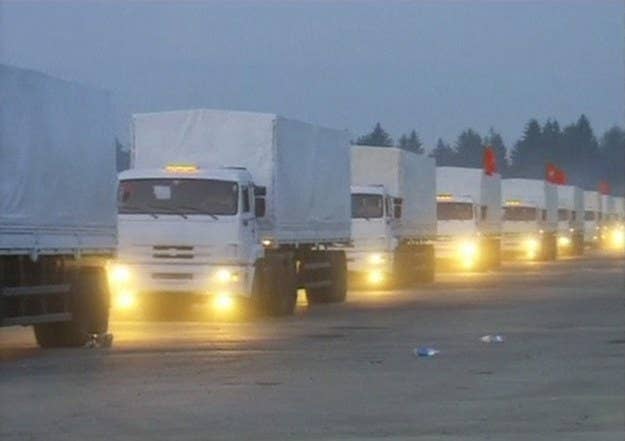 KIEV, Ukraine — What's in the 280 trucks that set out from a depot near Moscow for eastern Ukraine on Tuesday morning, freshly painted white and blessed by an Orthodox priest? Are they, as Russia says, carrying vital aid for civilians in the conflict-stricken Luhansk region? Or a pretext for an invasion to prevent the tide turning against the Kremlin-backed rebel groups? Or, in a way, are they both?
Vladimir Putin caught the world by surprise on Monday evening when he announced a Russian "humanitarian convoy" for civilians in eastern Ukraine. Moscow claims the trucks —which appear to be hastily repainted military trucks and have no license plates — are carrying much-needed supplies like food, sleeping bags, and generators for the city of Luhansk, which has been without water and electricity for ten days as Ukrainian forces encircle it.
But neither the Red Cross, the organization in charge of an aid initiative proposed by Ukrainian President Petro Poroshenko, nor the government in Kiev know what's really in the trucks. Ukraine fears that Russia would use the aid as cover for military action, pointing to a video showing similar trucks stationed near the border. A radar system for a highly sophisticated S-300 anti-aircraft missile system appears to be alongside the trucks.
"They are trying to use the pretext of humanitarian aid and assistance, and it seems that they are just running out of excuses for their policy," Ukrainian deputy foreign minister Danylo Lubkivskiy told reporters in Kiev. "You don't need tanks and artillery to bring food and medicine to civilians."
Ukraine vows that it will stop the trucks when they reach the border and only let their cargo through if the Red Cross transfers them under a plan the organization is not expected to finish devising for another week. With the trucks expected to arrive as early as Wednesday morning, the prospect of a prolonged standoff tailor-made for Russian TV now looms large.
It remains unclear exactly where the aid will be transferred into eastern Ukraine, be it in territory held by Russian-backed militia, or the Ukrainian government.
Kiev is damned if it lets the aid in, and damned if it doesn't. Allowing Russia to seize the initiative would create the impression that Ukraine cannot protect its own citizens in the east — or, worse, has little intention to do so given its single-minded focus on wrapping up operations against Russian-backed rebel groups there in a matter of weeks.
Blocking the aid, on the other hand, could make matters even worse. Holding the trucks up at the border could confront Kiev with its own version of the ill-fated "Gaza flotilla," reinforcing Moscow's narrative that it is the protector of the Russian-speakers predominant in the region while Ukrainian forces continue their often indiscriminate shelling of major populated areas.
Putin's move has aroused major skepticism in Western capitals, where officials have long accused him of funneling weapons and reinforcements to the rebels and say they will only approve humanitarian missions led by the Red Cross. NATO's secretary general says there is now a "high probability" the 45,000 Russian troops stationed on the border will invade.
But though the trucks are stoking fears Putin is intent on war, they may also make him better placed to sue for peace. The controversy may force a halt to Kiev's offensive in the east, which Poroshenko ordered on the evident belief that Russia would not intervene openly to stop the rebels from being routed. The sheer size of the convoy — the trucks are carrying 2,000 tons of goods, according to Russian state media — and the grandiose nature of the gesture makes it clear that, even as government forces surround militia positions and rebel appeals to Moscow for help become ever more desperate, Russia will not let the crisis end if it is not party to a solution.
Max Seddon is a correspondent for BuzzFeed World based in Berlin. He has reported from Russia, Ukraine, Azerbaijan and across the ex-Soviet Union and Europe. His secure PGP fingerprint is 6642 80FB 4059 E3F7 BEBE 94A5 242A E424 92E0 7B71

Contact Max Seddon at max.seddon@buzzfeed.com.

Got a confidential tip? Submit it here.