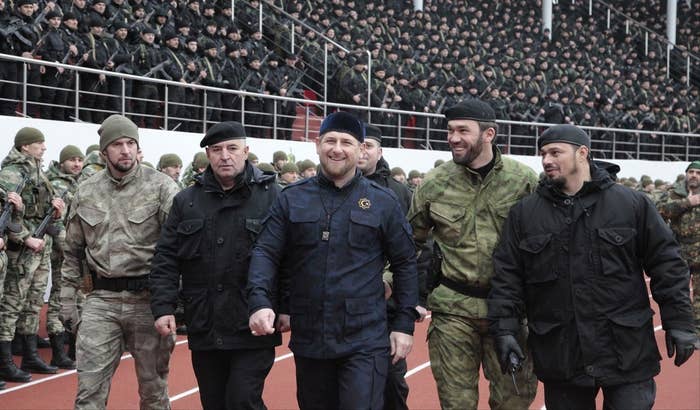 MOSCOW — When Russian authorities arrested five men of Chechen origin for the brutal murder of Boris Nemtsov earlier this month, the opposition leader's allies were skeptical. Two separatist wars and a series of terrorist attacks in Moscow have made "Chechen hit men" easy patsies in politically charged killings. The people really behind Nemtsov's murder, they believed, were inside the Kremlin, now sure never to be found.
Ten days later, however, new details have emerged to suggest a scenario with wider, even more troubling ramifications for Russia: that the violent killings of government critics and arbitrary reprisal arrests so common to strongman leader Ramzan Kadyrov's Chechnya may have come to Moscow.
The main suspect in the Nemtsov case, Zaur Dadayev, is a former deputy commander of a police battalion loyal to Kadyrov. The complex, close-knit ties so common to Russia's mostly Muslim North Caucasus are woven through the investigation. Relatives accuse police of torture and arbitrary arrests. And there is no sign that anybody at the top of the chain has anything to worry about.
"You can call it the 'strange case of Nemtsov.' It shows you that someone has settled the case already and signed, sealed, and delivered a document," Heda Saratova, a Chechen human rights activist working with the families of the suspects, told BuzzFeed News.
Known for his frequent TV appearances, flamboyant Instagram posts, fervent loyalty to Putin, and shocking human rights record, Kadyrov has always been an outsize figure since he succeeded his warlord father Akhmat as Chechnya's ruler in 2005. He and Putin are widely believed to have an arrangement whereby Moscow lavishly subsidizes Chechnya and gives Kadyrov's security forces carte blanche to crack down on the simmering Islamic insurgency in the North Caucasus. Widely known as the kadyrovtsy, they are said to act with total impunity across Russia and even outside it against his enemies, who have a habit of turning up dead.
"It's a bit like Ivan the Terrible's oprichnina in the 16th century," said Grigory Shvedov, editor of the independent website Caucasian Knot, referring to the Tsarist secret police that laid the foundations for the KGB and its modern successor, the FSB. "They had the right to kill in any part of Russia and any type of people, including nobles, because they directly belonged to the tsar."
Last December, 20,000 kadyrovtsy swore personal fealty to him at a ceremony in Grozny in December, prompting Nemtsov to write an eerily prescient Facebook post.
"Today Kadyrov said that his fighters are ready to defend the regime and fulfill any of the Kremlin's orders," Nemtsov wrote. "What happens next? The country's entering a crisis, there's no money for anything, including supporting the regions. The unspoken contract between Kadyrov and Putin is ending.
"Where will the 20,000 kadyrovtsy go? What will they demand? How will they behave? When will they come to Moscow?" he added.
Officially, investigators have not implicated Kadyrov or any of his entourage in the crime. Recent leaks to the Russian press, however, suggest that their attention has fallen on Ruslan Geremeyev, who served in Dadayev's battalion and is reportedly the nephew of two senior Chechen lawmakers — including Adam Delimkhanov, a lawmaker implicated in the murders of two top Kadyrov critics. Delimkhanov's brother Alibek is the commander of the North Battalion, where Dadayev served.
According to the independent RBK newspaper, Dadayev told investigators that he was given the murder weapon and getaway car by a Chechen known as Rusik, who drove a Mercedes with 007 license plates. Another of the defendants, Tamerlan Esterkhanov, said that Rusik was Geremeyev's driver and had introduced him to Dadayev a few weeks before the murder, RBK reported. Esterkhanov is a former police officer in a unit commanded by another of Geremeyev's close relatives, the Kommersant newspaper reported.
Dadayev and Esterkhanov recounted their confessions a few days after their arrest, and told rights activists who visited them in jail that they had been tortured. Both men now claim to have alibis. Esterkhanov's lawyers say that he was working as a nightclub bouncer in a different part of Moscow at the moment of the killing on Feb. 27 — apparently confirmed by security-camera footage leaked to LifeNews, a pro-Kremlin channel with close ties to Russia's law enforcement. Dadayev's lawyer, Ivan Gerasimov, would not say where his client was. "Maybe they'll find out that he was guilty," he told BuzzFeed News.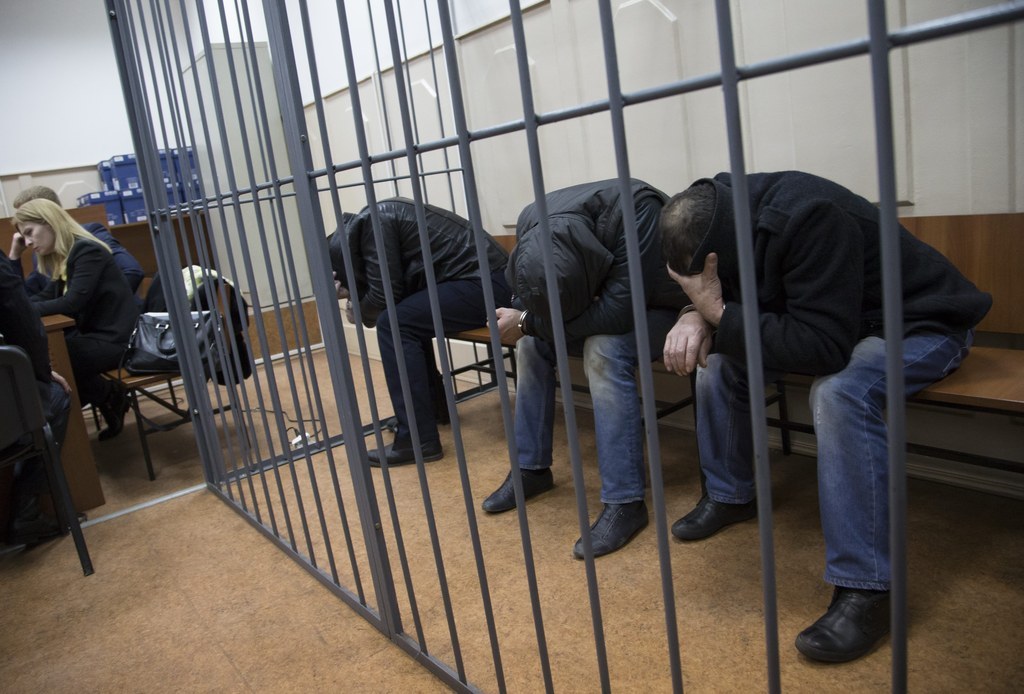 Lawyers and relatives of the other three defendants say they have wound up in the case by chance. Authorities in Chechnya commonly sweep up relatives, friends, and random people in counterterrorism investigations, torture them, and force them to confess to being militants, rights groups and analysts say. Many of them disappear without a trace.
One such case involves Dadayev's own family. The European Court of Human Rights awarded his aunt Larisa 120,000 euros ($128,000) in 2001 after special forces arrested her husband and brother-in-law, who were never heard from again.
Brothers Anzor and Shagid Gubashev are Dadayev's cousins. Fellow suspect Beslan Shavanov, a former member of the North Battalion who blew himself up with a grenade when police came to arrest him, was also a relative.
All four men are from the same village in Ingushetia, a province neighboring Chechnya. Zulai Gubasheva, their mother, told BuzzFeed News that they had hardly seen Dadayev since finishing school and had spent most of the last decade in Moscow working odd jobs. Two weeks ago, the brothers were in Chechnya visiting their grandmother when they heard that police arrested Dadayev and immediately dropped everything to find out what had happened, she said.
"If you committed a crime with someone, would you go and look for him? It's obvious they wouldn't do that, especially from their own phones that were being tracked, if they had," he said.
The fifth suspect, Khamzat Bakhaev, is a migrant worker and father of seven who lived on a different floor of the same apartment building in the Moscow suburb of Solnechnogorsk as the Gubashevs. Bakhaev's lawyer, Zaurbek Sadakhanov, told BuzzFeed News that his client had no other connection to any of the defendants.
"They just grabbed everyone," Sadakhanov said. "I've even worked cases with people returning from Syria and I've never seen as much lack of respect for the law as this."
Sadakhanov has not so much as been able to see his client since his arrest. The Gubashev brothers' father, Shakhid, also flew to Moscow to visit them, but was denied access.
The trail of links to Kadyrov come as the Chechen leader has struck an increasingly assertive public pose in recent months. After the attacks on the Charlie Hebdo magazine in January, Kadyrov all but declared a fatwa against two prominent Russian liberal figures for supporting the French caricaturists. Soon afterward, he organized an enormous march against the caricatures in Grozny, the Chechen capital, which he said attracted over 100,000 people. In February, Kadyrov's supporters were prominent at a Kremlin-backed march in Moscow that called for "purges" of a "fifth column of national traitors" that Putin had warned about in a speech last year. Nemtsov was one of the movement's most prominent targets.
In public, Kadyrov offers Putin both obsequious statements of fealty and 99% electoral returns more reminiscent of North Korea than the rest of Russia. During the Russian president's unexplained disappearance last week, Kadyrov sent tongues wagging when he posted that he would support Putin "whether he's in office or not."
Despite this, cracks in their relationship have recently begun to appear. In December, Kadyrov was embarrassingly forced to put down an audacious militant attack on Grozny on the day of Putin's state of the union address. A week later, Putin publicly rebuked Kadyrov for burning down the homes of accused militants' relatives. Throughout 2014, Chechnya was the only province in the North Caucasus that saw the number of militant attacks increase, according to statistics compiled by Caucasian Knot.
"He's not successful anymore using his terror instruments," Shvedov said. "He's really losing and probably he understands that there are people in the Kremlin who don't see him as so effective anymore."
The Kremlin, publicly worried about the threat from the thousands of Russian-speaking militants believed to be fighting with the Islamic State, continues to embrace him nonetheless. In the last two weeks alone, Kadyrov has received three medals, as well as a ceremonial pistol with his name on it. He blames the criticism for Nemtsov's murder on the U.S., which he also says started the Ukraine conflict and set up the Islamic State.
"The U.S. and the West and their secret services are trying to strike against those who are limitlessly loyal to Vladimir Vladimirovich," he wrote of Putin on Instagram. "If a pedestrian crossed the street in the wrong place, Kadyrov's guilty, if someone's suspected of the crime, he's guilty again."
For Nemtsov's friends, meanwhile, the case is a demonstration of what one ally called "our worst fears coming true." His brutal murder was redolent of both the brutal reprisals that characterize Kadyrov's Chechnya; the investigation is marred by the opacity and official impunity so common in Putin's Russia. That's why, they say, the responsibility ultimately lies with the Kremlin — regardless of who ordered the hit.
"There are two options. Option one, which I don't want to believe, is they had a meeting, item No. 1: Kill Boris Nemtsov," fellow opposition leader Alexei Navalny told BuzzFeed News. "And option number two, at one of those meetings they said, 'Ramzan Akhmatovich, we are counting on your in our fight against the fifth column. Be vigorous and uncompromising against Russia's fucking enemies.' And that's exactly what Ramzan did, as he saw it."