In The East, Ukraine Fights A Losing Battle On Two Fronts
"In all honesty, Ukraine doesn't have any experience waging war and substantial anti-terror operations. And since we don't have it, we make mistakes, unlike Russia."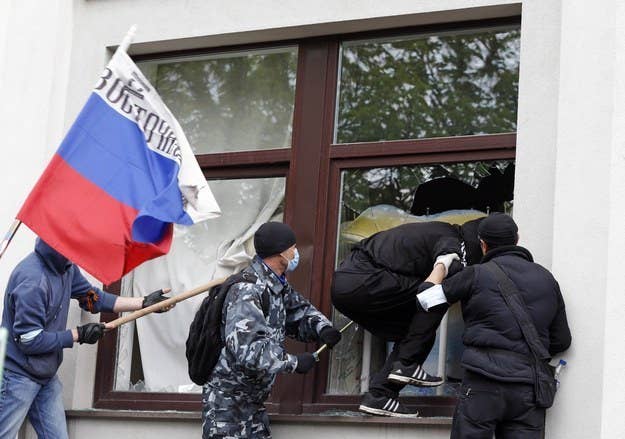 KIEV, Ukraine — As a crowd of protesters raised the Russian flag over the provincial government headquarters in the eastern city of Luhansk and seized local police and television stations Tuesday, Ukraine's interim government faces defeat in the country's political crisis on two fronts.
Kiev's failed attempts last week to reclaim buildings seized by militants have only seemed to embolden separatists, who are gradually morphing from isolated pockets of ragtag men to eastern Ukraine's new normal. Russia's propaganda machine, which insists Kiev is under the thumb of "fascists" hell-bent on persecuting Russian speakers, has whipped up support for the movement, which polls show represents an active minority but has made huge strides in the absence of a firmer response.
Kiev seems all but powerless to keep the separatist movement from spreading: Police forces in the east have mostly stood idly by as militants seize government buildings and attack protesters. Acting President Oleksandr Turchnyov said in a televised address Tuesday that Ukraine would essentially create a new police force and security service in the two most restive provinces, Donetsk and Luhansk, to replace officers who "betrayed Ukraine and began to work with terrorists."
"It's difficult to accept, but that's how it is. The vast majority of security officials in the east are not able to fulfil their responsibilities to defend our citizens," Turchynov said.
With less than a month before presidential elections scheduled for May 25, signs of Kiev's influence in eastern Ukraine are increasingly hard to find. "In all honesty, Ukraine doesn't have any experience waging war and substantial anti-terror operations," Deputy National Security Council Secretary Viktoria Syumar said at a briefing. "And since we don't have it, we make mistakes, unlike Russia," where "waging war has become a norm of life," she continued. "We don't want to make war a norm of life, but we need to learn how to stop these steps quickly."
Ukrainian officials insist they are doing all they can to reclaim the east under an "anti-terrorist operation" relaunched last week after aborting a miserable first try. Despite declarations that armed forces would surround and blockade the militant stronghold of Slovyansk, separatists continue to move in and out with apparent ease, increasing their confidence — and the support of Russia, which refers to them as "local citizens driven to despair" by Kiev.
On Monday, supporters of the "Donetsk People's Republic" attacked a peaceful pro-Ukraine demonstration in the key eastern city of Donetsk, according to local media.
The militants have also shown no signs of releasing about two dozen hostages held in Slovyansk, whom they appear to see as both bargaining chips with Kiev and the West and a point of pride.
The failure of the anti-terrorist operation has led many of the Kiev government's supporters to openly despair ahead of Ukraine and Russia's long May holidays, which begin on Thursday and last 10 days. Kiev says it expects separatist activity in the east to intensify around May 1, a traditional workers' holiday, and on Victory Day on May 9, which in Russia is marked with the same orange-and-black ribbons worn by the anti-Kiev movement. Popular groups from the time of protests against former President Viktor Yanukovych last winter have rallied outside government offices in the capital and accused officials of surrendering the east in the same meek fashion as Crimea, where commanders were given no orders on how to resist Russian occupation.
"We have a sacred war, a defensive war. But despite that, the commanders' hands are tied tight," read a Facebook post by Dmitry Tymchuk, a military analyst whose murkily sourced reports are frequently cited in Ukrainian media. "Every step and nearly every shot is strictly controlled from above. The result is deplorable."
One key to the separatists' success throughout the unrest has been Russian media, which refers to them as "supporters of federalization." Kremlin camera crews have the curious knack of being in the right place at the right time to film every building seizure, including Tuesday's in Lugansk. Keenly aware of the need for informational support, separatists seized a TV tower in Donetsk on Sunday and replaced Ukrainian channels with Russian state media — again, with no interference from police.
"Their logic is the same as in Crimea," Oleksandr Tkachenko, director of 1+1, one of Ukraine's largest channels, told BuzzFeed. "Turning off the Ukrainian channels is important if you're trying to seize the territory and prepare the population for it."
At times, the Russian media has gone from dubiously objective chronicler to apparent supporting player in the unrest. Russia's foreign ministry released a statement Monday decrying the construction of a European Union-funded migrant detention center it suspected were really "fascist concentration camps" disguised as deportation centers to hold "dissident citizens from the southeastern regions of the country."
The only source for the claim was a report on Russian state television by Arkady Mamontov, a top Kremlin propagandist who has previously said that the punk opposition group Pussy Riot were "devils" working with rogue oligarchs to destabilize Russia and that the meteorite that landed in Chelyabinsk, near Siberia, last year, was a divine warning to stop a "gay revolution" being launched from abroad against Moscow. A spokesperson for the EU's delegation to Ukraine denied the Russian allegations.
Reporters from Komsomolskaya Pravda, Russia's best-selling tabloid, even interviewed three bound and blindfolded Ukrainian secret service officers kept hostage in Slovyansk. Video:
Kiev appears to have given up winning the propaganda war against Russia. Officials infuriate Moscow's more active supporters there by calling them "separatists" and "terrorists" while moving forward with measures to keep Russian channels, switched off a month earlier, off the air. Several dozen Russian journalists attempting to enter Ukraine have been turned away at the border, while those who attempt to do so in future may be required to get accreditation beforehand.
Some pro-Kiev officials from Russian-speaking regions even refuse to speak to the media in any language other than Ukrainian. "The Russians are the aggressors now," Hennady Moskal, a member of parliament and former governor of Luhansk whose last name is an epithet meaning "Moscow scum," told BuzzFeed. "Learn Ukrainian or leave me alone."
Max Seddon is a correspondent for BuzzFeed World based in Berlin. He has reported from Russia, Ukraine, Azerbaijan and across the ex-Soviet Union and Europe. His secure PGP fingerprint is 6642 80FB 4059 E3F7 BEBE 94A5 242A E424 92E0 7B71

Contact Max Seddon at max.seddon@buzzfeed.com.

Got a confidential tip? Submit it here.