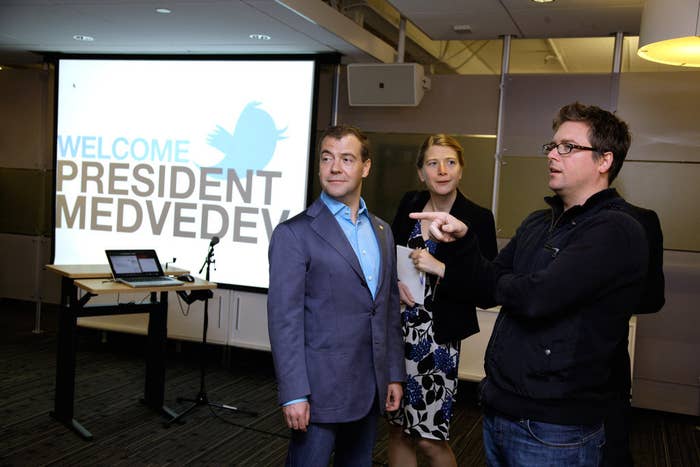 KIEV, Ukraine — In Russia, likes, reposts, and retweets aren't just endorsements — they're now punishable by up to five years in prison.
President Vladimir Putin has approved new amendments introducing harsh sentences for online incitement to religious hatred and "extremism," further tightening the screws in the Kremlin's recent internet clampdown.
Under the amendments, passed by parliament earlier this month and published on an official government website with Putin's stamp on Monday, prosecutors essentially have the right to charge anyone who reposts content they deem illegal. Russia's vaguely worded "extremism" law is ostensibly aimed at targeting neo-Nazis and Islamic militants, but has been applied to everything from opposition groups to Scientology and South Park, in what rights groups say amounts to backdoor censorship.
The new measures post facto legalize practices Russian authorities have been increasingly keen to avail themselves of during the Kremlin's recent crackdown on the internet, which Putin called a "CIA project" in April. Several cases dating back to last year already indicate actions as trivial as a Facebook like or a retweet could land internet users in jail.
An opposition activist in the remote Siberian city of Barnaul is standing trial for reposting a picture of two bullets with the caption "The only argument the authorities'll hear." In January, police briefly detained a philosophy professor at Moscow State University after he reposted an article theorizing overthrowing the government. A blogger in another Siberian city was arrested last year for retweeting a picture of a leaflet that called on people to trash officials' cars.
"Retweeting and publication is the same thing as distribution," an account said to be run unofficially from Russia's Investigative Committee replied to the original tweet, since deleted. "Get ready."
Russia has blocked 185 sites this year after prosecutors found them to be "extremist," according to an unofficial online database. Most of them are linked to political opposition figures who tried to organize protests against Russia's annexation of Crimea. Courts have banned over 2,300 "extremist materials" since the law was passed in 2002, according to the Justice Ministry website.
Social media itself has also found itself a target of the crackdown. A senior Twitter executive recently visited Moscow for clear-the-air talks with Russia's communications watchdog, prompted by an official who threatened to block Twitter "within a few minutes" if it did not comply with requests to shut down accounts without a court order. The founder of wildly popular Facebook clone VK left the country in April after Kremlin-linked shareholders forced him out following pressure over his efforts to resist similar censorship.
The Investigative Committee Twitter cited here is not the agency's official account, but is widely believed to be run from within it.