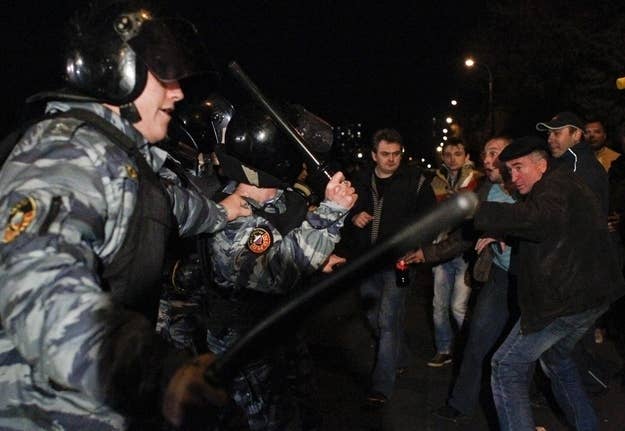 Moscow saw its worst racially-motivated violence in years Sunday when thousands of rioters, many chanting racist slogans, stormed a suburban shopping mall to protest an ethnically-charged murder.
Police arrested at least 380 of the rioters, many of whom were drunk, and sent in the entire Moscow reserve force to quell the rest in the suburb of Western Biryulevo, Russian news agency RIA Novosti reported. Another 60 people were arrested when foreigners started a mass brawl in northwestern Moscow, police said.
The rioting broke out after nationalists called for a "people's meeting" to protest the Wednesday night murder of 25-year-old Egor Shcherbakov. Shcherbakov had been returning home with his girlfriend when he got into an altercation with a man allegedly from Russia's troubled, mostly Muslim provinces in the North Caucasus. The man, whom police have not yet identified, argued with Shcherbakov about his girlfriend, stabbed him with a knife, and ran away. Police said that the suspect is a shawarma vendor and not a Russian citizen.
Translation: "YET ANOTHER CAUCASIAN KILLED A RUSSIAN GUY, Biryulevo Resident EGOR SHCHERBAKOV. COME TO THE PEOPLE'S MEETING: October 13, 16:00. Today they killed Egor - who'll they kill tomorrow?"
Several hundred people gathered at the site of Shcherbakov's murder, then stormed a shopping mall and a vegetable storehouse, both known to be gathering places for Russian-speaking Muslim migrants.
Some of the protestors threw bricks and flares, broke windows, and fought with riot police.
Ethnic tensions have been an increasing headache for Russian authorities in recent years. Vladimir Putin drew heavily on nationalism in his first two presidential terms from 2000 to 2008, but abandoned it after violence against non-Russians surged. Soccer fans rioted outside the Kremlin, also in protest at an ethnically tinged murder, in 2010.
As a precaution, riot police closed off Manezhnaya Square near the Kremlin, the site of the 2010 riot, pictured below.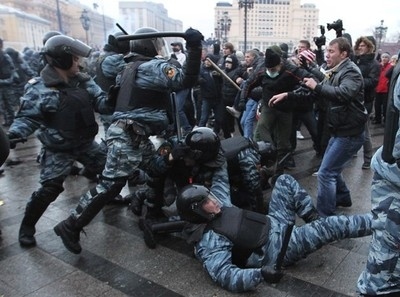 Russia has the world's second-highest number of immigrants after the U.S., according to the U.N., consisting predominantly of Muslims from its Caucasus provinces and the impoverished former Soviet republics of Central Asia, which have visa-free regimes with Russia. Millions of them live in Moscow and work at markets and construction sites, drive gypsy cabs, or clean streets.
Independent and state-run polls have found that resentment towards migrants has steadily grown in recent years. Officials and opposition figures such as anti-Putin movement leader Alexey Navalny frequently claim that migrants commit the vast majority of violent crime in Moscow, though this is not borne out by police statistics.
Some state-run TV channels did not air footage of the violence for several hours. Margarita Simonyan, editor of the Kremlin's English-language network RT, wrote on Facebook that the riots were a direct result of anti-Putin protests that turned violent in May 2012. A municipal councillor in suburban Moscow blamed the riots directly on Navalny and called for him to be "brought to justice."
Translated using Google translate.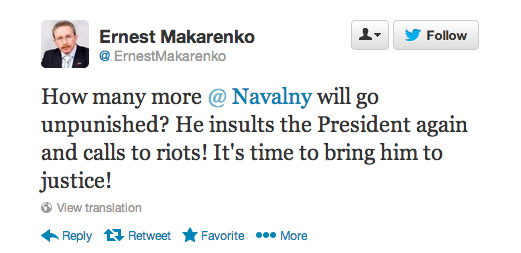 Translation: "The authorities' playbook is falling apart in Biryulevo. You can't pin it on the State Department, [esoteric anarchist punks] the National Bolsheviks, or liberals. The attackers were like-minded people."
One rioter posted several photos of the events on Instagram.