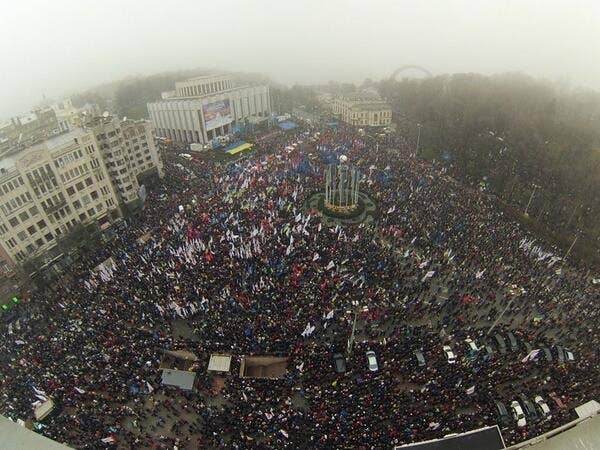 KIEV, Ukraine — Tens of thousands of people marched on Sunday against President Viktor Yanukovych's decision this week to forsake an agreement with the European Union in favor of restoring relations with Russia, the largest protest in this bitterly divided former Soviet state since 2004's Orange Revolution.
As many as 100,000 opposition supporters marched from Taras Shevchenko Park to European Square in the capital to demand Yanukovych sign a long-mooted agreement with the EU, Ukrainian media and organizers reported.
Protesters marched peacefully, chanting "Ukraine is Europe" and holding yellow-and-blue Ukrainian and European Union flags while pro-EU politicians denounced the government.
"Yanukovych should be impeached, [Prime Minister Nikolai] Azarov should resign, and Ukraine should [move] to the European Union," Arseny Yatsenyuk, leader of the major pro-European opposition party, Fatherland, said.
Other speakers demanded that Yanukovych be tried for torture, sanctioned by foreign governments, ousted in early elections, and fulfill all remaining requirements for Ukraine to align with Europe.
Yanukovych has long said he would conclude the agreement, viewed as a key step on the path to eventual membership, at a summit in Vilnius, Lithuania next week, but unexpectedly halted preparations last Thursday.
Azarov claims that harsh terms for a possible International Monetary Fund loan meant Ukraine could not afford to sacrifice trade with Russia. The real cause, however, was widely believed to be sustained economic pressure from Moscow, which Yanukovych reportedly described as "blackmail." Russia wants Ukraine to join a customs union with other post-Soviet countries, which President Vladimir Putin views as a precursor to a "Eurasian Union" that would act as a counterweight to Western powers.
The EU, for its part, says that Ukraine is still welcome to sign the agreement. Stefan Fuele, the EU's point man on the deal, wrote in an op-ed in the Zerkalo Nedeli newspaper that "the door to signature of the [agreement] remains open for the future once conditions are ripe."
Losing Ukraine is a major, unexpected setback for the EU's Eastern Partnership program, aimed at drawing post-Soviet countries into its fold. Armenia abruptly abandoned European alignment plans and said it would join the customs union in September after its president, Serzh Sargsyan, met Putin in Moscow. Moldova and Georgia still plan to initial agreements with the EU in Vilnius.
Yanukovych still says he intends to sign the agreement eventually, but appears more intent on securing reelection in 2015 than fulfilling its immediate demands. His Russian-speaking base in the industrial east and south wants to retain ties with Russia, a key trading partner and the country's main supplier of natural resources.
Putin's Eurasian Union project, for its part, is inconceivable without Ukraine, by far the largest country in its orbit and the birthplace of Slavic culture. Russia made major efforts to twist Ukraine's arms in recent weeks, summoning Yanukovych to Moscow twice for off-the-books meetings with Putin and allowing trade between the two countries to drop 25%.
The shock decision has bitterly split this impoverished country of 46 million, where polls show a majority of people favor moving towards Europe. Ukrainian speakers largely concentrated in the west and in rural areas overwhelmingly favor moving away from Moscow's orbit. The mayor of Rava-Ruska, a small town on the Polish border, appealed to the EU to allow it to sign the agreement separately from the rest of the country, and said its citizens would not recognize "the government's anti-Ukrainian decision."
Local lawmakers in nearby Lviv, Ukraine's major western city, passed a resolution declaring the central government illegitimate and saying they refused to be "Russia's raw material colony."
Talks foundered in part over the fate of jailed former prime minister Yulia Tymoshenko, Yanukovych's arch-nemesis, who the EU says is a political prisoner. European officials made Ukraine's European association conditional on releasing her to receive medical treatment for a back ailment in Germany and made 27 trips to Kiev to attempt to secure her release, but to no avail.
In a letter from a prison hospital in Kharkiv read onstage at the protest by her daughter Evgenia, Tymoshenko implored Ukrainians to pressure Yanukovych to sign the agreement next week and recreate the enormous protests of the Orange Revolution, which began nine years ago Friday and forced a repeat presidential vote that Yanukovych lost. The heady hopes of those days soon foundered, however, as the country descended into bitter infighting and elected Yanukovych in 2010.
"Through a mystical confluence of circumstances, Yanukovych has brought us all out onto the square again on the same November days as nine years ago. When history repeats itself that way, it's a sign," Tymoshenko wrote. "History has returned us this task once more, and this time we don't have the right to make a mistake again."
Sunday's protests attracted a diverse crowd, ranging from college students who were in middle school during the Orange Revolution to their grandparents. Alexander Kozhukhar, a philosophy student from the Black Sea city of Odessa, said he had come to Kiev to protest because the government was "not making any decisions and keeping Ukraine in a social quagmire."
Kozhukhar said time he spent in Western countries working as a merchant seaman before college had convinced him Ukraine must move towards Europe. "I saw how people live there. I want European standards of life," he said.
Protests in favor and against signing the agreement with the EU also spread to other cities. About three thousand people gathered in Lviv to wave EU flags, sing the Ukrainian national anthem, and chant "Students want to eat Brussels sprouts!" Kommersant reported. About the same number of people marched in Simferopol in the Crimean peninsula to praise the decision and call for better ties with Russia, according to RIA Novosti.
Many of the most keen demonstrators were Ukrainian journalists, especially from the independent website Ukrainska Pravda, which renamed itself Evropeiska Pravda (European Truth) for Sunday's events.
Mustafa Nayyem, an Afghan-born Ukrainian and its star reporter, organized impromptu protests leading up to the event and urged Ukrainians to keep up pressure on the government.
Most protesters dispersed soon after the rally ended. But a few thousand, including a large number of students, gathered at the monument for Ukraine's independence on the Maidan, the square that was the centerpiece of the Orange Revolution. Some made speeches in a rough imitation of an Occupy Wall Street general assembly, while others sang songs and attempted to set up a tent city.
Others, many from the far-right nationalist Svoboda party, gathered outside the Cabinet of Ministers, which houses the government, chanting, lighting flares, and jumping up and down soccer-hooligan style. Some attempted to break through riot police but were beat back with truncheons and tear gas. A few protesters also appeared to spray tear gas. There was little outright violence, however, despite the scuffles.