How One Subtweet Spurred An LGBT Activist To Flee Russia
One anonymous tweet was all it took for Russian LGBT activist Viacheslav Revin to flee halfway around the world and seek asylum. Was a notorious policeman threatening him?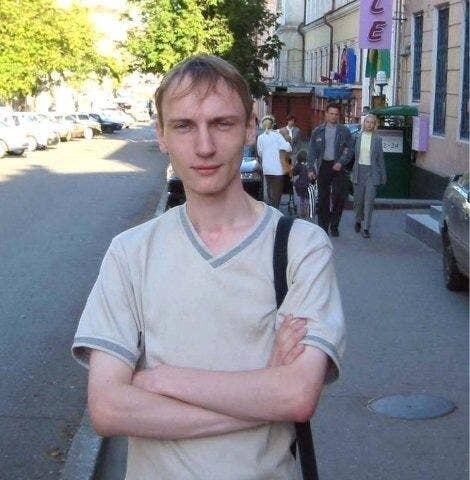 WASHINGTON — When he chided a lawmaker on Twitter for not voting against Russia's anti-LGBT law in June, LGBT activist Viacheslav Revin could hardly have imagined where he'd wind up a month later: halfway around the world and applying for political asylum in the U.S., fearful of being beaten by police if he returned.
Revin had been involved in both LGBT and anti-Putin opposition groups for years, both in Moscow and the city of Nizhny Novgorod, with little to fear beyond the arrests at protests that are a rite of passage for many Russian activists. But one short tweet, he says, from the head of a feared local police unit — "We'll find him" — was enough to make him fear for his life.
Revin's case, human rights activists say, is a stark illustration of the increasingly foreboding atmosphere Russian LGBT people face since the law was passed. It may also be a sign of the haphazard, scattershot, but vicious way in which Russian law enforcement goes after dissent. Revin is not the victim of a legislative crackdown on gay life in Russia, because that's not what the crackdown really looks like: almost nobody has been charged with the "gay propaganda" law since it was passed. What it is an example of, however, is the chilling effect the government's anti-gay drive has had on the ground, implicitly telling those who already feel outside the law that a new subset of people are now fair game and making LGBT people feel at greater risk. People who find themselves simply in the wrong place at the wrong time now fear they face terrible consequences.
"Before, LGBT people were part of society, part of Russian life," Revin, 30, said. "Now, as long as this law exists, we've been totally frozen out of it. We're fair game."
Revin saw that at work in June after the gay propaganda law cleared the Duma, the lower house of Parliament. That day he chided Dmitry Gudkov, an opposition lawmaker and active participant in the anti-Putin protest movement, for abstaining from the vote (he was the only one to abstain; the bill passed unanimously 436-0):
"You didn't vote against it. That's tacit approval."

The tweet was noticed by a pro-government blogger in another city, who tweets under the handle @polit_sru (best translated as "polit_shit"). The blogger tagged another account, @NNovXZ, which activists believe belongs to a member of the Nizhny Novgorod Anti-Extremism center, known as Center E. A special division formed under a vaguely worded law outlawing "extremism," Center E is supposed to fight the likes of Islamist radicals and neo-Nazis. In the few years of its existence, however, it has also become a notorious byword for abuse after rights groups documented cases of it using extra-legal methods against opposition activists.
Revin himself had filed several appeals to federal agencies in Moscow accusing local police of using force to suppress the local anti-Putin opposition movement, though to no avail. The pro-government blogger pointed this out to @NNovXZ:
"Look. This is the piece of shit who ratted on you. He's an AIDS-ridden faggot from [Nizhny Novgorod]."

"ah got it i'm on my way to work"
"OK. This asshole is always writing complaints to Moscow. So bear it in mind."

"we'll have to have a chat with him"
Soon, an account that activists with the Committee Against Torture, a well-respected local NGO that fights police brutality, say belongs to local Center E boss Alexei Trifonov joined in. By way of proof, the group's spokesman, Ivan Zhiltsov, showed BuzzFeed how the account posted a video of a local protest. A photograph taken at the same protest shows Trifonov filming. The vantage point of the video matches, placing him at the scene. BuzzFeed could not independently verify the accuracy of the videos. Nizhny Novgorod police did not respond to a request for comment.
Trifonov is the local opposition's bête noire: his dossier on the Lustration Base, a website created by local activists that compiles police abuse, is 118 pages long. Activists have complained to the Committee Against Torture about being viciously beaten by his employees or him personally at least eight times in the last three years.
The tweet allegedly sent by Trifonov left Revin shaken. The user later deleted his tweet, but Revin saved a screenshot:
@oper_nn: "we'll find him" @polit_sru "Oho. He's the only one of them you've got there."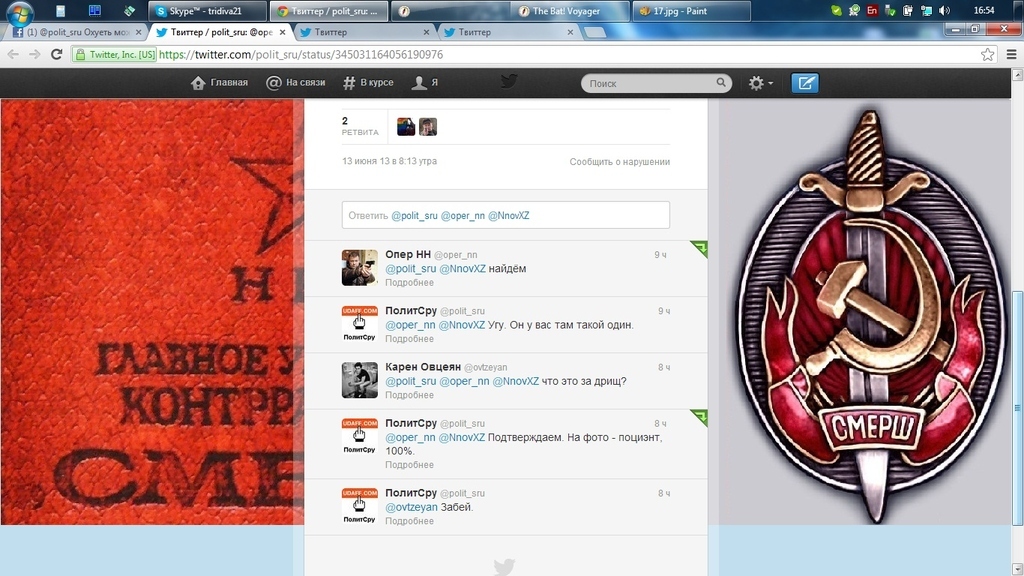 @polit_sru "Ehhhh. The main thing is to get as many bottles ready as possible. We already know that they survive after THREE bottles. From experience."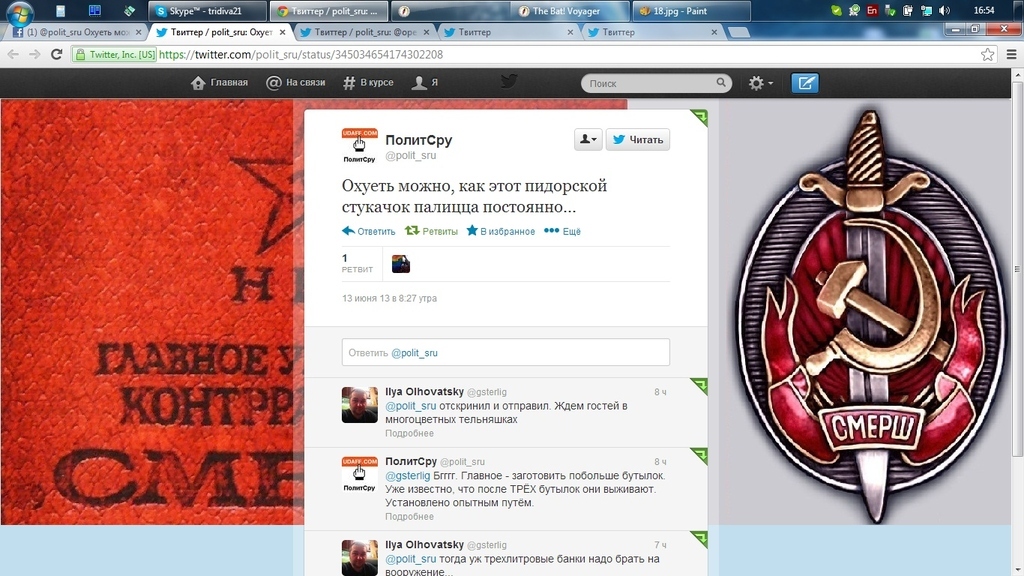 "When I saw that tweet, I knew what that meant — 'we'll find him,'" Revin said. He began consulting with human rights activists, who told him that they believed the @oper_nn account did indeed belong to Trifonov. They advised him to travel to Moscow and lay low for a while.
In a conversation with BuzzFeed over Twitter direct messages, the user of @oper_nn admitted sending the tweet but denied that any physical threat lay behind it. He denied he was Trifonov, whom he said he "knew online," but refused to provide any other information about himself that would confirm his identity or his relationship with law enforcement.
"Revin wants to live abroad at the expense of the LGBT community, that's it and that's all," the user wrote. "Nobody touched him, called him, met with him, or threatened him. He's a liar." @oper_nn declined to say why he deleted the tweet.
Days later, Revin's worst fears were seemingly confirmed. A local opposition activist who had recently placed a banner outside the local headquarters of the Federal Security Service (FSB), the KGB's successor agency, calling its agents traitors, was kidnapped outside his house by masked men who dragged him onto a bus and brutally beat him. While in the bus, the activist, Alexander Zaitsev, says he heard the men mention Trifonov. The men then took Zaitsev to the woods and piled the top of an anthill over him before beating him again for about an hour. Zaitsev claimed that Trifonov boasted to him a few weeks later that he had a video of the incident.
Police are currently conducting an investigation after the Committee Against Torture filed a complaint. The suspects have not been named.
The @oper_nn account publicly delighted in the attack on Zaitsev and published a photo of him after the beating.

@oper_nn: "[...] the patient's been very thoroughly examined. They say ants are still coming out, some of them through his mouth, ears, and nose"

Sitting six hours' drive west in Moscow, Revin was shocked. "That's what it means when they say they want to 'talk' to you," he said. "They've been doing it so long, they don't worry about it getting in the public sphere."
Evgenia Kaminskaya, a local activist who helped Revin and works at a human rights NGO called the Natalia Estemirova Documentation Center, said, "There's no doubt that Center E is a threat for civil society and political activists and is part of the crackdown against activists that came from above here. If you look at the LGBT situation here now, everyone who's 'nontraditional,' as the government put it, are definitely under threat – especially if they are politically active."
After leaving town, Revin gave an interview on Russian TV discussing his case; @oper_nn tweeted the link to the @polit_sru blogger:
@oper_nn: "come to NN, everyone already thinks you're from Nizhny))" @polit_sru: "What, this fag shat his pants so much that he started complaining about us in the media, and then got the fuck out of NN? That's a result."

Revin eventually linked up with activists who helped him get to the U.S. this summer and apply for asylum. (Larry Poltavtsev, director of Spectrum Human Rights, the organization which helped him, declined to discuss the process in detail, likening it to an "underground railroad.")
The situation in Nizhny Novgorod remains fluid — recently, its Center E has gone after members of three right-wing anti-gay groups, including the local chapter of "Occupy Pedophilia," a right-wing movement that lures unsuspecting gay men into honey traps online by posing as teenage boys looking for sex. Four members of one group were arrested for stealing their victims' property. Seven members of another were arrested for beating up men they had ambushed.
But Revin still fears retribution if he returns to Nizhny Novgorod, and expects more LGBT Russians will face similar dangers until authorities make an effort to improve the climate — starting with the "homosexual propaganda" law. He realizes, however, that not everyone who faces intimidation and violence because of their orientation will be as fortunate as him.
"Most people can't [leave Russia]," he said, pointing out that a plane ticket from Krasnoyarsk in central Siberia to Moscow alone costs more than the average Russian's salary. And he still hopes the situation inside the country will change: "[Even] if everyone leaves, more gay people will still be born."
Max Seddon is a correspondent for BuzzFeed World based in Berlin. He has reported from Russia, Ukraine, Azerbaijan and across the ex-Soviet Union and Europe. His secure PGP fingerprint is 6642 80FB 4059 E3F7 BEBE 94A5 242A E424 92E0 7B71

Contact Max Seddon at max.seddon@buzzfeed.com.

Got a confidential tip? Submit it here.