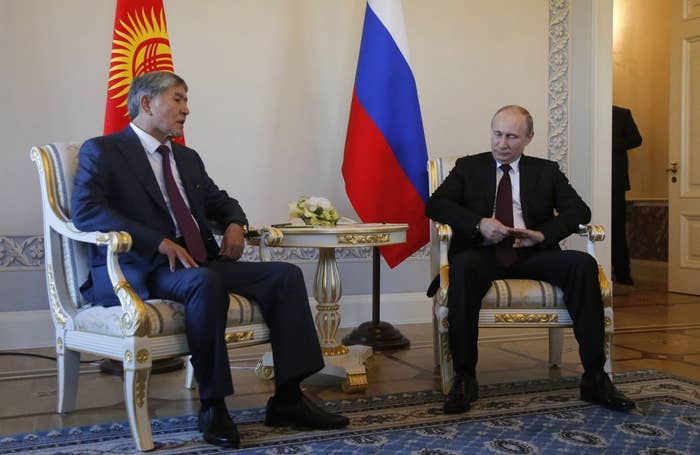 MOSCOW — Russian President Vladimir Putin made his first public appearance on Monday after an 11-day absence that sparked wild rumors he was gravely ill, recovering from plastic surgery, attending the birth of his lovechild in Switzerland, overthrown by hardliners in a coup, or dead.
Putin, who had last appeared alongside Italian Prime Minister Matteo Renzi on March 5, attended a scheduled meeting with his Kyrgyz counterpart, Almazbek Atambayev, at the Konstantinovsky Palace in St. Petersburg. The start of the meeting, which began two hours behind schedule in keeping with Putin's customary tardiness, was broadcast on Russian state television.
Despite the flurry of worry over his health, Putin, 62, declined to say where exactly he had been and what he had exactly been doing. "It'd be boring without gossip," Putin said, according to Russian news agencies.
"Vladimir Vladimirovich just drove me around the grounds, he was behind the wheel himself. That's so there's no gossip," Atambaev said, according to the RIA Novosti state newswire. "As they say in Russian, don't get your hopes up."
After spending the whole of the previous week fending off questions about Putin's health, the Kremlin press service made a concerted effort to demonstrate that he was indeed alive and kicking. Meetings with the presidents of Kazakhstan and Belarus and the leadership of the breakaway Georgian republic of South Ossetia, shelved last week without explanation, were announced for the coming days. Dmitry Peskov, Putin's sandily mustached spokesperson, said that Putin would soon hold his annual marathon phone-in session, which usually sees him talk live on TV for over four hours.
"You all saw the paralyzed president captured by generals? He just flew back from Switzerland where he was attending a birth, as you know," Peskov told reporters. Asked about a report in the Austrian media that a doctor had flown to Moscow to treat Putin for a bad back, Peskov said, "Yes, he was among the generals who captured Putin."
Speculation over Putin's disappearance began last week after the Kremlin stubbornly refused to provide an excuse for where he was, instead offering increasingly awkward attempts to make it look like all was well. Meetings with regional governors and a selection of some of Russia's most distinguished mothers turned out to have taken place several days before they were announced.
Theories about why this happened look set, at least for now, to remain theories. Reuters, citing a source in the Kazakh government, said he postponed the trip there because he was ill. Dozhd, an independent TV channel not known for its Kremlin scoops, claimed that he had left the capital altogether and gone to his residence in Valdai, northwest of Moscow, to recuperate from the flu. Several Swiss tabloids reported that he had gone to the canton of Ticino to attend the birth of his third alleged child with 32-year-old former Olympic gymnast and lawmaker Alina Kabayeva.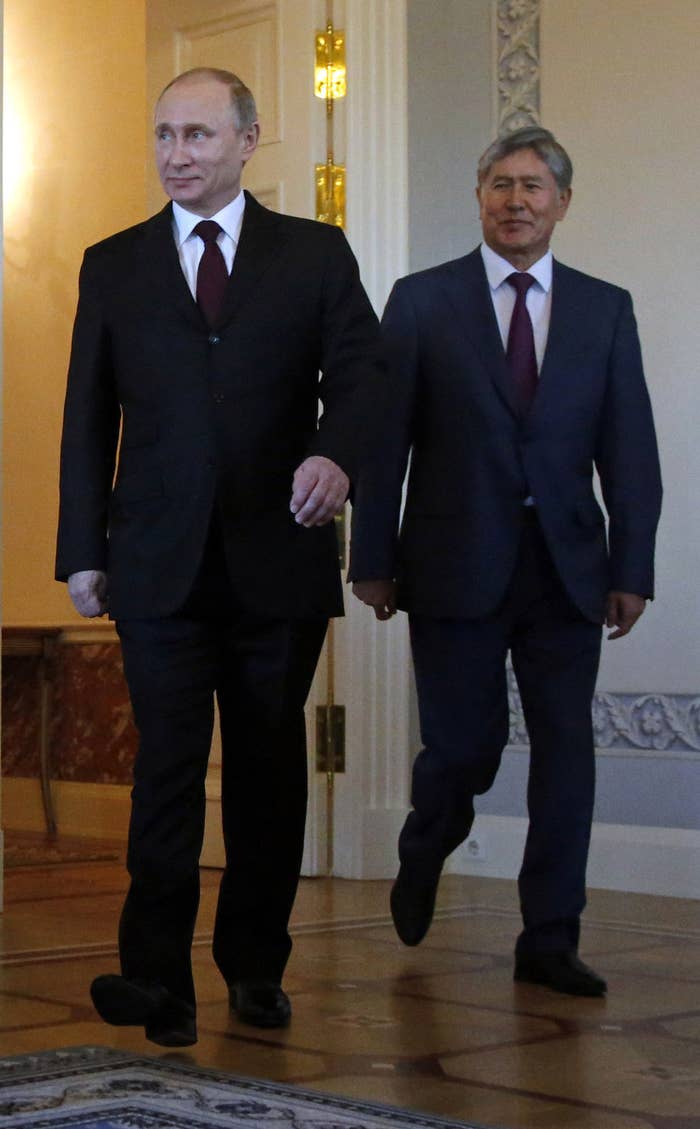 In a stark contrast to his predecessor Boris Yeltsin, whose drinking bouts and heart problems caused him to frequently vanish from the public eye, Putin, 62, has sought to portray himself as the paragon of health throughout his 15-year rule. He plays hockey, practices judo, and rides around on a horse bare-chested; he has flown in a hang glider with endangered Siberian cranes, dived for ancient amphorae, and shot a tiger with a tranquilizer dart. After pronounced absences during his first two major crises — the sinking of the Kursk submarine in 2000 and the siege of a Moscow theater in 2002 — the only major blip on his public schedule came in 2012, when he rearranged several meetings after what the president of Belarus said was a judo injury.
Earlier on Monday, Putin flexed his metaphorical muscles by ordering massive military exercises in Russia's Arctic. The exercises, announced in a statement by Defense Minister Sergei Shoigu, involve over 38,000 troops, 110 airplanes and helicopters, and the entirety of Russia's Northern fleet.
"New challenges and threats to military security demand the armed forces further increase their combat capabilities and pay special attention to the newly reformed strategic formations in the north," Shoigu said, RIA Novosti reported. Shoigu said that the main purpose of the exercises was to test Russia's strength in difficult climate conditions in the resource-rich Arctic, where Russia is jockeying for territory with several NATO countries.
Russia's armed forces carried out several other large exercises in other parts of the country last year in the run-up to its military intervention in Ukraine. Putin continues to deny that he sent Russian troops to Ukraine's Donetsk and Lugansk provinces, but admitted in a state TV documentary shown Sunday that he ordered and personally controlled the operation to annex Crimea last February.
"Do you know what our advantage was?" Putin said. "That I did it myself. Not because I did everything right, but because when heads of state do that, it's easier for the people taking orders to do their job."
Putin also said that he was prepared to put Russia's nuclear arsenal on full alert if the Crimean operation went wrong. "We were ready to do it. I spoke to my counterparts and told them that it's our historical territory, Russian people live there, they're in danger, we can't leave them," he said. "Where are you? Thousands of kilometers away? We're here, and this is our land! What do you want to fight for there? You don't know? We know. And we're ready."