Georgia Thrilled At Boring Landslide Elections, But Intrigue Remains
A handy victory for the Georgian Dream coalition in a presidential vote still leaves the major questions in Georgian politics unanswered.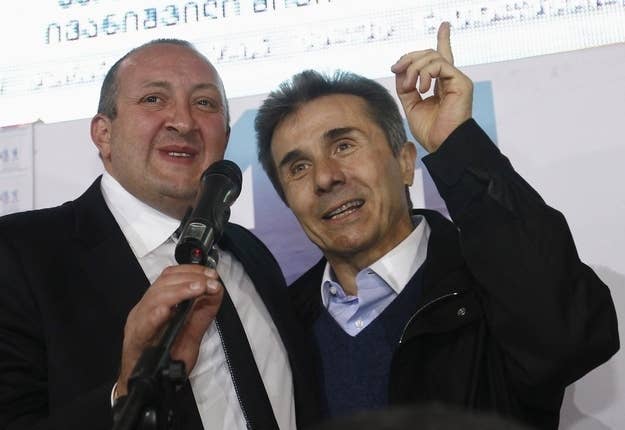 TBILISI, Georgia — Outgoing prime minister Bidzina Ivanishvili cemented his hold on power Sunday after his ruling coalition's candidate won presidential elections handily in the first round.
Two separate exit polls showed Giorgi Margvelashvili, the candidate from Ivanishvili's Georgian Dream coalition, with about two thirds of the vote, far more than the 50 percent needed to avoid a runoff. His nearest rival, United National Movement candidate David Bakradze, conceded defeat half an hour after polls closed.
The elections mark the end of the nine-year rule of President Mikheil Saakashvili, leader of the UNM, who took power after leading the "Rose Revolution" against a moribund neo-Soviet government in 2003. Saakashvili was widely praised for reforms that led Georgia away from Russia towards the west, but lost to Ivanishvili amid criticism that he had become autocratic and intended to prolong his tenure through constitutional changes. Ivanishvili's surprise victory in parliamentary elections last year began an awkward cohabitation period during which he accused Saakashvili and his team of judicial abuses worthy of Pinochet, vowed to eliminate UNM as a political force, and made no effort of his desire to arrest Saakashvili once his term ends.
A mild-mannered academic with a fondness for knitting and almost no political experience, Margvelashvili, 44, is widely viewed as a stand-in for Ivanishvili, Georgia's richest man, who says he will resign next month only a year after taking power. Margvelashvili will inherit a presidency with greatly reduced powers under constitutional changes that take effect when he is inaugurated next month.
Sunday's vote was appropriately muted, with turnout low at 46.6 percent and celebrations in the capital kept to a minimum. The dullness of the election was a pleasing rarity for Georgia, which had never had a peaceful transition of power until Saakashvili unexpectedly lost to Ivanishvili a year ago.
Throughout the campaign, attention focused less on whether Margvelashvili would beat Bakradze rather than what the eccentric and enigmatic Ivanishvili would do once he resigns. Ivanishvili said last week that Margvelashvili should withdraw in shame if Bakradze forced a second round and declared the election a referendum on his tenure. He also implied it would affect his mysterious retirement plans to "control the government publicly," hinting that he would be disinclined to spend his estimated $5.3 billion fortune on projects in Georgia if his candidate got less than 60 percent. Ivanishvili said in a speech Sunday that "a second round would have showed that the Georgian people have no sense of gratitude," Civil.ge reported.
Ivanishvili is set to announce his successor on Saturday and says he will resign later in November. He has given no concrete indication of what he will do afterwards or whom he will nominate, but is understood to be choosing between health minister David Sergeyenko and interior minister Irakli Gharibashvili.
Both men's ties to Ivanishvili far outweigh their political experience, leading to accusations that the billionaire intends to rule by proxy from his space-age "castle" on a hill overlooking the capital. Sergeyenko was director of a hospital financed by Ivanishvili for six years before becoming minister. Gharibashvili has held several positions in Ivanishvili's empire, including running his rapper son Bera's record label, also called Georgian Dream.
Despite placing second, the result was seen as positive for UNM, allowing it to cement its place as the dominant opposition force despite an Ivanishvili-directed crackdown that decimated its party apparatus and saw several senior members arrested. The undisputed loser was conservative candidate Nino Burjanadze, who had campaigned on a pro-Russia ticket and criticized Georgian Dream for not cracking down on UNM hard enough. Burjanadze enjoyed seemingly vast funds of unclear origin, allowing her to flood Tbilisi with campaign posters, but placed a distant third.
Many observers seemed thrilled with how unexciting the election was:
But Swedish foreign minister Carl Bildt warned Ivanishvili against prosecuting members of Saakashvili's government.
Max Seddon is a correspondent for BuzzFeed World based in Berlin. He has reported from Russia, Ukraine, Azerbaijan and across the ex-Soviet Union and Europe. His secure PGP fingerprint is 6642 80FB 4059 E3F7 BEBE 94A5 242A E424 92E0 7B71

Contact Max Seddon at max.seddon@buzzfeed.com.

Got a confidential tip? Submit it here.