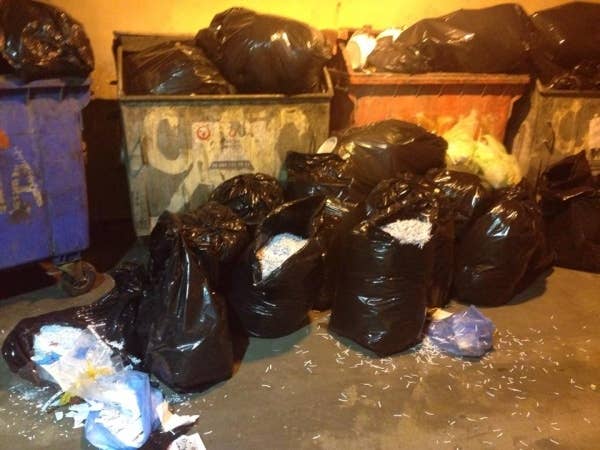 KIEV — Forbes magazine's Ukrainian edition is embroiled in fresh controversy after Ukrainian police and the European Union moved against its fugitive owner on suspicion of stealing more than $1 billion from state coffers. The scandal around 28-year-old oligarch Sergey Kurchenko may stretch as far as the U.S. and Forbes family scion Miguel Forbes, who approved Kurchenko's controversial purchase of the magazine's Ukrainian edition last summer and signed on as an informal business adviser.
Arsen Avakov, Ukraine's acting interior minister, announced 11 criminal investigations Thursday into the VETEK group and Kurchenko, its secretive owner, for importing and "re-exporting" oil in violation of tax and customs regulations. Two other investigations allege that VETEK defrauded state gas company Naftogaz, and charge a company owned by a former driver reportedly linked to Kurchenko with not paying for gas. The total sum that police accuse Kurchenko and his alleged affiliates of stealing totals about 10 billion hryvnias (more than $1 billion).
Kurchenko released a statement Thursday through VETEK expressing his "surprise" at the sanctions and denying the allegations against him.
"I am an honest Ukrainian businessman who has always invested in Ukraine and practically all my business is concentrated here," Kurchenko said. He accused rival oligarchs and their political lackeys of concocting the corruption allegations against him and claimed that no criminal charges had ever been filed against him or his company, apparently unaware of Avakov's allegations. "And I am certain that the misunderstanding that has arisen will be resettled."
Kurchenko, considered a key member of the mafia-like "family" around ousted president Viktor Yanukovych, also appeared on an European Union sanctions list Thursday for "involvement in crimes in connection with the embezzlement of Ukrainian State funds and their illegal transfer outside Ukraine." The sanctions also hit 16 other former senior officials including Yanukovych and former prime minister Mykola Azarov, as well as their respective sons.
Once so secretive nobody knew what he looked like, Kurchenko was dubbed "the multimillionaire from nowhere" after Ukrainian Forbes published a massive investigation chronicling his meteoric rise to control large stakes in Ukraine's oil and gas market in November 2012. The investigation intimated that Kurchenko had close ties to Yanukovych and his son Oleksandr, whose own vast fortune tripled in the second half of last year, the central figures in a group known as the "Family" widely loathed in Ukraine for its perceived corruption. Forbes' journalists published the story despite worries they were risking their lives. Kurchenko emissaries made apparent death threats against the reporters, something Kurchenko appeared to acknowledge in a later interview. Editor Vladimir Fedorin was so scared he hid a draft of the article in an empty bottle and sent his deputy a text message saying "Just in case: anything happens, it was Kurchenko :)"
The scandal deepened when Kurchenko moved in to buy Ukrainian Forbes' parent company last June. Despite the perhaps obvious fears over an oligarch buying the magazine whose reporters he had allegedly threatened for investigating him, family scion and Forbes Media president for television and licensing Miguel Forbes allowed Kurchenko to buy the brand license. (Forbes' international editions are licensed to local publishers, but expected to meet the editorial standards of the parent publication, not unlike restaurant franchises.)
At the time of the sale to Kurchenko, Forbes told the Ukrainian magazine's concerned reporters that all accusations against the oligarch were groundless if he had not been convicted in a court of law, according to two people present at a meeting with him in Kiev. (Ukraine's court system is particularly troubled even by post-Soviet standards, since the president can personally appoint judges.) After sealing the deal, Russia's Interfax news agency cited Forbes as saying he was "very happy with the new opportunity for Forbes Ukraine," and Forbes came on as an advissr to Kurchenko at VETEK. Forbes later told Fedorin in correspondence seen by BuzzFeed that the relationship was informal and in keeping with his business practices.
Forbes Media did not answer questions from BuzzFeed on Thursday about whether it would revoke UMH Group's license or whether Miguel Forbes had ended his relationship advising Kurchenko.
"Forbes Media has been monitoring and will continue to monitor and evaluate the situation in the Ukraine, including those actions relating to our licensee as events continue to unfold," company spokesperson Mia Carbonell said in a statement.
When a reporter for Ukrainian Forbes sent an inquiry about the deal to the parent company for an article last year, legal counsel responded by accusing her of writing the story "with the specific intent of tarnishing Forbes and the goodwill of our company and trademarks," in a letter dated July 17, 2013, and seen by BuzzFeed. The letter went on to accuse the magazine of violating Forbes' editorial standards, and to threaten that "in the event any individual involved in the writing of this story has an alternative agenda or is using this story as a means to settle a perceived wrong, we will take such breach of objectivity very seriously."
Once the deal went through in November 2013, Kurchenko's employees set about installing what reporters called a censorship regime forbidding them to write about figures linked to Yanukovych. Nearly half the editorial staff resigned immediately, following Fedorin and the reporters who wrote the Kurchenko investigation, Olexandr Akymenko and Sevgil Musayeva. Shortly afterward, Vitaly Sych, a legendary longtime editor of Korrespondent magazine, which is owned by the same company, UMH Group, quit in a similar scandal, stoking fears in Ukraine's media community that Kurchenko was attempting to clear the field ahead of Yanukovych's planned re-election bid in 2015.
Kurchenko is reported to have fled Ukraine after Yanukovych's government was overthrown Feb. 22. His quickfire empire is literally in tatters: Musayeva found about 20 black plastic bags overflowing with shredded documents immediately after Kurchenko's suspected flight. Most of its executives have also fled the country, according to Ukrainian media reports. The chairman of VETEK's supervisory board said this week that employees have not been paid in the last three months, echoing claims by the manager of Kurchenko's soccer team, Metalist Kharkiv.