Forbes Distances Itself From Ukrainian Magazine As Oligarch Owner Wanted For Corruption
Family scion Miguel Forbes, who approved the Ukrainian magazine's controversial sale to an oligarch wanted for stealing $1 billion and facing EU sanctions, has left the company.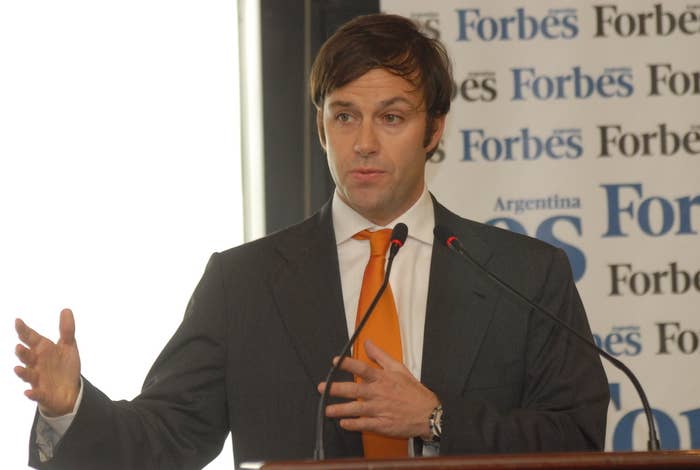 KIEV, Ukraine — Forbes is revoking fugitive oligarch Sergei Kurchenko's license to publish the magazine's Ukrainian edition as he faces billion-dollar corruption charges and European Union sanctions, and the family scion who approved the controversial deal has quit the company.
Forbes Media spokesperson Mia Carbonell told BuzzFeed in an email early Saturday that the parent company was "in the process of revoking our license agreement" with Kurchenko's UMH Group. Family scion Miguel Forbes, who oversaw Kurchenko's acquisition of the license — over protests from editorial staff who believed the Ukrainian oligarch had threatened to kill them when they investigated him — left his role as company vice president at the end of last year, Carbonell said. Miguel Forbes' previously unannounced departure to "pursue entrepreneurial ventures" was not related to the Forbes Ukraine scandal, Carbonell said.
The statement from Forbes came in response to a BuzzFeed article, published Thursday, that detailed Kurchenko's legal woes and cast a considerable shadow over Miguel Forbes' decision to let Kurchenko purchase the company that owned the brand license in June 2013. (Forbes' international editions are licensed to local publishers, but expected to meet the editorial standards of the parent publication, not unlike restaurant franchises.)
On Thursday, Ukraine's interior ministry announced 13 criminal investigations alleging the theft of over 10 billion hryvnias (about $1 billion) from Ukrainian state coffers by oil and gas companies linked to Kurchenko. Kurchenko also appeared on a EU sanctions list the same day for his alleged "involvement in crimes in connection with the embezzlement of Ukrainian State funds and their illegal transfer outside Ukraine."
While Carbonell said Forbes Media hired Ukrainian counsel "months ago" and claimed Miguel Forbes' departure was "unrelated to his role in international licensing," the company had previously remained silent throughout Kurchenko's stormy and short-lived ownership — including when over half the editorial staff quit days after Kurchenko's takeover went through in November to protest what they said was a censorship regime.
Kurchenko, a 28-year-old oligarch and key member of the mafia-like "family" around ousted President Viktor Yanukovych, was so obscure that nobody even knew what he looked like until November 2012, when two Forbes Ukraine reporters published a massive investigation detailing how he amassed a vast fortune through questionably awarded state contracts, mostly in the gas sector. Threats Kurchenko emissaries made to the reporters, Olexandr Akymenko and Sevgil Musayeva, while writing the article scared editor-in-chief Vladimir Fedorin so much that he hid the manuscript in a bottle and told web editor Leonid Bershidsky to blame Kurchenko "if anything happens."
None of that deterred Miguel Forbes when Kurchenko moved to purchase UMH Group, which publishes the magazine, in June 2013. Forbes waved away the reporters' accusations against Kurchenko, which he said were useless until proven in a court of law, and came on as an informal business advisor to Kurchenko's VETEK group. The group is widely believed to be a front for the corrupt business of the Yanukovych "family."
It is unclear whether Miguel Forbes continues to advise Kurchenko. Efforts Saturday to reach him, a spokesperson for UMH Group, and Yuri Rovensky, director of parent company VETEK Media, were unsuccessful.
Kurchenko is believed to be in Moscow after protesters overthrew Yanukovych on Feb. 22 and VETEK employees left about twenty trash bags full of shredded documents outside the company's Kiev office. The corruption allegations against him were a "misunderstanding," Kurchenko said in a statement on VETEK's website.
Max Seddon is a correspondent for BuzzFeed World based in Berlin. He has reported from Russia, Ukraine, Azerbaijan and across the ex-Soviet Union and Europe. His secure PGP fingerprint is 6642 80FB 4059 E3F7 BEBE 94A5 242A E424 92E0 7B71

Contact Max Seddon at max.seddon@buzzfeed.com.

Got a confidential tip? Submit it here.