Dozens Dead After Fiercest Fighting Yet In East Ukraine
Separatist leader says 50 pro-Russian militiamen killed in heavy fighting with Ukrainian forces for control of a crucial airport.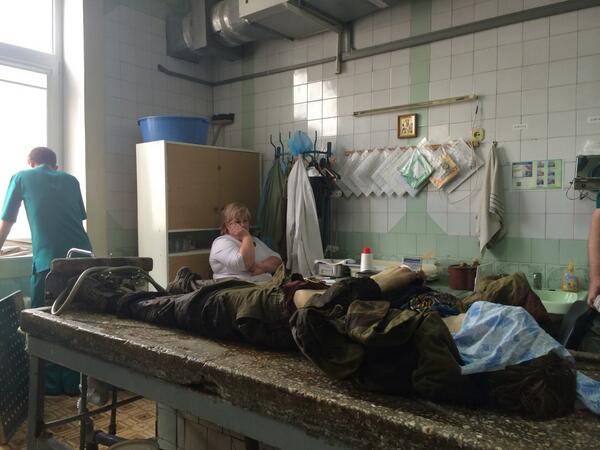 KIEV, Ukraine — As many as 50 members of a pro-Russia militia have been killed in a fierce battle at the airport in the conflict-ridden eastern city of Donetsk, according to the prime minister of the self-proclaimed Donetsk People's Republic.
Ukrainian forces bombarded the airport heavily on Monday afternoon a few hours after around 200 well-equipped rebels seized it, forcing the cancellation of all flights. The clashes were by far the fiercest since the conflict began in mid-April. Previously, Ukraine had only made tentative attempts to dislodge the fighters, who are embedded among local civilian populations and are estimated to comprise between 1,500 and 2,500 separate groups.
Alexander Borodai, leader of the Donetsk People's Republic, which declared its independence after holding a poorly organized referendum earlier this month, told journalists Tuesday that more than 50 fighters were killed, Russian state newswire RIA Novosti reported.
Borodai claimed that Ukrainian forces also suffered casualties and were "demoralized."
Borodai said that at least 15 of the fighters died when Ukraine's army shelled two trucks transporting wounded from the airport.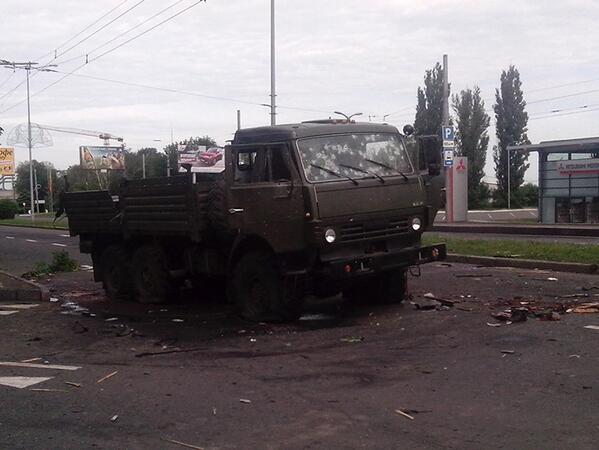 Other rebels and officials gave conflicting figures of the number of killed and wounded. Avakov and Defense Ministry spokesman Vladislav Seleznyov both said that Ukrainian forces suffered no casualties. Donetsk Mayor Alexander Lukyanenko told the Interfax news agency that 40 people were killed, including two civilians. A doctor in the Donetsk morgue told the Kyiv Post that 45 people died, most of them rebel fighters, but an investigator said that there were only 33 casualties.
Ukraine's President-elect Petro Poroshenko has pledged to open dialogue with separatists in the region but vowed to crack down on the armed militia, whom he likens to "Somalian pirates" intent on turning the province into a criminalized failed state. The conflict's escalation since last Thursday prevented most of Donetsk province and neighboring Lugansk voting in Sunday's election and could raise tensions with Russia, whose president, Vladimir Putin, has repeatedly threatened to invade on behalf of citizens in the mostly Russian-speaking region.
Putin recently signaled his intent to normalize relations with Ukraine by saying he would "respect" the outcome of the election, which saw Poroshenko win a convincing first-round victory. Nonetheless, he continues to demand that Ukraine stop the "anti-terrorist operation" in the region, most recently in a phone conversation Tuesday with Italian Prime Minister Matteo Renzi. Moscow and Kiev may find little ground there. Ukrainian First Deputy Prime Minister Vitaly Yarema, who runs the security sector, said at a cabinet meeting Tuesday that operations would continue "until not a single terrorist remains on the territory of Ukraine," Interfax-Ukraine reported.
Many of the 200 fighters photographed at the airport resemble men who Ukraine claims crashed through the border from Russia at the weekend in a convoy of trucks. (Russian border guards deny such a thing ever happened.) Lukyanenko said in a press conference Tuesday that eight of the 43 wounded in Monday's fighting were from Donetsk, and that eight of them were from Russia, including the Chechen cities of Grozny and Gudermes, according to local news site Ostrov.
Rumors have circled for weeks that some of the men fighting on the rebel side are hired guns from Chechnya, a war-torn, mostly Muslim southern Russian province controlled by pro-Putin strongman Ramzan Kadyrov. Chechen irregulars are feared throughout conflict zones in the Islamic world for their ferocity and battle-hardened experience. Rebels in eastern Ukraine admit to shouting "Allah Akbar!" at government forces to scare them into thinking they are being attacked by Chechens.
For most of the conflict, news of the alleged Chechen presence remained spotty. Ukrainian officials claimed the army engaged Kadyrov's soldiers, but offered no evidence. After 16 Ukrainian soldiers were killed in an ambush near the town of Volnovakha last Thursday, an army officer told BuzzFeed the attack had been led by mercenaries with far greater training, equipment, and skills than the Donetsk Republic militia. Kavkaz Center, a news website run by the anti-Kremlin jihadist movement in the Caucasus, published a letter claiming to be from a Chechen serving in a "Russian terrorist group" in Crimea and east Ukraine.
That changed on Sunday, when trucks carrying soldiers drove up to a separatist rally in central Donetsk.
The men's vehicles were daubed with the logo of the Vostok Battalion, a feared Chechen militia that fought alongside Russia in the second Chechen war and the Russo-Georgian war in 2008. Though Kadyrov disbanded the battalion that year after feuding with its commander, analysts believe it continues to exist informally and maintains good ties with Russia's military intelligence, the GRU.
"They're battle-hardened with the kind of skills and experience that lend themselves to this scrappy, undeclared, not really rules-guided kind of conflict," said Mark Galeotti, a professor at New York University who studies Russia's security services. "The current incarnation is not the same, [but] I think at least a certain number of them are actual veterans of the original Vostok," Galeotti added. He imagined a GRU officer saying to the men: "If you're interested in excitement, money, and the chance to shoot some people, it's time to get the band together again."
Kadyrov denies any involvement in the Ukrainian conflict. "I don't know what you're talking about," Kadyrov spokesman Alvi Karimov told BuzzFeed. "There are no Chechen troops in eastern Ukraine."
Though major fighting around the airport had mostly appeared to subside by Tuesday, Donetsk remained gripped in pockets of sporadic, isolated violence. Fighter jets resumed their flights around the city shortly after noon. Gunfire could be heard in residential areas.
Three people died in fighting near the rebel stronghold of Slovyansk north of the capital Monday, as well as one person in the seaside steel city of Mariupol to the south, Vladimir Kolesnik, a provincial official, told Ostrov.
Meanwhile, the Organization for Security and Cooperation in Europe said that it lost contact with a monitoring team of four people based in Donetsk Monday evening. "The team was on a routine patrol east of Donetsk when contact was lost. We have been unable to re-establish communication until now," the organization said in a statement.
Donetsk mayor Alexander Lukyanenko said that 40 people were killed in the fighting and a further 43, including eight people from Donetsk and eight Russian citizens, were injured. An earlier version of this post conflated the figures.