Death Toll Rises In Ukraine Crisis As Clashes Shatter Truce
Updated: At least 42 reported dead in central Kiev on Thursday, including protesters shot in the back. Warning: Graphic images.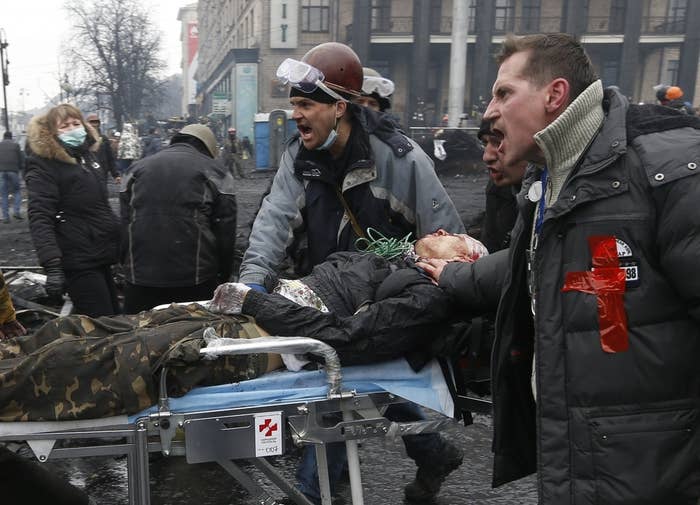 KIEV, Ukraine — The fate of Ukrainian President Viktor Yanukovych slipped further into uncertainty on Thursday after dozens of protesters were killed by sniper fire in the bloodiest day of clashes in his country's post-Soviet history prompted Europe-wide sanctions, rebellion in parliament, and a mass exodus of his supporters in the political and financial elite.
With Kiev's central square, the Maidan, covered in flames, smoke, soot, blood, and dead bodies, Yanukovych negotiated well into the night with Ukraine's opposition leaders under the supervision of the French, German, and Polish foreign ministers. A representative from Russia, Vladimir Lukin, Vladimir Putin's human rights ombsudsman, was also at the talks.
Poland's prime minister and the U.S. Ambassador to Ukraine Geoff Pyatt said that Yanukovych expressed a willingness to hold presidential elections, which are currently scheduled for a year from now, before the end of this year. The ministers and Vitaly Klitschko, a boxing champion turned opposition politician, denied a deal had been reached, but said they hoped to have results by Friday.
Yanukovych began to see defections from his Party of Regions, including the government-appointed mayor of Kiev, Vladimir Makeenko. Reports of oligarchs and businessmen fleeing the capital spread on social media.
The fighting began after armed protesters shattered a truce agreed late Wednesday by attacking police and reclaiming Kiev's central square.
Protesters who had held out against police on Independence Square, known as the Maidan, launched an offensive at 7:30 a.m. local time, shooting at police and throwing Molotov cocktails, eyewitnesses said. Fighting then escalated dramatically over the next hour. Riot police returned fire and threw stun grenades before retreating.
Clashes spread from the square to Hrushevskogo Street, the main locus of violence Tuesday where at least 26 died, and up Institutska Street toward a district housing many government buildings. By midmorning, protesters had reclaimed the positions they surrendered when police descended on them on Tuesday.
Police returned fire by sniper and automatic rifle long after the protesters' attack had ceased, however. Activists claimed police snipers shot at men from the square throughout the afternoon. Several of them searched the Ukraina Hotel, which became the main makeshift field hospital on the square, well into the evening in search of the police sniper.
Ukraine's Interior Ministry initially accused the protesters of disguising themselves as police and shooting its officers, 13 of whom died Thursday. Later in the day, however, the ministry admitted that police had been armed throughout the clashes.
Ukraine's health ministry confirmed the deaths of 75 protesters since the start of the week. The real total is expected to be far higher, based on bodies BuzzFeed saw on the square, eyewitness accounts, and estimates by opposition leaders.
Alarmed by the violence, the European Union agreed to issue travel bans and asset freezes against those deemed responsible for the violence. Visiting foreign ministers said a deal to end the crisis had yet to be reached. The men witnessed some of the violence on Thursday, forced to reschedule a meeting as clashes spread.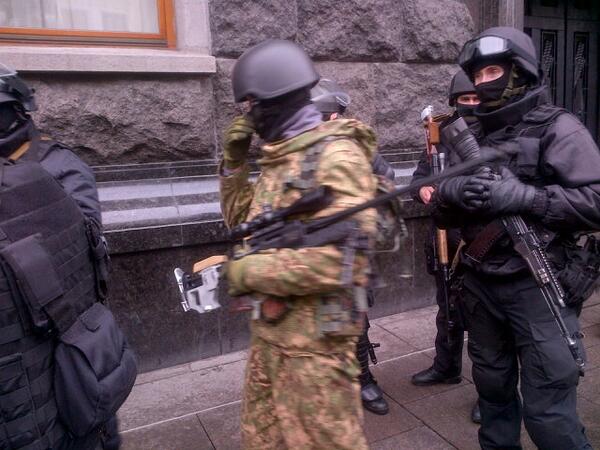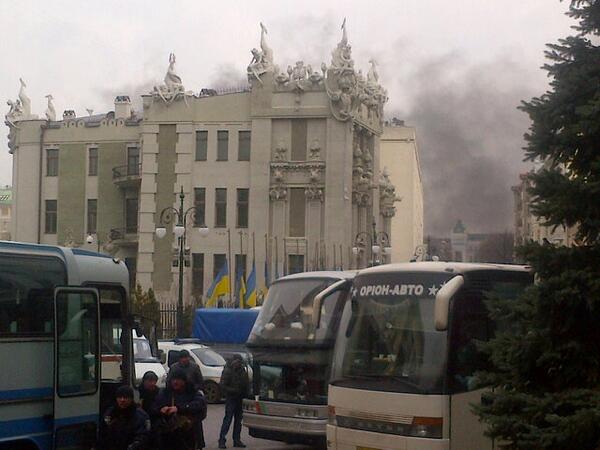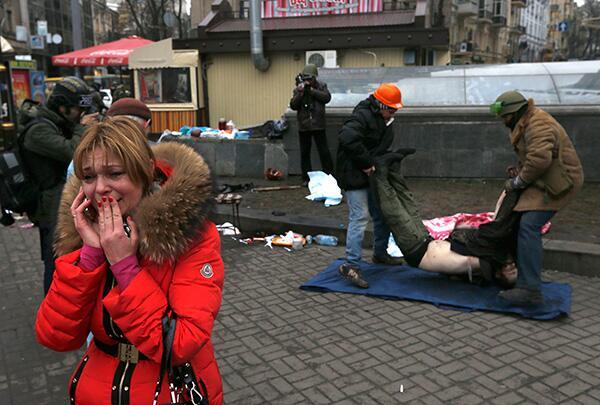 Opposition leaders blamed the violence on police. Oleh Tyahynbok, the leader of the nationalist Svoboda Party, told reporters that the government had provoked the fighting to make the case for a crackdown in front of the visiting European ministers. As of Thursday afternoon, the ministers were still believed to be meeting with Yanukovych at the presidential administration.
Tyahynbok said nine activists from his party had been killed and estimated that "about 50" in total had died. "Martial law is essentially already in effect," he said.
Most of the protesters died from shots to the heart, he said, including sniper fire. He said police had targeted medics attempting to treat injured protesters. One of them, 21-year-old Olesya Zhukovskaya, tweeted "I'm dying," though activists gave conflicting reports Thursday afternoon about whether or not she was still alive.
Tyahynybok added that 10 or so lawmakers from Yanukovych's Party of Regions had defected to the opposition. Opposition parties called an extraordinary session of parliament for Thursday afternoon to try and find an end to the crisis. Sergei Tyhypko, an oligarch and the leader of a fraction in the Party of Regions, called earlier in the day for lawmakers to replace speaker Vladimir Rybak and appoint a new prime minister.
Protesters retook the square and occupied several buildings not burnt out in earlier fighting to make impromptu field hospitals. Reporters with the Kyiv Post counted 15 dead at the Kozatsky Hotel on Maidan, seven at the central post office, 10 at the Ukraina Hotel, and three on Khreschatyk Street.
One of the dead men BuzzFeed saw on Khreshchatyk had been shot in the back through body armor with armor-piercing bullets. Protesters took turns to pray in front of the bodies and put up a sign reading "Yanukovych, you're a criminal."
Protesters managed to capture at least 60 riot policemen, their faces battered and bloody. A priest led them past City Hall late Thursday morning in the direction of the energy ministry. Activists to whom BuzzFeed spoke said the men were all Interior Ministry conscripts, as opposed to the hated elite Berkut crowd control division, and had surrendered peacefully. They said they did not know where the riot policemen were being held.
The Interior Ministry said in a statement Thursday that 70 of its troops were missing.
Several protesters on the Maidan appeared to be wearing helmets, armor, and batons taken from the captured officers. Students broke bricks into pieces to use as projectiles. Old ladies mixed Molotov cocktails in a beat-up bus stop. "This is extremism!" one of them said.
Multiple activists and reporters on the ground reported sniper fire from vantage points up the hill east of the Maidan in Kiev's government district. Police accused protesters of the gunfire and claimed 20 officers had been shot by snipers.
By noon, sporadic grenade explosions and shotgun shells could still be heard as smoke billowed around Maidan and church bells rang out unceasingly in central Kiev.
Yanukovych's office released a statement saying that "opposition leaders' statements about the need for a truce and a return to dialogue turned out to be just a maneuver to kill time and mobilize and arm fighters from the Maidan."
"They attacked us," the statement said. Yanukovych's administration said it was taking "all measures to stop bloodshed and conflict."
Ukrainian security forces declared an "anti-terrorism operation" before Wednesday evening's ceasefire that allows the army to use force against civilians and "disappear" people for up to 72 hours. Yanukovych then fired the head of Ukraine's armed forces and replaced him with the head of the navy.
Geoffrey Pyatt, the U.S. ambassador in Ukraine, issued a joint statement with EU Ambassador Jan Tombinski urging a return to the ceasefire.
Correction: This post originally misidentified Radio Svoboda. It is the Ukrainian service of Radio Free Europe, not its Russian service.
Max Seddon is a correspondent for BuzzFeed World based in Berlin. He has reported from Russia, Ukraine, Azerbaijan and across the ex-Soviet Union and Europe. His secure PGP fingerprint is 6642 80FB 4059 E3F7 BEBE 94A5 242A E424 92E0 7B71

Contact Max Seddon at max.seddon@buzzfeed.com.

Got a confidential tip? Submit it here.