Crimean Parliament Asks To Join Russia
Ukraine's breakaway Russian-speaking province has decided to secede and has moved a referendum forward to March 16.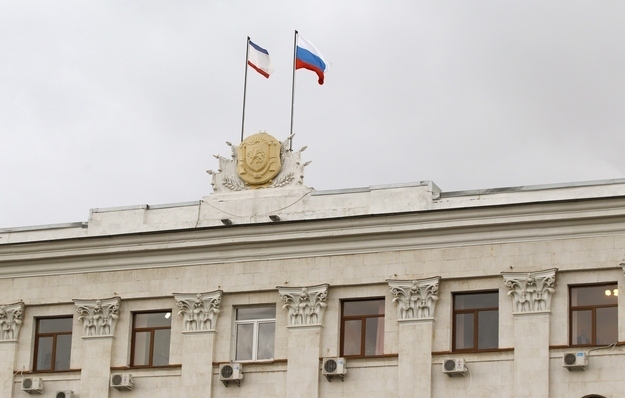 KIEV, Ukraine — Crimea's parliament has asked Russian President Vladimir Putin to accept the province into Russia after a referendum, further raising fears Moscow will annex it after its troops seized control of the peninsula.
A resolution published on the regional parliament website Thursday announces a referendum on adopting the autonomous province's 1992 constitution and remaining a part of Ukraine, or opting for the "reunification of Crimea with Russia." Though the referendum is not to be held until March 16, its result appears a foregone conclusion, since the decree asks Putin to "begin the procedure" to make Crimea "a subject of the Russian Federation."
The surprise move appears to clear the way to legalize Russia's effective seizure of Crimea and escalate Ukraine's political crisis further still. Kiev's new government lost control of the province last week when Russian troops seized key infrastructure points and demanded Ukrainian forces surrender or defect to the rebel Crimean government.
Deputy Crimean Prime Minister Rustam Temirgaliyev told reporters in the provincial capital Simferopol Thursday that Crimea had already become part of Russia and declared that "the only legal armed formations on Crimean territory are Russian armed forces." The Ukrainian army and any other armed forces "will be considered occupiers with the appropriate consequences for themselves," Temirgaliyev said. Temirgaliyev added that the Crimean government had begun preparations to introduce the ruble, Russia's currency, if the referendum succeeded and would resign en masse if it failed.
Ukraine says at least 16,000 Russian troops have swarmed across the province in the last week and blocked off its military bases there. Russia, which has a base in the Crimean port of Sevastopol, denies it sent troops and claims the men are members of local "self-defense" units, even though they have identified themselves to Ukrainian commanders as Russian.
Ukrainian Prime Minister Arseny Yatsenyuk said at a news conference in Brussels that Kiev considered the Crimean government illegitimate and that Ukraine "would not surrender or be subjugated to Russia.
"The construction of a new Berlin wall is not acceptable. Mr. Putin, tear down this wall of intimidation and military aggression." Yatsenyuk added, switching to English to channel Ronald Reagan. Yatsenyuk said that Ukraine had refrained from using force against Russian troops in Crimea, but was prepared to retaliate if attacked. "We have less arms, no nuclear bombs, but we have the spirit of the Ukrainian revolution and the spirit of freedom and liberty," Yatsenyuk said.
Putin chaired a security council meeting Thursday to discuss the Ukrainian situation and the Crimean resolution, the Kremlin announced. Moscow has yet to react officially to the Crimean government's decision.
Russian Foreign Minister Sergey Lavrov and U.S. Secretary of State John Kerry held a second day of negotiations over Ukraine in Rome, but failed to reach an agreement, Interfax reported Lavrov as saying. The U.S. announced Thursday that it would introduce sanctions against Russian officials and issued an executive order further sanctioning "those who are most directly involved in destabilizing Ukraine."
A European Union crisis meeting on Ukraine in Brussels was expected to condemn Russian actions, but fall short of passing sanctions. Syrian President Bashar Assad, meanwhile, sent Putin a telegram praising his stance on Ukraine "in the light of an attempted coup against law and democracy in favor of radicals and terrorists."
Clearly spooked by the prominence of small, but active, right-wing groups in Ukraine's protest movement, Moscow claims that armed Western-backed "fascists" are roaming Ukraine, threatening Russian speakers in the country's east and south. Putin says Russia has the right to intervene militarily to protect Russian-speakers, though claims not to have availed himself of it yet.
The Russian-backed Crimean government has evidently picked up on signals from Moscow and issued several statements mirroring Russia's language on Ukraine. Thursday's resolution says that "nationalist forces who have seized power as the result of an anti-constitutional coup are flagrantly violating the Constitution and laws of Ukraine and the inalienable rights and liberties of citizens, including the right to life, freedom of thought and speech, and the right to speak their native language."
The resolution then adds that several "extremist groups" had attempted to travel to on Crimea in recent days "in order to worsen the situation, escalate tension, and illegally seized power." Russia and Crimea both claim that armed "fascists" from Kiev have staged attacks on the province, but have yet to offer any evidence from their stories, which often contradict each other.
Local media reported that 78 of the parliament's 100 deputies voted to join Russia. Refat Chubarov, leader of the Crimean Tatar minority, which favors staying in Ukraine, called them "lunatics" who were "fulfilling someone else's will" in a Facebook post. Chubarov later called on Crimean Tatars to boycott the referendum, which he said would be rigged to favor joining Russia.
Independent Ukrainian news channels 1+1 and Channel 5 were switched off in Crimea Thursday, local media reported. The main state news channel in Crimea switched to a feed from Rossiya 24, the Kremlin's 24-hour Russian-language network.
Crimea initially said it would hold a more vaguely worded referendum on "expanded autonomy" on May 25, the day Ukraine is set to hold new presidential elections, then moved it forward to March 30. Russia's parliament is fast-tracking legislation that would make it easier for Crimea to join Russia and for Crimeans to receive Russian passports. The Duma, Russia's lower house, could consider the laws as early as next week, lawmakers told state news agency RIA Novosti.
Putin said at a press conference Tuesday that Russia was not planning to make Crimea a part of it but endorsed the referendum, drawing a clear parallel with Kosovo's vote to secede from Serbia in 2008, which Russia strongly opposed. "If that's been allowed in many parts of the world, then nobody has cancelled a people's right to self-determination," Putin said.
Crimean lawmakers unseated the provincial government Feb. 28 under the eye of armed Russian soldiers and appointed pro-Russian politician Sergei Aksyonov, whose party got 4% of the vote at the last election in 2010, prime minister. Aksyonov immediately refused to recognize the government that took power in Kiev after President Viktor Yanukovych fled Feb. 22 and declared that the entire province's security services were under his control.
Ukraine's naval chief Denis Berezovsky later defected to head a Crimean armed force, though it is unclear how many Ukrainian forces have joined him. Aksyonov claims to command 11,000 men in Crimea, but Ukraine's defense ministry says nobody has defected. Kiev has issued warrants for the arrest of Aksyonov, Berezovsky, and Crimean parliament speaker Vladimir Konstantinov.
Max Seddon is a correspondent for BuzzFeed World based in Berlin. He has reported from Russia, Ukraine, Azerbaijan and across the ex-Soviet Union and Europe. His secure PGP fingerprint is 6642 80FB 4059 E3F7 BEBE 94A5 242A E424 92E0 7B71

Contact Max Seddon at max.seddon@buzzfeed.com.

Got a confidential tip? Submit it here.