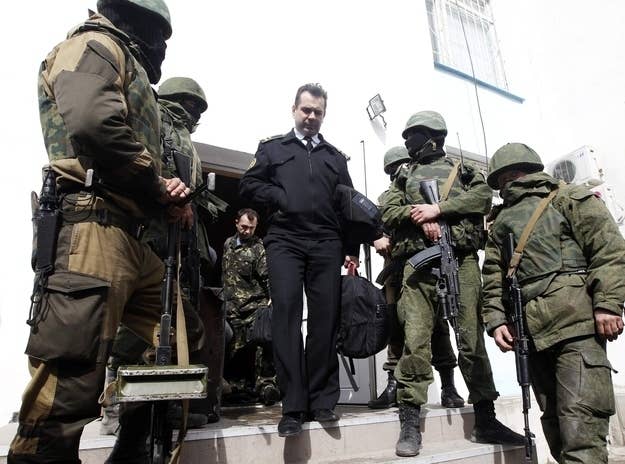 SEVASTOPOL, Crimea — Early Wednesday morning, several hundred pro-Russian local "self-defense" units, backed by heavily armed Russian troops, surrounded the headquarters of Ukraine's navy. Hopelessly outnumbered, the roughly 400 Ukrainian sailors inside stood by as the pro-Russian forces bashed through the gate with an ambulance, broke down doors, and threw smoke grenades, demanding their surrender.
By Wednesday afternoon, the Russian flag was flying high over the building. Adm. Sergei Hayduk, the head of the Ukrainian navy, was led from the headquarters in handcuffs and taken to an undisclosed location. One irregular said Hayduk had tried to hide, but was found by "self-defense" forces and dragged to negotiations with Igor Yeskin, a member of the pro-Moscow "self-defense" forces. He was then taken away by Russian security services officers. Kiev still doesn't know where he is.
Ukraine's defense minister and a deputy prime minister attempted to settle the standoff by flying in from Kiev, but were denied entry to Crimea by local authorities. Several sailors are still barricaded inside without food or water. The rest simply dropped their weapons and walked home with their possessions slung over their backs.
The raid was the latest move to underscore Ukraine's full loss of control over the peninsula, which was annexed by Russia on Tuesday during a Kremlin ceremony overseen by Vladimir Putin.
Hours after the ceremony, which itself followed a speech during which Putin hailed Russia's bloodless march into Crimea, a Ukrainian soldier was shot dead. Ukraine's leaders responded by allowing the country's troops in Crimea to use their weapons, but, at the naval base on Wednesday, no one opened fire.
The "self-defense" units, mostly comprised of middle-aged men in second-hand fatigues adorned with orange-and-black pro-Russian ribbons, repeated a choice made to all Ukrainian troops across the peninsula by Russia's government. They could join the Russian army, abandoning the oath they had sworn to Ukraine. They could remain faithful to Kiev, but abandon their homes in Crimea, where most of them were from.
"All my relatives are from Russia, but I serve in the Ukrainian army," Pavel, a Ukrainian officer who declined to give his last name, told BuzzFeed as he left the compound. "I definitely can't go over to the Russian side, because that's treachery. We can't betray the country we served to the last. That's not right."
Pavel said most of the sailors inside the compound were Crimean natives who shared his beliefs. "We want to live in Crimea, but we want to live in Ukrainian Crimea. Now we just don't know what to do," he said.
Roman, a Ukrainian sailor who declined to give his last name, told BuzzFeed he had decided to join the Russian side because he saw its victory as inevitable. "Why bother putting up a fight?" he said. "The officers didn't even give us any orders." Asked why he didn't want to go to mainland Ukraine and join up with its army there, he shot a disapproving stare. "What army? Does Ukraine even have an army?" he said. "They've been gradually destroying it for the last 20 years."
Most of them took a third way out and simply went home. Under Ukrainian law, that makes them deserters. But since Russian troops seized the mostly Russian-speaking peninsula in late February, Ukrainian law has effectively ceased to exist. After Putin signed an agreement with Crimea's self-proclaimed political leaders Tuesday completing the annexation of the province, there looks to be no way back for Ukraine's forces there — disorganized, demoralized, and now effectively defeated.
After a few hours of negotiations, most of the Ukrainian soldiers traipsed out of the headquarters carrying their uniforms on coat hangers and the rest of their belongings in plastic bags. They met their families anxiously waiting for them in the parking lot aside and sullenly went home. Members of the "self-defense" units claimed the Ukrainians were happy to be "liberated from the fascists" in Kiev and had wanted to go earlier, but were worried Ukrainian authorities would charge them with treason.
Any Ukrainian legal action in Crimea looks very far off. Criminal charges against the province's political leaders have had no effect, as did an attempt to dissolve its parliament, which pro-Russian forces draped in Russian flags and renamed the "Supreme Council," dragging away the old Russian letters.
The other Ukrainian bases in Crimea, surrounded by Russian troops for the last two and a half weeks, will probably follow suit. Ukrainian troops surrendered another base in the town of Yevpatoria on the peninsula's west coast later Wednesday afternoon. The men in the rest of them now face a choice between their country and their home.
"I understand the Ukrainians — they're doing their job, they have families to support," Alexander Drobov, a member of one of "the self-defense" units outside the Sevastopol headquarters, said. "But this is a new country now."
Because of an editing error, this story misidentified Igor Yeskin. He is a representative of the pro-Moscow self-defense forces, not the commander of Russia's Black Sea Fleet.