Conservative Christian Group Weighs In On Pussy Riot Case
In a brief filed to the European Court of Human rights, Alliance Defending Freedom argued that Pussy Riot violated Christians' religious freedom by protesting in a cathedral.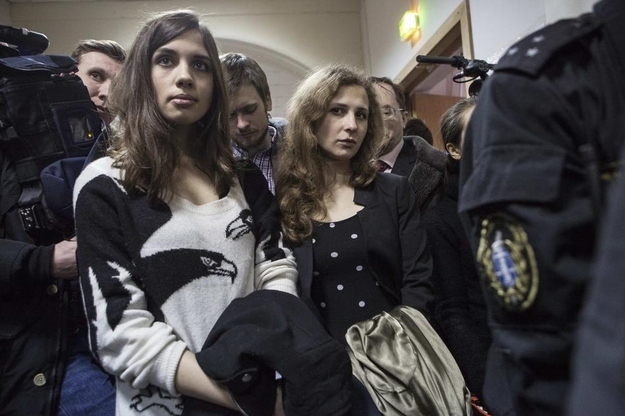 KIEV, Ukraine — An American Christian group has filed an amicus brief challenging Russian feminist punk art group Pussy Riot's upcoming case before the European Court of Human Rights, the most recent example of the religious right supporting Vladimir Putin's attempts to showcase Russia as a bulwark of conservatism.
In a brief filed on Feb. 17, Alliance Defending Freedom, a group that is the rough conservative Christian equivalent of the American Civil Liberties Union, appealed to the court to balance the right to free speech against the right to freedom of religion, both enshrined in the European Convention on Human Rights.
In their filing with the Strasbourg-based court, defendants Maria Alyokhina, Nadezhda Tolokonnikova, and Yekaterina Samutsevich contend their freedom of speech was violated when they were sentenced to two years in prison in August 2012 for "hooliganism motivated by religious hatred" for an anti-Putin punk protest in Moscow's main cathedral. Four human rights organizations, including Amnesty International and Human Rights Watch, are filing amicus briefs in support of the women's appeal, saying their Russian conviction violates their right to free speech.
Alliance Defending Freedom wants the court to view their case in the context of a "rise of intolerance against Christians" in Europe, citing protests by the Ukrainian feminist group FEMEN and pro-choice protests in churches in several countries. Playing on the tensions inherent in protecting free expression while criminalizing hate speech, the group asks the court to legislate based on its context, implying that choosing the cathedral for the protest violated Christians' freedom of religion.
"The Pussy Riot case has provoked this kind of mega-battle of liberal versus conservative values," said Pavel Chikov, head of the legal foundation that represents Alyokhina and Tolokonnikova. "Conservatives who are against abortion and LGBT rights and for patriarchal values support Russian state policies — Russia is actively trying to turn into a refuge for conservative values around the world."
Putin has asserted Russia's role as a counterweight to Western values since his return to the presidency in 2012. In a state of the nation address in December, he promoted traditional family values as a defense against "so-called tolerance — genderless and infertile."
Alliance Defending Freedom is one of a number of American right-wing groups involved in the planning of the 2014 World Congress of Families, a conservative Christian convention to be held in Moscow in September. The group withdrew from the organization after a field trip to Russia last fall. Alliance Defending Freedom did not return a request for comment.
Pussy Riot appealed to the European Court of Human Rights in February 2013. The Strasbourg-based court is often appealed to by Russians who do not trust the country's politicized legal system.
Max Seddon is a correspondent for BuzzFeed World based in Berlin. He has reported from Russia, Ukraine, Azerbaijan and across the ex-Soviet Union and Europe. His secure PGP fingerprint is 6642 80FB 4059 E3F7 BEBE 94A5 242A E424 92E0 7B71

Contact Max Seddon at max.seddon@buzzfeed.com.

Got a confidential tip? Submit it here.