Confident, Happy, And Supremely Rich, Georgia's Prime Minister Prepares To Step Down
Bidzina Ivanishvili, an eccentric billionaire, unexpectedly entered politics two years ago. On the eve of elections, everyone is wondering: what will he do next?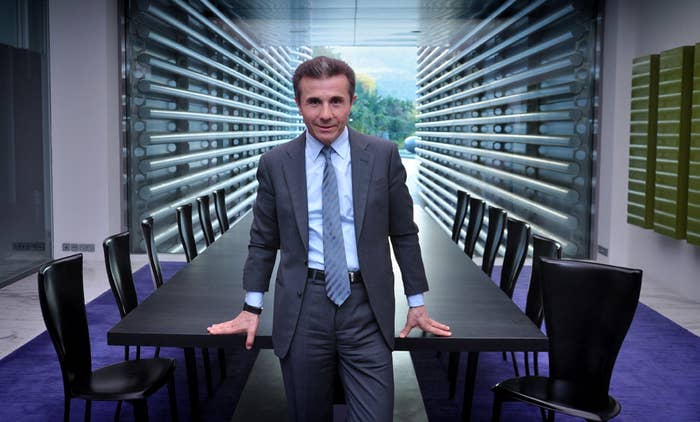 TBILISI, Georgia — Georgian Prime Minister Bidzina Ivanishvili is looking forward to his impending retirement with a firm sense of accomplishment and no regrets.
Literally, none.
In the year since he scored an upset election victory that marked the first peaceful transition of power in this small Caucasus republic, Ivanishvili says he has done "absolutely everything, even better than I expected."
"How many examples can you name where a politician shows up and says, 'I'll come [to power], I'll sort everything out, and I'll go?'" Ivanishvili told BuzzFeed last week in his metal-and-glass offices snuggled into the hills overlooking the capital and scattered with pricey art by the likes of Anish Kapoor and Robert Indiana. "None. They're aren't any. This is unprecedented."
A billionaire who made his fortune in Russia (Forbes estimates it at $5.3 billion), Ivanishvili, 57, has pledged to step down following a presidential election on Sunday after which constitutional changes making Georgia a parliamentary republic take effect. There is little intrigue as to the election result. Ivanishvili's preferred candidate is widely expected to win in the first round. The bravura and clashes of personality that long dominated politics here are largely absent too: The two main contenders are seen as meek proxies for Ivanishvili and his nemesis, outgoing President Mikheil Saakashvili.
Instead, the question mark hanging over Georgia is Ivanishvili himself. For all his frequent assurances that Georgia remains intent on joining the European Union and NATO, many observers fear his oligarchic ties to Russia will lead him to deliver his country into the embrace of the Kremlin. Despite praise for improving Georgia's human rights record, uncertainty created by a string of idiosyncratic legal initiatives, bizarre pronouncements, and seemingly politically motivated prosecutions has created worries Georgia may be heading back to its old authoritarian ways. He says he intends to "control the government publicly" from afar, but offers few details as to what he means. One thing, however, is clear: Ivanishvili thinks he's been the best leader in Georgia's two decades of independence, and he wants his citizens to agree.
"Ivanishvili has very specific ideas on how things should function," said Temuri Yakobashvili, a former Saakashvili ally and Georgian ambassador to the U.S. who is now a fellow at the German Marshall Fund in Washington, D.C. "The way he understands governance is not governance. He has visions instead of ideas, and he's not able to recognize he's wrong."
Ivanishvili's expected departure opens the door to a new chapter in Georgian history after the Saakashvili era, which began when 2003's "Rose Revolution" swept aside a staid neo-Soviet government. Saakashvili won a subsequent election in a landslide and was much loved in Western capitals for his anti-corruption policies, liberal reforms, and willingness to challenge Russia. Voters, however, blamed him for not doing enough to combat poverty and unemployment; for combating graft and crime with a zero-tolerance policy that gave Georgia one of the highest incarceration rates in the world; and for the brief but traumatic war with Russia that Georgia fought in 2008. Many also accused him of trying to circumvent term limits by becoming prime minister under the constitutional changes, passed two years later.
Ivanishvili tapped that anger by forming Georgian Dream, a loose coalition of Saakashvili castoffs and minor opposition parties fronted by actors, poets, and a soccer star, and pledging to right Georgia's course in two to three years, then leave politics entirely. Despite the Saakashvili's government's attempts to pressure him — Ivanishvili says he nearly fled the country three times — and remove his citizenship, Georgian Dream overcame initially low polling numbers to win the election at a canter.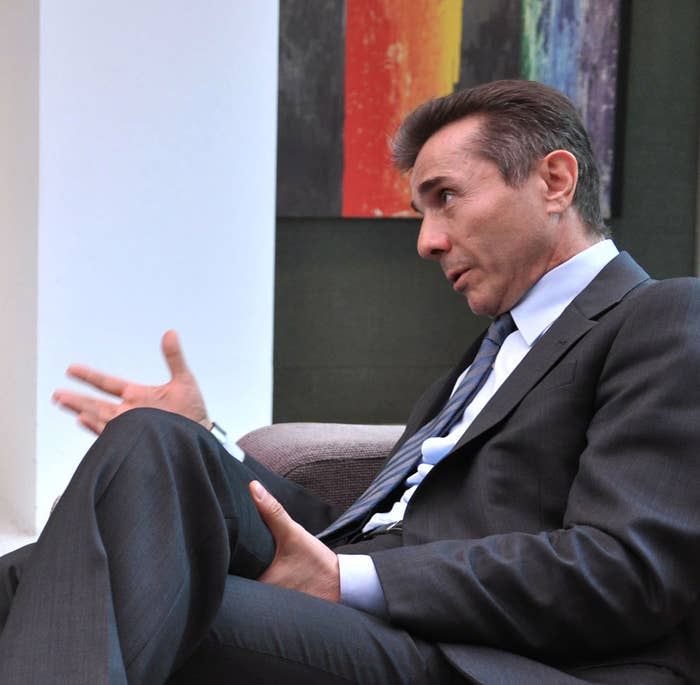 If that plan was unusual, Ivanishvili was even more so. He lived in his home village and kept such a low profile that almost nobody knew what he looked like. Legend holds that he would visit rural parts of Georgia and ask farmers what they thought about him; the only time anyone caught him out was when a villager saw him sneaking back to his helicopter. He has an art collection valued at over $1 billion that he says "he's not that into," as well as a private menagerie that includes penguins and zebras. In a country famed for obstreperous gregariousness and long-winded feasting, he is wiry, gets up and goes to bed early, and practices yoga. Visitors to his house say he is the rarest of Georgians to offer guests foreign wine, rather than the local vintages most here offer as a matter of national pride. He has quietly spent between $600 million and $1 billion on charity, his aides say, including modernizing his home village, giving its residents stipends and paying for medical treatment, as well as bankrolling several government projects.
Ivanishvili has a political naïf's tendency to say what he actually thinks. This has revealed a petulant intolerance for criticism that many professional politicians doubtless share but would never dare expose in public. Earlier this month, he summoned TV journalists for a televised four-hour dressing-down and berated them for not praising his "wonderful" achievements. Last week, Ivanishvili abruptly told newspaper editors that he would be "insulted" if Georgian Dream's presidential candidate got less than 60 percent of the vote, 10 points more than needed to avoid a runoff, and that he should drop out in shame if one were required.
"I came [to politics] because I felt I needed to. It would hardly have been possible to correct the situation [in Georgia under Saakashvili] without me," Ivanishvili told BuzzFeed. "If the people doubt your abilities and aren't that keen that you do it, then, subsequently, I'm relieved of my responsibility."
"I'm not against a second round" in principle, Ivanishvili adds, after repeating that he believes he is so popular as to make one highly improbable. "I'm against forcing my opinion on my own people. I came [to politics] because I thought I could do it and others couldn't, so I had to. If the people show me that others could do it to, then by all means, guys! I'm not going to stand in your way."
Though Georgian Dream remains by far the most popular party in the country, the honeymoon is starting to wear off. Ivanishvili has particularly struggled to fulfill campaign promises on mortgage relief for homeowners, several of whom went on hunger strike outside his house in protest. One even set herself on fire. Kakha Bendukidze, the architect of reforms that helped Georgia climb to 12th in the World Bank's ease of doing business rating under Saakashvili, accuses Ivanishvili of scaring off foreign investment by doing "lots of strange, crazy things" like banning selling land to foreigners; ending a visa-free travel arrangement with Iran on the day of an Iranian-Georgian business conference in Tbilisi; eroding Saakashvili initiatives through efforts such as nationalizing private hospitals; and declaring his intent to ban gambling in the popular resort city of Batumi.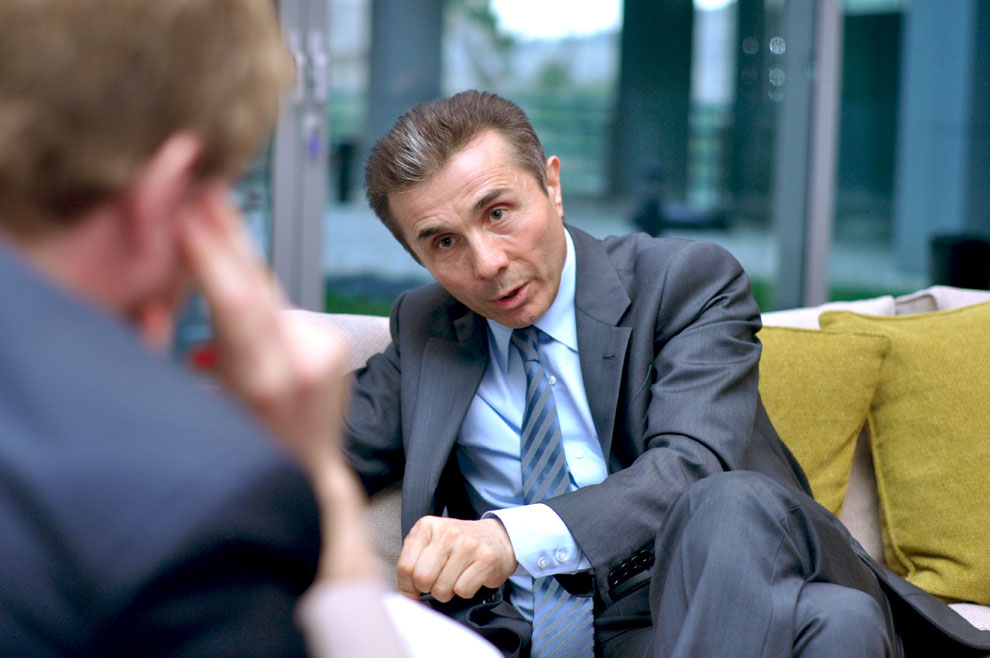 Ivanishvili is not without progress to which to point. A recent report from an EU envoy generally praised Georgia's efforts on human rights issues, though Western officials remain wary of charges against 35 officials from the Saakashvili government, including a former prime minister. Ivanishvili recently floated the possibility of Saakashvili himself being prosecuted. And still, Georgia is on track to initial an association agreement with the EU in November and is set to join a NATO rapid reaction force in 2015.
Fears that Ivanishvili would realign with Russia have been largely offset by Moscow's obvious unwillingness to scale back all of its aggressive policies. Russia's envoy for Georgian relations suggested last month that the change in government has done little to satisfy the Kremlin. Russian troops have advanced border fences in Abkhazia and South Ossetia, disputed territories that declared their independence from Georgia after the 2008 war but are de facto controlled by Russia, dividing some villages in half. Earlier this month, Ivanishvili threatened to boycott the 2014 Sochi Olympics after a decorated bomber pilot from the war was featured as one of the Olympic torchbearers.
"I think that what [the Kremlin] is doing is useless for Russia too, but it looks like Russia hasn't realized that yet," Ivanishvili said. "We need to hope that Russia will change in the future and become more democratic," Ivanishvili said. When asked if that meant he wanted Vladimir Putin to leave the Kremlin, he replied, "Everyone goes when their time comes," but declined to say whether he would prefer to see the back of him sooner rather than later.
Ultimately, Georgia may come to desire Ivanishvili less as a leader than a rich uncle of the nation. Many in Tbilisi argue he owes his popularity the hope that he could replicate his efforts to modernize his home village nationally by essentially giving Georgians money. Georgian Dream had campaign events in which they encouraged supporters to write their dreams down on paper and place them in "dream boxes." The reality of government has proved harder. Unemployment remains at 15 percent officially, and in reality is far higher, since Georgia considers anyone who works at least one hour a week to be employed. A quarter of Georgians live in poverty.
As his job approval ratings gradually slow, Ivanishvili may have taken the hint. He recently announced he would put up $1 billion in a new $6 billion private equity fund aimed at increasing Georgia's foreign direct investment, a staggering sum on its own (equal to all of Georgia's FDI since the 2008 war) and a particularly troubling one given his intent to teach Georgians to "choose and control [the government] correctly." When pressed for details as to what his retirement plans really entail, Ivanishvili's vague answers — "the way you do it, there are statements, there's the media, the press, I might create a small monitoring group" — give the impression of a cross between a government-in-exile and an ex officio Hugo Chavez–like figure constantly appearing on television to hector politicians and the public. Nor has he given any indication of whom he plans to anoint as prime minister, though Tbilisi's smart money is on Interior Minister Iraki Gharibashvili, a longtime Ivanishvili confidant.
The sense is less that his intentions are sinister than he has simply not thought it through in great detail. Ivanishvili says he plans to spend more time with his animals and collection of exotic trees, and is considering writing a book about all the thoughts about human nature that have struck him in the last 40 years. "I love thinking and walking," he said, beaming. "Thinking is awesome."
Yet Ivanishvili clearly understands the power he has. He even suggests that he may scale back his efforts to help ensure Georgia remains prosperous and democratic if Georgian Dream's candidate, Giorgi Margvelashvili, performs poorly at the polls.
"It was responsibility alone that brought me [into politics]; I didn't have the urge to be a politician, to come and run things because I can," he said. "If I don't know the Georgian people, if I'm wrong about what I'm doing, what's the point in me helping society, or advising someone, or anything like that?"
From a man worth nearly 40 percent of his country's GDP, this is no idle threat — whether he means it that way or not.
Max Seddon is a correspondent for BuzzFeed World based in Berlin. He has reported from Russia, Ukraine, Azerbaijan and across the ex-Soviet Union and Europe. His secure PGP fingerprint is 6642 80FB 4059 E3F7 BEBE 94A5 242A E424 92E0 7B71

Contact Max Seddon at max.seddon@buzzfeed.com.

Got a confidential tip? Submit it here.