Chechen Leader Stages "Million-Man March" Against French Cartoons
Chechen President Ramzan Kadyrov blamed the Charlie Hebdo attacks on the cartoonists themselves, the French government, and the CIA for stirring up extremists.
Hundreds of thousands of people packed Grozny in Russia's troubled province of Chechnya on Monday to protest against French magazine Charlie Hebdo's caricatures of the Prophet Mohammed.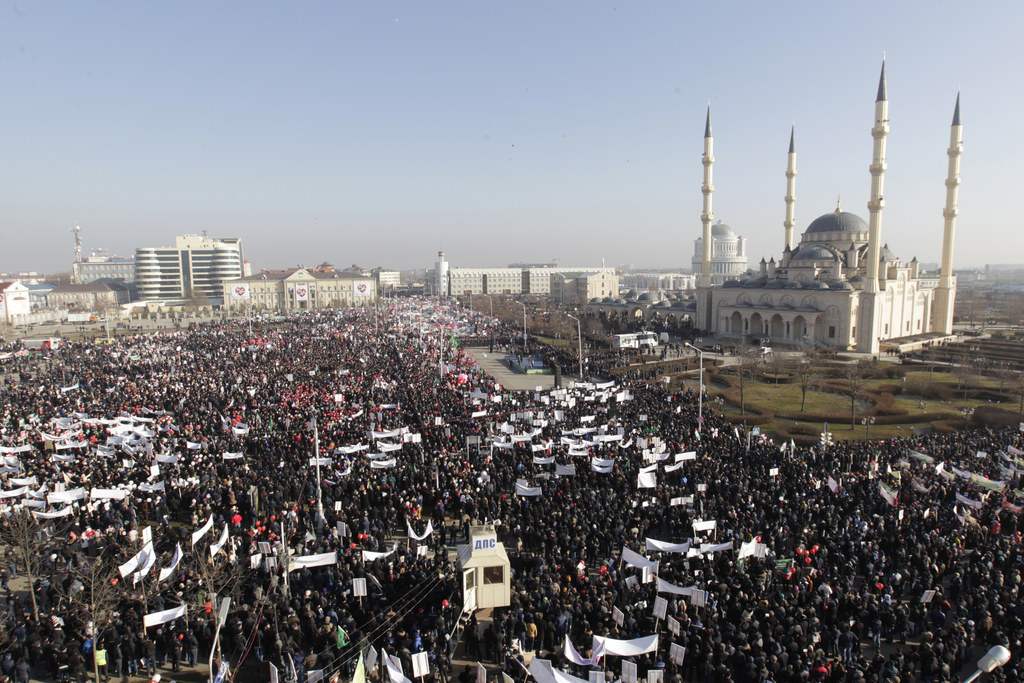 Russian police said that over a million people attended the march, which ended with a collective prayer session outside the city's Swarowski crystal-studded central mosque, Europe's largest.
Though Russian officials typically inflate attendance at pro-government rallies, Monday's march, organized by Chechnya's Putin-backed leader Ramzan Kadyrov, did attract significant numbers, judging by the photos. Many protesters came from neighboring provinces in the mostly Muslim region of the North Caucasus, Russian media reported.
Protesters carried pre-made signs with slogans like "We are against caricatures!" and "Hands off the Prophet Mohammed!"
Speaking at the rally, Kadyrov blamed the violence, which claimed the lives of 17 people and three gunmen in a series of attacks in Paris two weeks ago, on the French government and the magazine's cartoonists.
"Instead of condemning those who opened fire and those who gave cause for this with their caricatures, the French authorities organized a street show in support of all-permissiveness," Kadyrov said, according to Russian newspaper Kommersant.
Kadyrov added that he suspected Western governments of staging the attacks "to drive a new wave of recruitment for ISIS," which he said is a front for the CIA.
"If needed, we are ready to die to stop anyone who thinks that you can irresponsibly defile the name of the prophet," Kadyrov said as he wiped away tears onstage, according to Reuters.
Kadyrov, who became Chechnya's unquestioned ruler after his warlord father was killed in a bomb attack ten years ago, has led a conservative wave of condemnation of the cartoons in Russia, all but declaring fatwas against two prominent liberal figures who called for shows of solidarity. Other pro-Kremlin figures have also suggested that the dead cartoonists brought the attacks upon themselves, or were killed by the CIA.
Russia is seeking to condemn the violent strain of Islamism that inspired the attacks while still stressing its self-ordained role as a bastion of traditional values against Western liberal hegemony. Roskomnadzor, the country's telecommunications watchdog, threatened legal action last week against Russian publications reposting the caricatures, which it said "contradicted ethical and moral norms developed over centuries of different peoples' and religious confessions' coexistence on one territory." Police in Moscow, however, recently rejected plans to draw 100,000 people to a similar march there on Jan. 25, claiming they were a "provocation."
Russian Orthodox Christian priests attended the march and Kadyrov even posted a message of solidarity from an Orthodox pro-Putin biker gang, the Night Wolves, on his Instagram.
Controlling rising Islamist sentiment in Chechnya and the surrounding region is increasingly important for the Kremlin.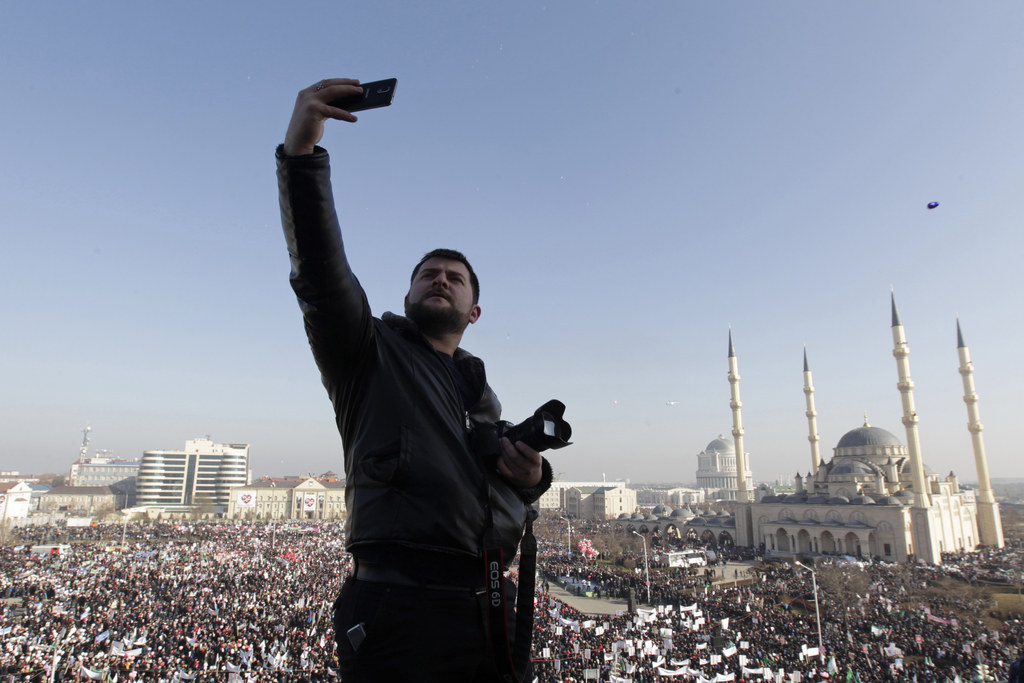 The remains of an insurgent movement defeated in two brutal separatist wars continue to launch attacks in the Caucasus, most recently a spectacular assault on Grozny in December that was timed to coincide with Putin's state of the union address. Putin has essentially given Kadyrov carte blanche to rule Chechnya as his personal fiefdom in exchange for his loyalty against the insurgency. In return, Kadyrov delivers 99 percent returns for Putin and his United Russia party at the polls, and authorities turn a blind eye to credible allegations of shocking human rights abuses.
In recent months, several top North Caucasus militants have pledged their loyalties to ISIS, which officials say is an increasingly dangerous threat. Though some analysts credit the group's goal of establishing an Islamic state in Syria and Iraq with reducing the number of attacks in Russia, ISIS has vowed to wage jihad against Russia and released a chilling propaganda video showing a Kazakh child soldier appearing to execute accused Russian spies.
Max Seddon is a correspondent for BuzzFeed World based in Berlin. He has reported from Russia, Ukraine, Azerbaijan and across the ex-Soviet Union and Europe. His secure PGP fingerprint is 6642 80FB 4059 E3F7 BEBE 94A5 242A E424 92E0 7B71

Contact Max Seddon at max.seddon@buzzfeed.com.

Got a confidential tip? Submit it here.