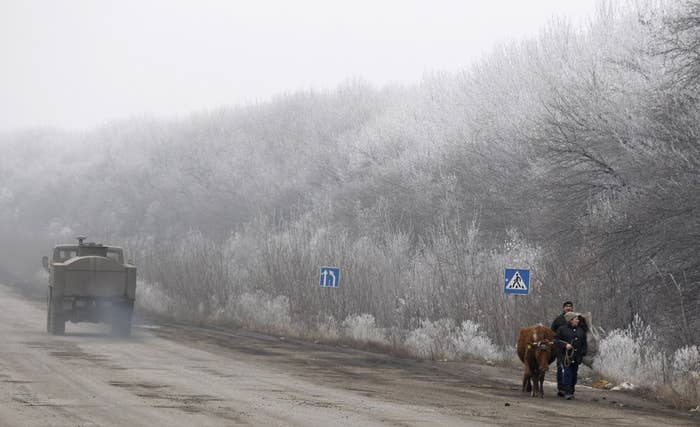 LOGVINOVE, Ukraine — Government forces and Russian-backed rebels largely stuck to a cease-fire after it came into effect overnight on Sunday, though sporadic shooting persisted at several flashpoints.
Fierce fighting continued, however, in the area of Debaltseve. The city is located in a pocket that links the two unrecognized separatist states — Donestk and Luhansk. Both government and rebel forces jockeyed for control of the territory in the run-up to the deadline. A BuzzFeed News photographer in Logvinove, about five miles outside Debaltseve, said the village had been completely destroyed as rebels sought to cut several thousand troops off the only road linking them to Ukrainian-held territory. Dead bodies littered the ground as both sides exchanged fire.
Rebels appeared to be holding their positions thanks to reinforcements of sophisticated weaponry, which the U.S. said on Saturday had been supplied by the regular Russian army. The fighting made it essentially impossible for the Ukrainian troops to escape Debaltseve, raising the prospect of a protracted standoff similar to the one at Donetsk's international airport that marred an earlier cease-fire. Rebels need Debaltseve's railway junction, which links their two states. Ukraine's army places great importance in symbolic victories and will be loath to risk the wrath of the country's growingly belligerent electorate by surrendering it.
Earlier, as he ordered his armed forces to cease fire at midnight Sunday, Ukrainian President Petro Poroshenko said Debaltseve was not encircled and that government forces had managed to send supplies to the troops there. Poroshenko vowed that Ukrainian troops would return fire if attacked, saying that "if we are slapped on one cheek, we will not turn the other."
Rebels say they do not consider the town covered by the cease-fire and will not let the Ukrainian troops out unless they surrender.
"I'm not a bloodthirsty person, but a hungry death awaits them, in all likelihood," said Eduard Basurin, deputy defense minister of the self-proclaimed Donetsk People's Republic. "Sorry, but why should we let them out? We're giving them a chance to get out alive, they're an enemy, really an enemy who has come to our land," Basurin added, according to the rebel-run Donetsk News Agency.
Elsewhere, Ukraine and the rebels said that each side was largely sticking to the cease-fire.
Ukrainian officials wrote on Facebook that rebels only fired on their positions 10 times on Sunday morning — a dramatic decrease from the past 24 hours, when they fired upon them 167 separate times. "The first hours are very important," wrote Svyatoslav Tsygolko, Poroshenko's spokesman. "It's too early to make conclusions."
Rebels said that Ukraine's fire was limited to Debaltseve, where they claimed an unspecified number of civilians died.
Explosions from the constant barrage of artillery that dominated the past few weeks could no longer be heard in Donetsk, the rebel stronghold. The city's rebel-appointed mayor said Ukraine had not fired on the city since the deadline.
Ukraine and the rebels agreed to the cease-fire on Thursday after marathon negotiations with Germany, France, and Russia in the Belarusian capital of Minsk. In the run-up to the deadline, neither side expressed much enthusiasm that the deal would actually stick — much like an earlier deal struck in Minsk that compelled neither side to actually cease firing. Rebels said they would openly flaunt several of the key points they agreed to in the deal; Poroshenko said he would impose martial law in all of Ukraine if the violence did not stop.