Casualties In Ukraine's War Are Soaring — Medics And Morgues Can't Keep Up
A Russian-backed rebel offensive has pushed hospitals and morgues on the frontline in eastern Ukraine to breaking point. BuzzFeed News' Max Seddon reports from eastern Ukraine, with photographs by Max Avdeev.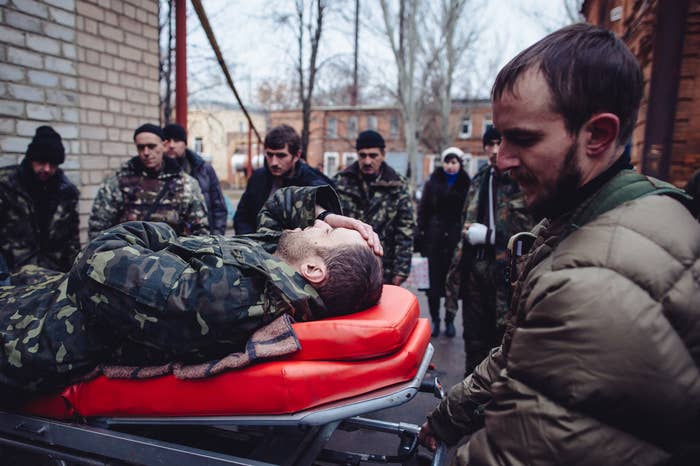 ARTEMIVSK, Ukraine — The bodies began piling up outside the morgue director's office door two weeks ago as the booms of incoming rocket and artillery fire grew ever louder. Often, there isn't enough space for the bodies in the refrigerator, so staffers leave them lying one after the other in the corridor, treading around them on their way to the examination room. Bracing winter temperatures are all that keeps them cold: Heat given off by a working refrigerator would cause all the other bodies to decompose, so they almost never turn it on.
The war in eastern Ukraine is straining the region's medical system to near breaking point. Doctors, nurses, and medical examiners struggle to meet vastly increased caseloads as dozens of dead and wounded arrive daily. Aided only by a handful of volunteer medics, they work backbreaking hours without qualified staffing reinforcements and often — owing to a bureaucratic snafu over Ukraine's economic blockade of rebel-held territory — without even getting paid.
"We have basically been thrown to the winds of fate," the director of the morgue, Ruslan Fedonyuk, a lithe, hunchbacked man in his fifties, told BuzzFeed News during a cigarette break from the 40 autopsies his morgue performed on Tuesday. "But we are so crazy that we keep going. Maybe we should charge for entry."
Ukrainian government forces have been struggling to hold onto Debaltseve, a strategically important town 24 miles south of their main staging post at Artemivsk, since Russian-backed rebels launched an offensive in late January after several months of relative calm. All but one route out of the town, home to a railway depot linking the rebel strongholds of Donetsk and Luhansk, is impassable as the sides trade constant artillery barrages. The estimated several thousand remaining civilians spend their days huddled in basements, awaiting evacuation. They have already gone two weeks without heat, electricity, or running water.
The protracted battle is producing casualties at a rate that local medical facilities, already woefully decrepit and underfunded, are barely able to handle. Hospitals in Debaltseve and nearby Svitlodarsk have one doctor between them after shelling damaged both buildings irreparably, prompting staff to flee en masse. Over a million Ukrainians have been displaced by the conflict.
Staff at the hospital in Artemivsk attempt to keep a brave face. "Bullet wounds were such a rarity before the war. Maybe there would be hunting rifle accidents, but that was it," Dmitry Bondar, a trauma surgeon, told BuzzFeed News. "But I spent two months performing surgery under constant shelling in Pervomaisk," a town largely reduced to ruins during the war last summer, he said. "I can handle this."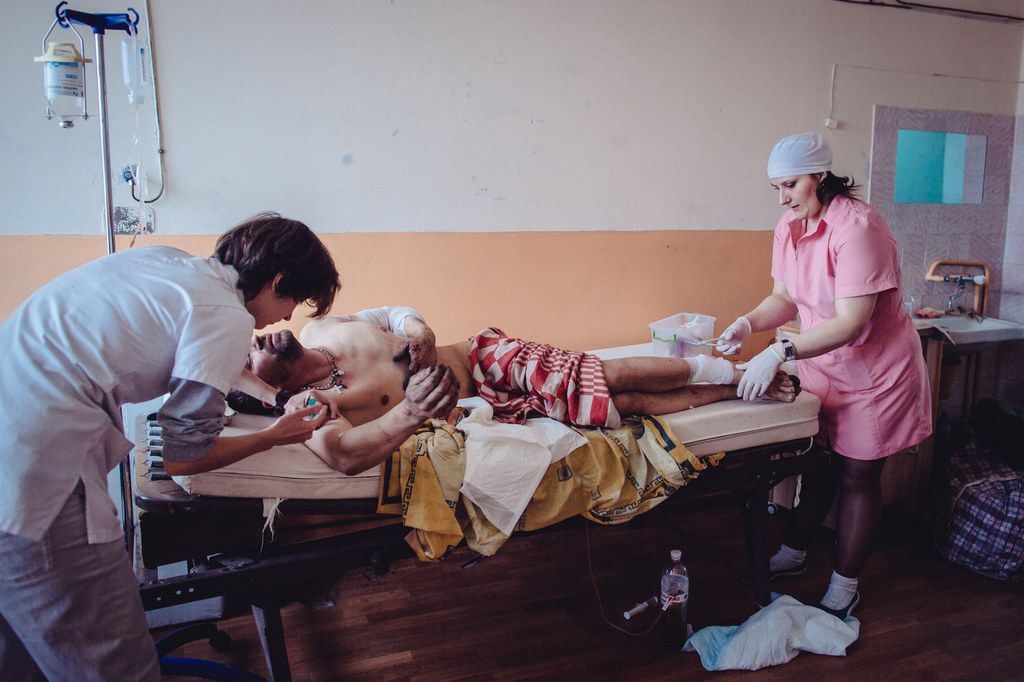 Since a massive counteroffensive by the Russian army forced Ukraine to sue for a shaky peace in September, the conflict has largely shifted from infantry street battles to a retrograde artillery war. Medical workers in eastern Ukraine face the task of not only caring for its victims but also avoiding joining them. In Donetsk, the former provincial capital turned rebel stronghold, at least three people died on Wednesday and several others were injured when a shell hit a city hospital. Several facilities on both sides of the front line have closed after similar attacks.
Other facilities, however, are struggling to get by simply because of red tape. A decree signed by Ukrainian President Petro Poroshenko last November that cuts off all funding to state enterprises in the self-proclaimed Donetsk and Luhansk People's Republics has had the unintended side effect of axing several medical facilities in government-controlled territory from the budget as well. By acknowledging that it had lost control of the provincial capitals, Kiev's central government made it legally impossible to finance many state-run enterprises registered there and paid out of the provincial budget. Doctors at the Artemivsk hospital say they rely almost entirely on volunteers to provide them with supplies. Fedonyuk, the morgue director, had to pay the electricity bill three times himself to keep the power on.
Ilya Suzdalev, a spokesperson for the Donetsk provincial government, told BuzzFeed News that the problem was confined to "fine points of bureaucracy" and a limited number of facilities. The two Ukrainian-controlled cities in Donetsk province most affected by the decree, however, are the two now bearing the greatest strain from the war: Artemivsk, now the most active frontline town, and Mariupol, a strategically vital port city where 31 people died in a rocket attack last month and where staff have walked out in large numbers after not getting paid for months.
Artemivsk's hospital, a Soviet-era brick building where turquoise paint peels off the walls and cigarette smoke from a disused staircase wafts into the wards, constantly bustles with gun-toting soldiers and bashful nurses escorting the approximately 50 new arrivals in and out of the building every day. Nearly all of them are admitted with shrapnel and burn wounds caused by shelling. After they emerge from shock, servicemen are evacuated by helicopter from a local soccer field to more advanced hospitals in the major eastern staging posts of Kharkiv and Dnipropetrovsk.
Most of the dusty ambulances making several runs to the soccer field daily were provided by volunteers who stepped in to supply Ukraine's woefully underfunded armed forces after it proved powerless against Russia's annexation of Crimea a year ago. Crowdfunded and bought secondhand from Poland, the Czech Republic, and Germany, their foreign plates have been swapped for custom ones with variants of "PUTIN, FUCK OFF."
The volunteers, some of whom have come from as far as Lviv in western Ukraine, are all the hospital has to compensate for a shortage of qualified nurses. As well as supplying the doctors with crowdfunded medical supplies, they double as support staff, feeding the soldiers and keeping their spirits up.
"If we didn't have such a big number of volunteers we all would have died," said a local medic who gave his call sign, Tyler, after Brad Pitt's character in Fight Club. "We would have no ammunition, no equipment, nothing at all."
Rights groups say that the conflict's devolution has been disastrous for people caught in the crossfire of often indiscriminate shelling. At least 224 civilians have died in the three weeks since the offensive began, the United Nations said on Monday, with another 545 wounded. The U.N. suspects that the total death toll of 5,358 may, in fact, be far higher.
Reclaiming bodies and getting accurate figures on the rebel side has been particularly difficult. The Luhansk People's Republic has refused flat-out to cooperate with Kiev on retrieving casualties, while Russia has sought to mask the involvement of its active-duty servicemen who turned the tide last August and who Western officials say are guiding the current offensive.
As the artillery battle for Debaltseve shows no sign of abating, Ukraine is struggling to retrieve its killed and wounded from the battlefield on its own territory too. When Vasily, an ambulance driver who only gave his first name, got the call to drive down to the nearby staging post of Oktyabrske on Tuesday to retrieve one wounded soldier, seven more had been injured by the time he arrived 45 minutes later. The ambulance then came under more fire on the way back, confining Vasily himself to the hospital with them.
In theory, Ukrainian troops and rebels are meant to agree on temporary quiet periods to remove the dead and wounded and evacuate civilians, but in practice, they often fail to hold. After shelling in Debaltseve rendered a center where Russian and Ukrainian officers monitored the collapsing cease-fire inoperable on Sunday, Gen. Alexander Rozmaznin, the top Ukrainian officer there, asked his Russian counterpart to tell the rebels to hold their artillery fire until he had evacuated his staff, including his wounded deputy. Shells rained down on the town nonetheless, damaging the ambulance sent to pick up the deputy.
"Sometimes it works, and sometimes it doesn't," Rozmaznin told BuzzFeed News.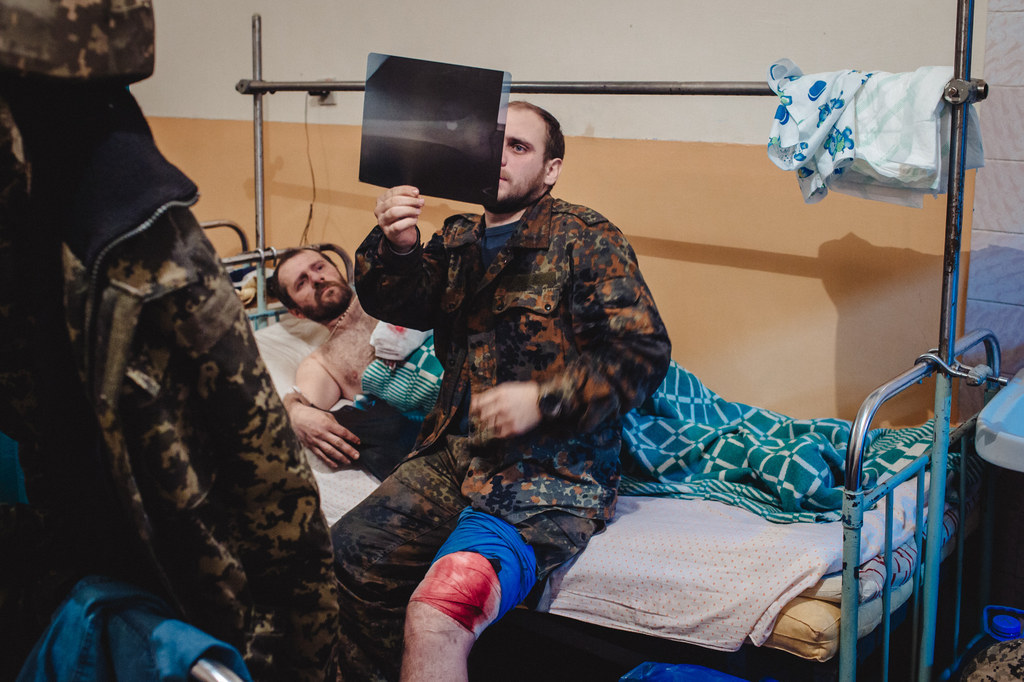 As long as the rebels, who NATO says enjoy supplies of superior Russian equipment and guidance from the Russian army, maintain a technical superiority over Ukrainian forces, the high rate of casualties is unlikely to subside. Soldiers packed into a crowded ward in the Artemivsk hospital complained of coming under constant fire from tanks, Grad rocket systems, and artillery while having only half the resources at their disposal and lacking the technology to coordinate accurate return fire.
"If we had American technology, we wouldn't be here," said a soldier who only gave his call sign, Push-Up. "Standing out there at the post listening with just your ears, you feel like an elephant."
The wounded soldiers can count themselves lucky not to have wound up at Ruslan Fedonyuk's morgue, however. Before the war, he performed 19 autopsies a month; now, he does 15 or more a day.
"You don't ever have time to write a proper autopsy," he said. "You just cut them open, sew them back together, and send them off like on a conveyor belt. That's not right."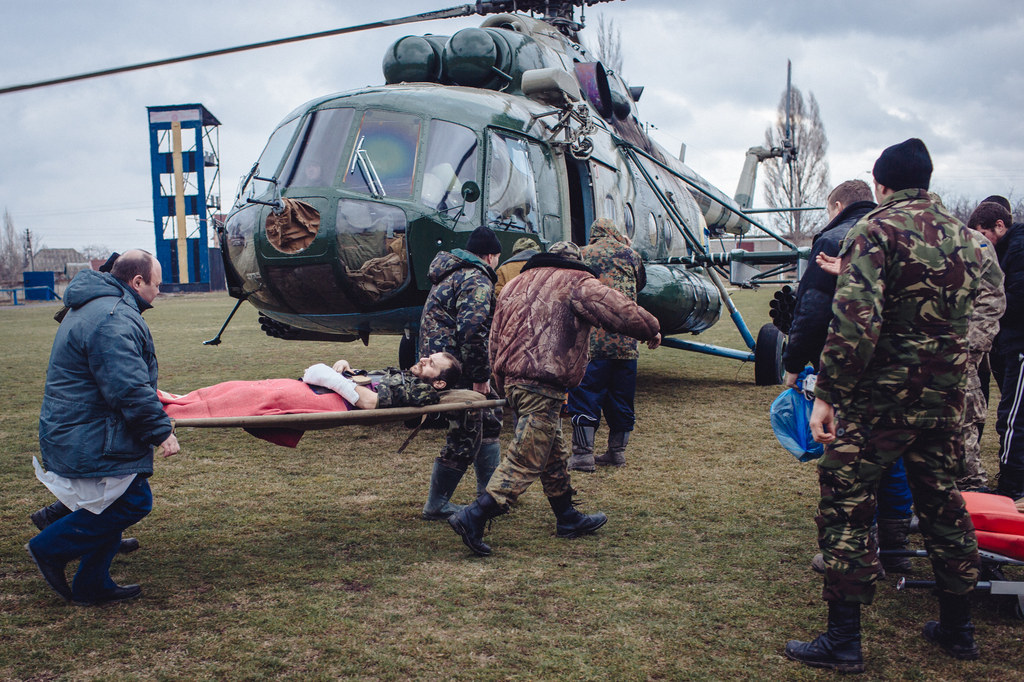 Max Seddon is a correspondent for BuzzFeed World based in Berlin. He has reported from Russia, Ukraine, Azerbaijan and across the ex-Soviet Union and Europe. His secure PGP fingerprint is 6642 80FB 4059 E3F7 BEBE 94A5 242A E424 92E0 7B71

Contact Max Seddon at max.seddon@buzzfeed.com.

Got a confidential tip? Submit it here.