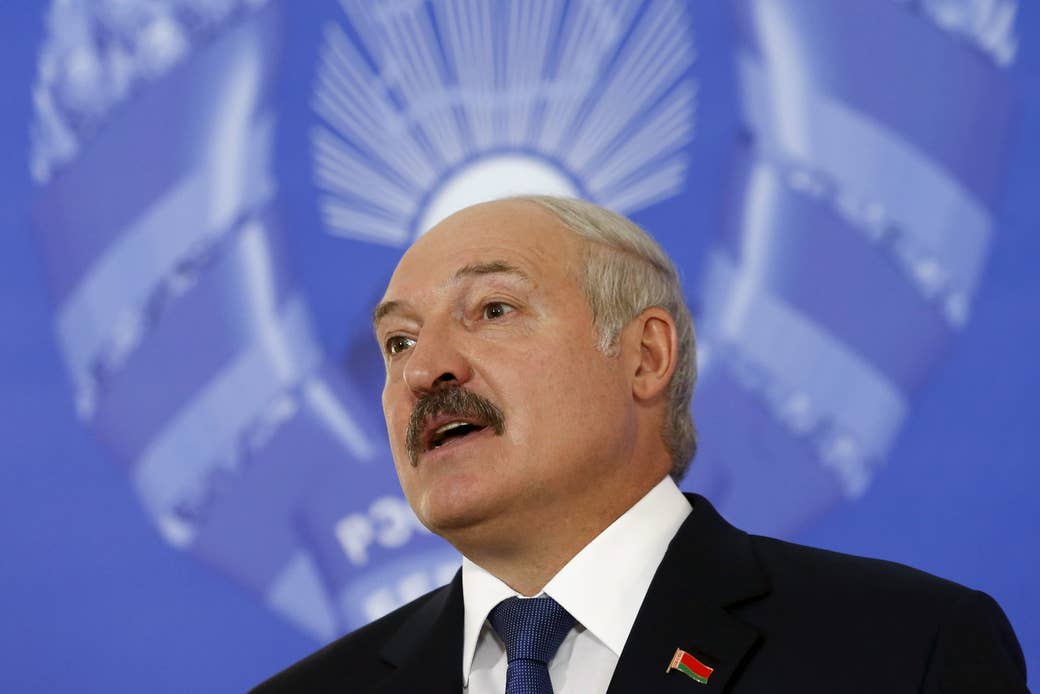 BOBRUISK, Belarus — Alexander Lukashenko, Belarus's strongman president, is set to cruise to a fifth term in power after a crushing victory in elections stacked in his favor failed to prompt mass protests on Sunday, paving the way for the country to improve relations with the West.
An exit poll conducted by Eurasian Barometer, a Vienna-based research group, gave Lukashenko 80.3% of the vote, while a government-funded survey said he had received 81.4%. Days earlier, Lukashenko himself predicted that he would win 80% of the vote, which he said would give him the authority to negotiate with world leaders.
Lukashenko, 61, has ushered in a relative thaw in the small post-Soviet state he has governed since 1994 as he seeks to end Belarus's international isolation and dependence on neighboring Russia. After one of his most outspoken critics, the journalist Svetlana Alexievich, won the Nobel Prize in literature on Thursday and laid into his rule, Lukashenko congratulated her — a major gesture of reconciliation after 21 years during which she was unable to have her books published in Belarus or make public appearances.
European Union diplomats have said the bloc is likely to suspend its sanctions on Belarus temporarily after Lukashenko released six political prisoners, hosted Ukraine peace talks, and spoke against Russian plans to build an air base in the town of Bobruisk. Russia's intervention in Ukraine visibly spooked Lukashenko, who depends almost wholly on Moscow for the cheap crude oil the country refines to fund its flailing state-dominated economy.
"Everything the West desired, everything they wanted to see on the eve of presidential elections in Belarus, I honestly admit, we've done," said Lukashenko after he cast his vote alongside his 11-year-old son Kolya, according to his website. "So if the West has a desire to develop relations with us, nobody and nothing can stand in the way."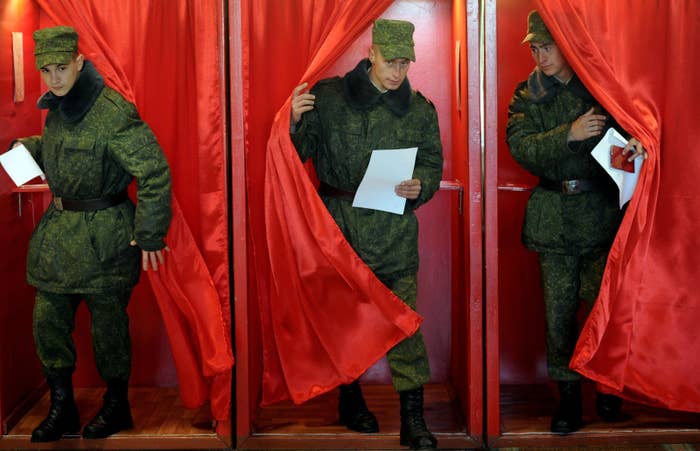 Lukashenko's secret police — which retains its Soviet-era name, the KGB — brutally cracked down on protests against his last election in 2010 that attracted tens of thousands to Minsk's central square. As the date for their possible renewal in late October approached, Lukashenko moved the time of the election forward and began overtures to the West. Lukashenko and Kolya even posed for an awkward photo with a beaming Barack and Michelle Obama at the United Nations last month, the first time in decades he had been seen alongside a U.S. president.
The win for Lukashenko, whose iron grip on society earned him the sobriquet of "Europe's last dictator," was a foregone conclusion in a campaign wholly devoid of intrigue. Lukashenko barely campaigned; the government plastered the country with posters that simply read "Elections of the President of Belarus," leaving no doubt as to whom they had in mind. Opposition leaders failed to register a candidate, while Mikolai Statkevich, a dissident jailed after running against him in 2010, was released from prison a day after the deadline passed in August. Tatsiana Karatkevich, Lukashenko's nearest rival, won 5.6% of the vote after making little attempt to criticize him directly and urging her followers to avoid street protests. The other two candidates were fielded with government backing and say they support Lukashenko. About 100 people demonstrated in Minsk on Sunday evening for about two hours, then dispersed meekly with only minimal intervention from the police.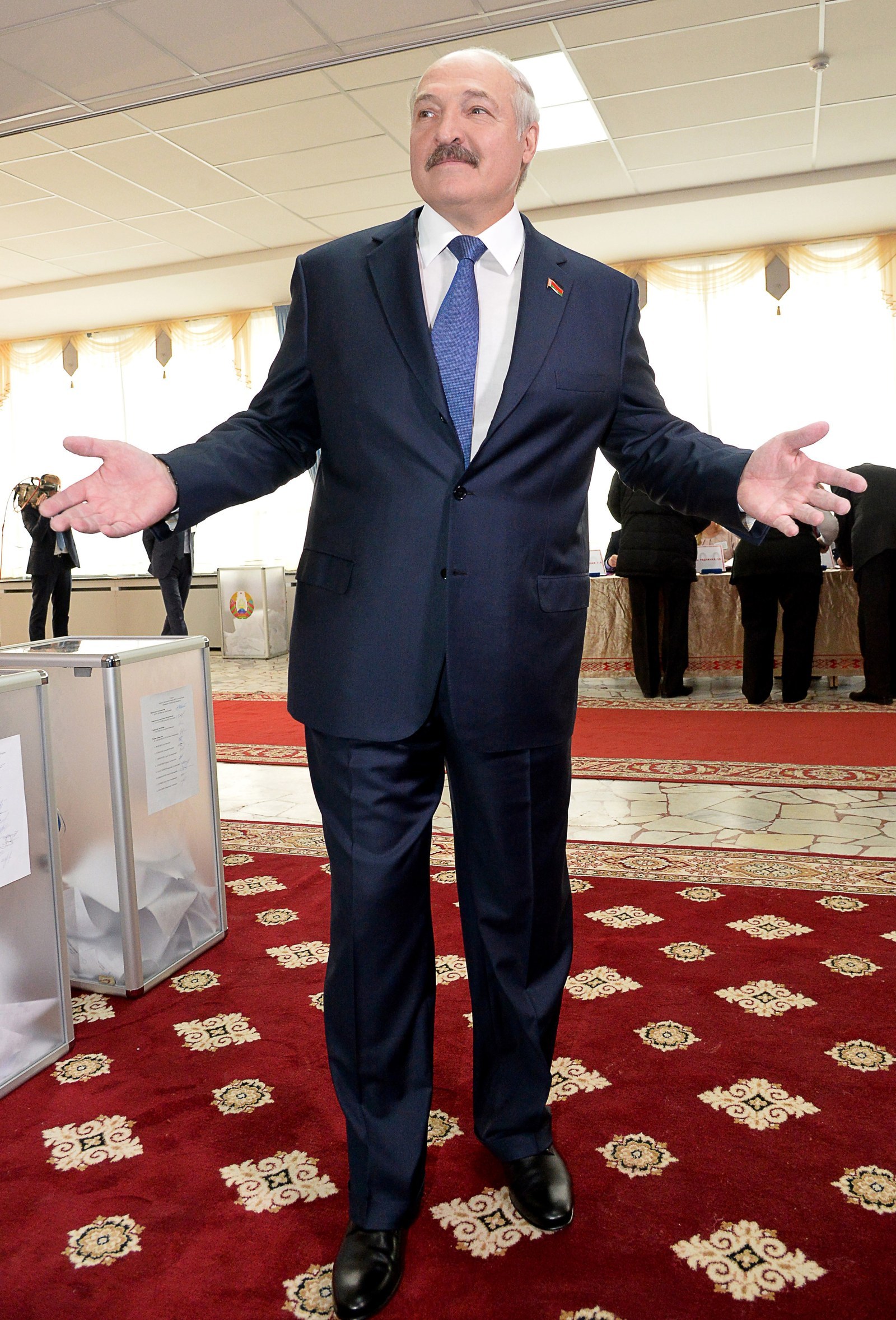 Belarus is the least post-Soviet of all the post-Soviet countries: Lukashenko, a former collective farm director, has retained collective farming, socialist realism, the KGB, and a generous welfare state to placate the country's largely elderly, passive population. Sunday's vote drew heavily on the tradition of Soviet elections, where issues like equal ballot access and transparent counts take a backseat to its importance as a ritual underscoring national unity. Turnout was well over 80%, including a staggering 30% who supposedly voted early. Some polling stations handed out doughnuts and alcohol to lure voters out.
At a polling station in a dormitory for laborers in Bobruisk, a sleepy city 90 miles south of the capital, Minsk, a portrait of Lukashenko hung over the registration table as a choir of elderly war veterans sang traditional Soviet songs. A monitor, Ilya, who, like many Belarusians, declined to give his last name for fear of reprisal, said he had been told the portrait was a state symbol equal to the country's flag. Monitors' rights have been greatly restricted since 2010, when the government raided some of the most prominent groups. "They have the same answer to every question: You don't have the right to get an answer to that question," Ilya said.
Though Belarus's economy is in recession after the collapse in oil prices and subsequent Russian crisis, most Belarusians enthusiastically support Lukashenko for sustaining their generous social benefits and staving off the chaos in neighboring Ukraine. On Saturday, state media claimed that guards detained 200 armed Ukrainians at the border, a clear dog whistle on the eve of the election.
"Lukashenko is the best president in the world, and we will never let him go!" said an elderly voter in Bobruisk.