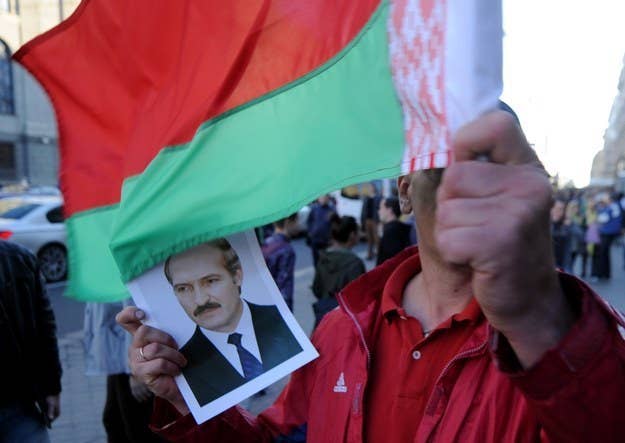 MINSK, Belarus — As world leaders gathered at the United Nations last month, the seat of honor at Belarus's desk was held by a smartly dressed, immaculately coiffed young man many are tipping to lead the country one day. He was also 11 years old.
Belarusian President Alexander Lukashenko's recent trip to New York was the latest sign this small, not-very-post-Soviet state is coming in from the cold after years of isolation — but on its own terms. Lukashenko and his son, Kolya, posed for a photo with a beaming Barack and Michelle Obama, his first appearance alongside a U.S. president in two decades. In February, Germany's Angela Merkel and France's François Hollande came to Minsk for Ukraine peace talks hosted by Lukashenko — the most recent visit from a leader of either country, Belarusians joke, since Hitler and Napoleon.
On the eve of elections this Sunday that are widely expected to hand him a fifth term since 1994, Lukashenko is ever-so-slightly loosening the iron-tight grip on society that earned Belarus the sobriquet of "Europe's last dictatorship." After the Belarusian writer Svetlana Alexievich won the Nobel Prize for Literature on Thursday and called Lukashenko's rule "shameful," Lukashenko told her Alexievich was "sincerely glad for [her] success" and "creative achievements for the good of Belarus." The shift in tone was dramatic. Alexievich has not been able to get her works published in Belarus since Lukashenko took power; he was hitherto reluctant to acknowledge her at all.
Minsk, the spic-and-span Socialist Realist capital, is home to a thriving tech sector and emerging hipster scene the government happily tolerates. IT workers and graphic designers meet for tea at the Ў Art Gallery's cafe and drink cocktails at the Berlin-style loft bar Cherdak. Street exhibitions of artists like Malevich and Chagall and open-air jazz festivals draw crowds to the very spots where protesters once marched against Lukashenko. Dissident culture is even making a small comeback: The London-based Belarusian Free Theatre is staging a run in an abandoned shack on the outskirts of town, where college students watch plays like The Time of Women, a drama based on the experiences of female political prisoners.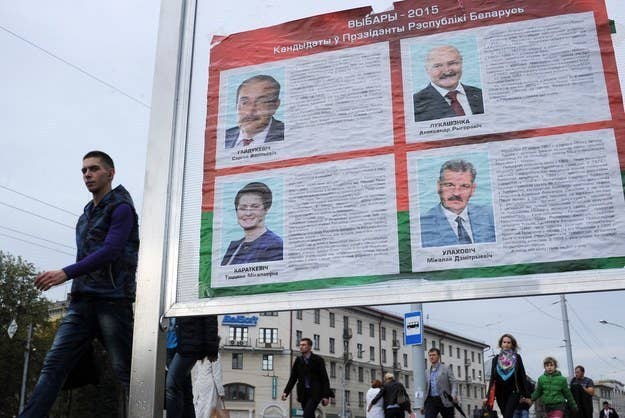 Despite the outward signs of a thaw, Lukashenko has made it clear he remains firmly in control, even going so far as to predict his own crushing vote total. "If the president is strong, like you have always supported me — 80%!" he said on Tuesday. Though Lukashenko enjoys the support of the majority of the population, monopolizes state resources, and has no real opposition, experts say he is likely to continue falsifying the results anyway.
"It's a sport. If the president of Kazakhstan got 90%, he can't get 50%," said Dzyanis Melyantsou, an analyst at the Belarusian Institute for Strategic Studies. "Remember when Putin went to Tuva and caught a 20-kilo pike. The next day, Lukashenko said, 'That's nothing. I went to Pripyat and caught a catfish — it weighed 50 kilos!'"
Unlike his last election in 2010, which saw tens of thousands protest against fudged results, even the most liberal Belarusians seem happy to let him repeat the trick this time. Neighboring Ukraine's descent from revolution to war and economic collapse has scared Belarusians off taking to the streets, with opposition rallies now attracting just a few hundred. Dissidents who led those rallies then have emerged from jail to find the public has lost its appetite for their program, and younger leaders have switched from revolution to evolution. "Why defend the honor of people who don't have any?" said Mikolai Statkevich, a former presidential candidate who spent nearly five years in prison after being arrested for leading the protests, and was released in August. "We put our hope in the young generation, and they betrayed us," said Statkevich, adding that the only opposition candidate is a tool for Belarus's security services.
All this, Lukashenko's supporters say, is a sign the system works. The messaging app Viber and the cabaret band Silver Wedding, both popular Belarusian exports, exist alongside Soviet street names, state symbols, collective farming, and the secret police, still called the KGB — without much complaint from either side.
"They're saying along with Lukashenko that they don't believe in freedom or democracy either."
"People are very free in Ukraine now — free from work, free from a decent salary; soon they'll be free from free healthcare. If that's political freedom, then it's the opposite for me. That's disorder, anarchy, and chaos," said Sergei Kizima, who chairs the international relations department at the Academy of Public Administration, a university in Minsk, and advises Lukashenko. "The only effective peacemaker who immediately said what'd happen and how to stop it was found in Belarus," Kizima added. "Why be surprised that people vote for him?"
Sunday's elections are expected to formally end a period of international isolation cemented at the last vote, when police arrested hundreds of protesters and jailed several opposition leaders, including Statkevich. On Friday, Reuters reported that the European Union will lift most of its sanctions against Belarus next week, provided there is no crackdown after the vote. The EU and U.S. have also largely ceased their funding for opposition groups, which ran to $120 million as recently as 2011. Opposition leaders say they feel betrayed by the West. "He always says that freedom is an illusion. They're saying along with Lukashenko that they don't believe in freedom or democracy either," Statkevich said.
Western diplomats say Lukashenko's efforts at detente with the West since the Ukraine crisis have compelled them to respond in kind. In the past two months, Lukashenko has released all the remaining political prisoners and spoken out against Russian plans to build an airbase in Belarus, seen as a threat to neighboring NATO member countries in Poland and the Baltics. His campaign slogan is "For The Future of an Independent Belarus," an implicit dig at the country's larger neighbor.
"Arab countries showed that overthrowing dictatorships leads to destabilization. He's not the last dictator anymore. A more dangerous dictator has appeared," said Valery Karbalevich, author of a biography critical of Lukashenko, echoing a veiled joke Lukashenko made about Putin in a Bloomberg interview in April. "Against that background, Lukashenko looks a little better."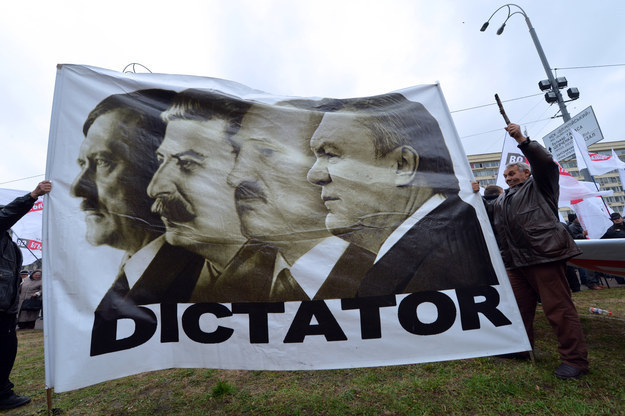 Lukashenko's entreaties are born less of a desire to move his country closer to the West than make the most of a difficult hand, analysts say. Belarus depends heavily on Russia, the source of cheap crude oil it refines and sells abroad, to subsidize its state sector, which makes up a staggering 70% of the economy. Russia is also the biggest market for Belarus's exports, which now include exotic contraband like kiwis and parmesan after Putin banned food from Western countries last year. That dependence makes it difficult for Lukashenko to resist Russia on matters like the proposed airbase, which Moscow wants to use as saber-rattling against the West.
The slump in oil prices and corresponding Russian recession has hurt Belarus, which needs to pay off $4 billion in foreign debt by the end of this year. Lukashenko is negotiating a loan from the International Monetary Fund, but is reluctant to carry out the reforms that would likely come attached.
"He thinks that liberal reforms mean selling everything and closing all the factories. In the political sense that's very harmful for him. Lots of people would be on the streets," said Melyantsou, the analyst.
Tatsiana Karatkevich, the closest Lukashenko has to a competitor in Sunday's elections, is running on a bread-and-butter platform urging economic reform. "Our salaries look like handouts, and our economy looks like Zombie Mania," a popular game on Russian social networks, she told a recent rally in the city of Vitebsk. Karatkevich, however, conspicuously shies away from criticizing Lukashenko politically — a stance that has drawn the ire of most of Belarus's opposition. Andrey Dzmitryeu, Karatkevich's campaign manager, is persona non grata among them after he read a message on TV that blamed opposition leaders for forcing the KGB to crack down on the 2010 protests.
Support for the opposition has nonetheless dipped even among its ostensible base of young, educated, pro-European Belarusians. "People don't trust the opposition. They couldn't even agree on a presidential candidate over the last five years. People think the younger generation needs to take over," said Igor Losik, who runs @belamova, a popular anti-Lukashenko Twitter page. The KGB's surveillance powers have intimidated many activists. When officers called Losik in for interrogation, they showed him hundreds of pages of printouts of his Facebook messages, statuses, and even likes. After Francišak Viačorka, who works with Losik at Radio Free Europe, kept his mobile phone turned off for a week to avoid detection, police came to arrest him minutes after he turned it back on.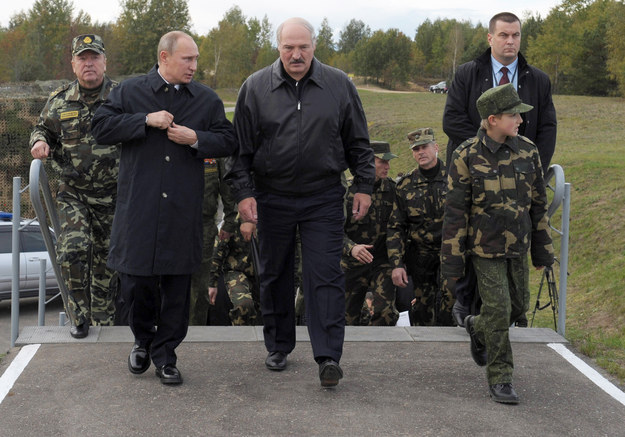 Fewer still have the appetite for mass protest after watching Russian and Belarusian TV reports on the Ukraine crisis. "If you stand on the street with a red-and-white flag," the symbol of the opposition movement, "protest and collect signatures, people will go up and say, 'You want it to be like Ukraine here?'" said Artem Shraibman, a writer for tut.by, Belarus's most popular website.
Culturally, young Belarusians are distancing themselves from its Soviet legacy, but without embracing the opposition. Lessons in Belarus's national language, long squeezed out of the public sphere by Russian, are increasingly popular. Belarusians are the per capita leaders in receiving Schengen tourist visas, allowing them to visit nearly every EU country.
"We don't get involved in politics because it's too risky. But we change society and make more of a difference. Saying you want to join the EU and getting arrested doesn't [make a difference]," said Pavel Veshtort, who runs the Fond of Ideas, a corporate social responsibility group. "There's a whole generation of Belarusians who grew up with Lukashenko and are fine with it."