A court in Baku has sentenced two of Azerbaijan's top human rights activists to lengthy prison terms that their supporters say are part of the country's authoritarian slide.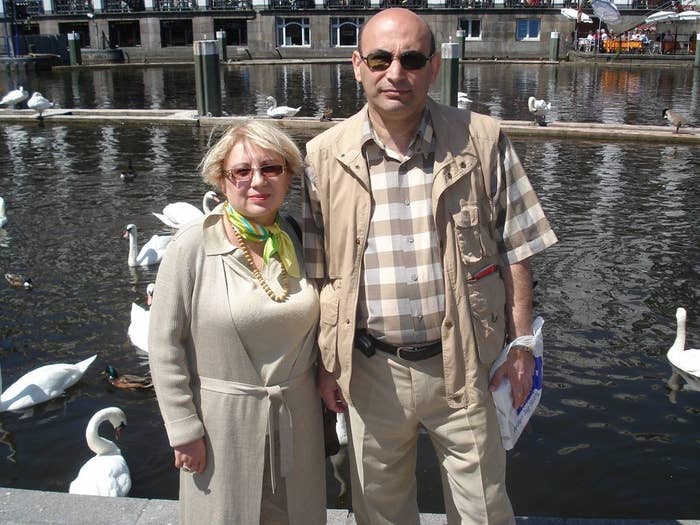 Leyla Yunus, 59, the director of the Institute for Peace and Democracy, was sentenced to eight and a half years in prison on a variety of charges including tax evasion and fraud, according to her exiled daughter and rights groups who attended the trial, which journalists were barred from attending. Her husband Arif, 60, a historian, was sentenced to seven years on similar charges.
Rights groups and Western governments have condemned the Yunuses' trial, which comes amidst the worst environment for activists and journalists since Azerbaijan's independence from the Soviet Union. Dozens of other activists were arrested last year along with the Yunuses on similar charges that their supporters say are politically motivated. Azeri officials have repeatedly said that they believe civil society NGOs and independent journalists are part of a "fifth column" of spies deployed by the U.S. and EU to overthrow strongman president Ilham Aliyev. They angrily deny that the charges are politically motivated.
In her final statement before the verdict was read, Leyla Yunus said the couple's trial was a sign that "Azerbaijan continues on the path of Soviet fascism," according to Radio Free Europe. "Today in Azerbaijan, anyone who tries to challenge the dictatorship is faced with repression," she said.
The Yunuses and their daughter, Dilnara, who lives in exile in Amsterdam, say their conviction is tantamount to a death sentence, since they suffer from numerous physical ailments including diabetes, hypertension, and kidney problems. During the trial, Arif Yunus vowed "to die here" on "our land," then told the judge to "call the executioners and read out the verdict" before collapsing on to the defendants' bench.
Rachel Denber, a deputy Europe and Central Asia director for Human Rights Watch, said that the Yunuses' conviction was part of a broader attempt to stamp out activism in Azerbaijan completely.
"If there were irregularities in [the] way Yunus ran her groups, the government could have pursued them through noncriminal measures," Denber said in emailed comments. "But instead the authorities arrested them and went directly to criminal charges, despite their age and ill health."
Several other top activists, including the lawyer Intigam Aliyev and the Sport for Rights leader Rasul Jafarov, are already in prison serving similar sentences. Khadija Ismayilova, an investigative journalist famous for publishing reports alleging staggering corruption among the ruling family, says she expects to be convicted imminently. Last week, independent journalist Rasim Aliyev died after half a dozen men brutally beat him, allegedly for criticizing a top soccer player on Facebook.
Dilnara Yunus, the couple's daughter, said they were unlikely to see each other again. "My parents are sentenced to death today — at their last meeting," she wrote.
The charges appear to be solely connected with their human rights work and participation in constructive people-to-people programs aiming to ease tensions and build confidence in the region. We are further troubled by reports of irregularities during the judicial process. We are particularly concerned about their health, and we urge the authorities to release them immediately on compassionate grounds. It is in Azerbaijan's interest to meet its international commitments to uphold the universal rights of all its citizens, a critical step toward achieving a bright, prosperous, and stable future.