Austrian Police Arrest Ukrainian Oligarch With Kremlin Connections In First Major Western Move Against Russia
The surprise arrest of Dmitry Firtash at the request of the FBI suggests Western countries may be willing to implement harsher sanctions over the Ukraine crisis.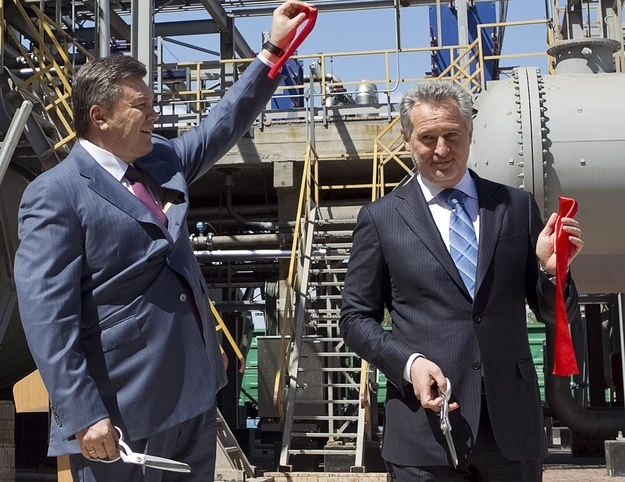 SIMFEROPOL, Ukraine — In a move striking at ousted former president Viktor Yanukovych's inner circle and indicating Western countries' resolve to sanction Russia, Austrian police have arrested Ukrainian oligarch Dmitry Firtash at the request of the FBI.
Austrian police said in a statement that they arrested a 48-year-old Ukrainian businessman named "Dmitry F." at 8 p.m. Wednesday on bribe-taking and criminal conspiracy charges in the U.S. dating to 2006. Firtash's conglomerate DF Group confirmed the oligarch's arrest, which they claimed was a "misunderstanding" over a 2006 investment deal rather than linked to the current Ukrainian crisis or his business in Europe or the U.S.
Firtash, whose arrest took place without incident, is currently being held in a prison in Vienna, where, according to the Ukrainian news site Ukrainska Pravda, he is awaiting extradition to the U.S. A spokesperson for the Department of Justice declined to comment.
The surprise move against Firtash, long believed to have ties to Russian mafia don Semyon Mogilevich but also closely integrated with elites in Russia and the European Union, seemed to indicate Western governments' increased willingness to target Kremlin-linked figures in response to the crisis in Ukraine. Russia is reportedly steeling itself for "Iran-style" sanctions against its business community, according to Bloomberg, in the wake of its expected refusal to withdraw from Crimea, which it denies to have invaded.
While Firtash's reputed mafia ties made him a standout target for legal action, he is by far the biggest post-Soviet fish a Western government has ever attempted to fry. Firtash controlled Ukraine's entire gas supply from Russia and Central Asia from 2006 to 2009 under a deal struck with Russian gas monopoly Gazprom. A deal of such political and economic magnitude in Russia is unthinkable without the personal blessing of President Vladimir Putin.
Firtash's arrest may have particular repercussions in Great Britain, which has come under fire for its reluctance to abandon the City of London's role as a magnet for oligarchical cash. Foreign Office officials met with Firtash in London Feb. 24, as first reported by the British satirical magazine Private Eye. A Foreign Office spokesman told BuzzFeed that Firtash's arrest was "a matter for the U.S. and Austrian authorities" and said his meetings with senior British officials were "part of normal diplomatic contact." The U.S. Embassy in Kiev is not allowed to associate with Firtash because of his reported ties to Mogilevich, a U.S. official told BuzzFeed.
Firtash gave the University of Cambridge a $6.7 million-donation to open a Ukrainian studies center in 2008 and became the first Ukrainian admitted to the university's prestigious Guild of Benefactors three years later at a ceremony presided over by Prince Phillip, Queen Elizabeth II's husband. Firtash was also the sponsor of a "Days of Ukraine" festival in London last fall that included an art exhibition at the Saatchi Gallery and boasted of Yanukovych's personal patronage.
Several senior politicians in Britain's governing Conservative party have also come under fire for their ties to Firtash. MI6, Britain's foreign intelligence service, blocked a baroness' appointment to the post of national security adviser after it emerged she had accepted a donation from the then-chairman of DF Group, Robert Shelter-Jones. Two other senior Conservative politicians sit on the board of directors of the Firtash-linked British Ukrainian Society alongside Shelter-Jones, the Independent wrote last week.
The U.S. and EU have vowed to sanction Russia if, as expected, Sunday's independence referendum in the Crimean peninsula sees Moscow absorb the Russian-speaking region. German Chancellor Angela Merkel, the Kremlin's closest Western interlocutor, accused Russia Thursday of operating by "the law of the jungle" in Crimea, which she warned "would massively harm Russia economically and politically." The White House announced initial sanctions against Russia last week and vowed to impose further measures if the situation in Crimea deteriorated.
Eighteen Ukrainian officials and businessmen were placed on an EU sanctions list last week for embezzling state funds, though Firtash was not among them. The U.S. has not released the names of 20 Ukrainians it placed on a visa ban list in February for their role in lethal clashes between protesters and police in Kiev.
U.S. President Barack Obama met Ukraine's acting prime minister, Arseny Yatsenyuk, Wednesday in a show of support for the embattled interim government in the capital, Kiev. The White House declined to say whether Yatsenyuk, an ally of Firtash arch-enemy Yulia Tymoshenko, discussed Firtash with Obama. Calls to a spokesperson for Yatsenyuk, whom Tymoshenko accused of being a Firtash "project" in 2009 before he and she merged their parties, went unreturned Thursday.
Russia has refused to recognize the new government, which it says includes nationalists and neo-Nazis who overthrew Yanukovych last month in a "coup" and is allegedly persecuting and threatening ethnic Russians in the country's Russian-speaking southeast. None of Russia's claims have been independently corroborated.
A former tomato trader with degrees from a railway vocational school and Ukraine's police academy, Firtash shot to prominence in 2006 when it emerged that he was the driving force behind RosUkrEnergo, a Swiss-registered conglomerate that supplied Ukraine with all of its gas exports until 2009. Firtash, who owned just under half of the company, acted as a middleman between Gazprom, the Russian state gas monopoly and owner of RosUkrEnergo's remaining shares, and Ukraine's gas monopoly Naftogaz. Though then prime minister Yulia Tymoshenko excluded Firtash from a new deal with Putin until 2009, Firtash's Ostchem chemical firm continued to buy gas from Gazprom at the internal Russian rate even as Ukraine's state gas company paid top dollar.
When Yanukovych defeated a field including Tymoshenko and Yatsenyuk to become president in 2010, he immediately set about charging her with abuse of office for negotiating the gas deal. Tymoshenko was sentenced to seven years in prison in 2011 but freed Feb. 22 a few hours after Yanukovych fled Kiev following months of anti-government protests. Kiev wants Russia to extradite Yanukovych on mass murder charges for the deaths of at least 104 people in protests, though the tension between the countries makes that an impossible prospect for now.
The FBI's interest in Firtash may stem from his alleged ties to reputed mobster Mogilevich, whom it lists as one of its top 10 most wanted criminals, dating back to Ukraine's turbulent privatization era in the 1990s. A State Department diplomatic cable released by Wikileaks in 2010 said that Firtash told the U.S. ambassador to Ukraine that he had built his business with Mogilevich's permission and support, which he said was essential to working in Ukraine's gas sector during that period. Firtash later denied that he had said this and claimed that allegations in other cables that the two men had "joint holdings in offshore vehicles" and "mutual personal relationships" were untrue.
"Firtash is a businessman of the regular Ukrainian oligarchic variety, not clear by Western standards, but nor, in any meaningful sense, an organized crime figure," Mark Galeotti, a professor at New York University currently in Moscow who studies Russian organized crime, told BuzzFeed. "Back in the 1990s, Mogilevich was the all-round fixer whose involvement was pretty much essential to make any Russo-Ukrainian gas deals, so of course they were connected.
"Mogilevich, as the underworld banker of choice, was also quite possibly a useful contact when moving money, evading taxes or doing any of the other patriotic parlour games in which post-Soviet plutocrats excel," Galeotti added.
Ukrainian business lore holds it that Firtash also first befriended Yanukovych in the early 1990s when he supplied the future president's car depot with petrochemicals. Though neither man has confirmed the story, Firtash was known to be close to Yanukovych's electoral brain, former presidential administration chief Sergei Lyovochkin and deputy prime minister Yuri Boiko. While most of Ukraine's business leaders recoiled at the rise of the "Family," a group of men centered around Yanukovych's eldest son who rapidly amassed colossal fortunes, Firtash was all but alone among the oligarchical old guard in expanding his business and influence in the government-run energy sector.
Ukrainian political analyst Taras Berezovets wrote on Facebook that Firtash's arrest "really snookered Vladimir Putin. RosUkrEnergo existed and ran its business on [Putin's] direct initiative, which is why Firtash was basically the only one the Family didn't touch," he added.
When hundreds of thousands of Ukrainians occupied Kiev's Independence Square, known as the Maidan, in December to protest Yanukovych's government, Firtash remained silent while other key oligarchs appealed for calm. His INTER television network, Ukraine's largest, took a pro-government stance and ran hit pieces on protesters throughout the crisis until they started dying en masse in mid-February.
Firtash's first comment on the crisis came on Jan. 30, when he said that Yanukovych's government and the opposition should "unite and find a way out so that no more bloodshed happens." A DF Group statement dated March 9 called on Ukrainian business to "activate all contacts" with Russian business in order to "solve the conflict through negotiations."
Max Seddon is a correspondent for BuzzFeed World based in Berlin. He has reported from Russia, Ukraine, Azerbaijan and across the ex-Soviet Union and Europe. His secure PGP fingerprint is 6642 80FB 4059 E3F7 BEBE 94A5 242A E424 92E0 7B71

Contact Max Seddon at max.seddon@buzzfeed.com.

Got a confidential tip? Submit it here.