At Least 30 Ukrainian Soldiers Dead In Rebel Attack, Say Officials
"These bloodthirsty scum despicably shot from Grad systems." If confirmed, death toll would be the highest suffered by the Ukrainian army in a month.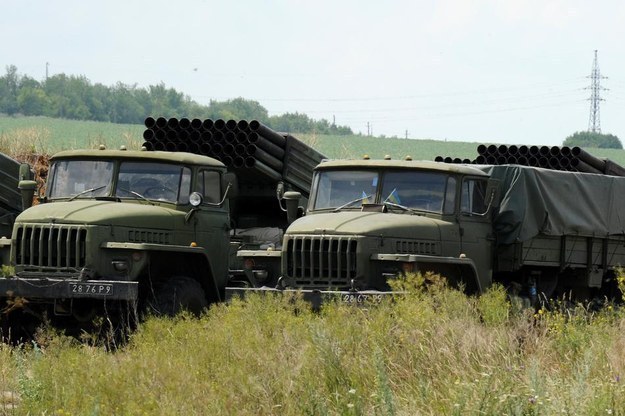 DNIPROPETROVSK, Ukraine — As many as 30 Ukrainian soldiers and border guards may be dead after rebels in the east shelled a camp near the Russian border with a sophisticated missile barrage, officials said.
Reuters cited officials who said the rebels rained down fire on Ukrainian forces stationed at Zelenopillya at 5 a.m. from a Russian-designed Grad system. Final casualty figures may be even higher, making the attack Ukraine's biggest loss of life in a month.
Zoryan Shkyryak, an interior ministry adviser, told a press conference the death toll could yet rise, "because these bloodthirsty scum despicably shot from Grad systems and there is destruction," Reuters reported.
Ukraine resumed its offensive to wrest two eastern provinces from pro-Russian separatists late last month after rebels failed to uphold a unilateral cease-fire and killed 27 Ukrainian soldiers. Government forces reclaimed the northern part of Donetsk province over the weekend after rebels fled the city of Slovyansk, once the center of the uprising. Most of the estimated 15 to 20,000 fighters, many of whom are Russian and have Russian-made equipment, have hunkered down in Donetsk, the provincial capital, and vowed to fight to the end.
Luhansk province, located between Donetsk and the Russian border, has seen some of the most severe fighting. Forty-nine Ukrainian troops and crew were killed last month when rebels downed a transport plane at the provincial capital's airport. Ukraine claimed this week that it had restored control of the border after weeks during which, U.S. officials say, rebels brought heavy-duty equipment and armored vehicles across from Russia.
Moscow denies it is supplying the rebels, whose leaders include several Russians with no connection to the region. The sophisticated weapons and several tanks used by rebels in recent weeks have made this seem increasingly implausible.
Max Seddon is a correspondent for BuzzFeed World based in Berlin. He has reported from Russia, Ukraine, Azerbaijan and across the ex-Soviet Union and Europe. His secure PGP fingerprint is 6642 80FB 4059 E3F7 BEBE 94A5 242A E424 92E0 7B71

Contact Max Seddon at max.seddon@buzzfeed.com.

Got a confidential tip? Submit it here.