At Least 12 Dead, Including General, After East Ukraine Rebels Down Army Helicopter
Ukraine vows revenge, blaming Russia for encouraging the separatist conflict.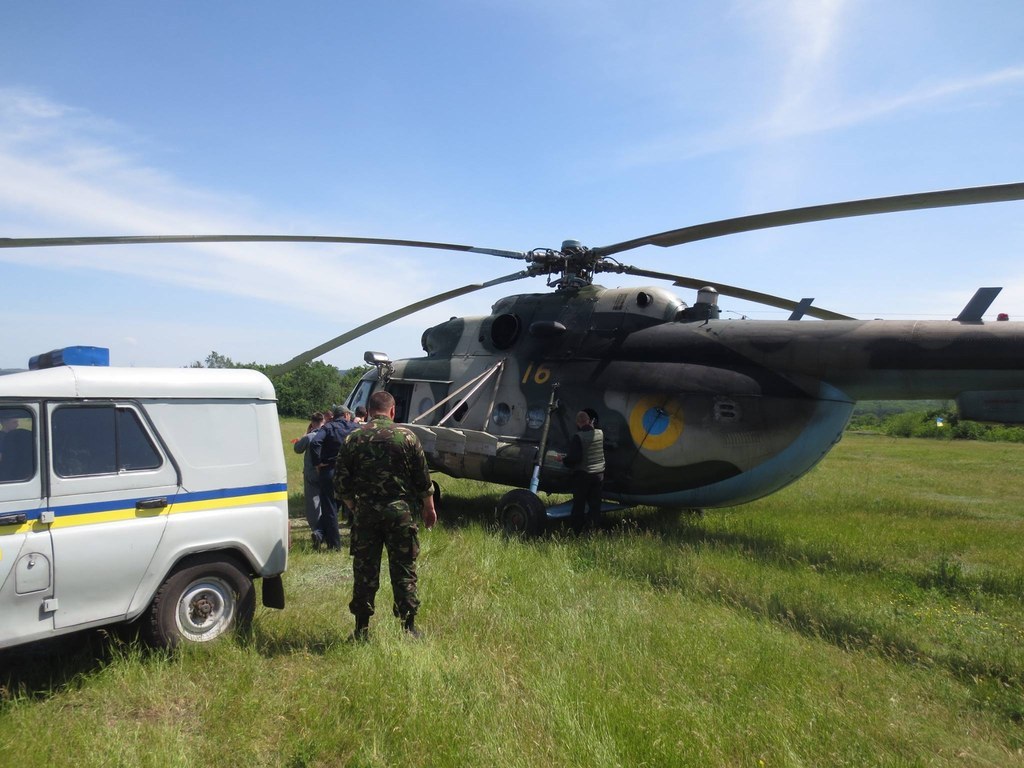 KIEV, Ukraine — At least 12 Ukrainian soldiers have been killed, including a general, after fighters in the rebel-held eastern city of Slovyansk shot down a helicopter with a Russian-made anti-aircraft launcher.
Ukraine's National Guard said in a statement on Thursday that the helicopter came under fire and crashed after delivering supplies and picking up soldiers rotating out of the area. The dead included a general, Serhiy Kuchylskiy, the statement said. One soldier survived and was in critical condition. Acting President Oleksandr Turchynov told parliament earlier Thursday that 14 people died in the attack.
A Ukrainian military officer posted photos he said he had taken before it took off.
Veteran Russian war reporter Arkady Babchenko, who is embedded with Ukrainian troops, wrote that he had also been with them as the helicopter took off. "They were good guys. Respectful and well-mannered," he wrote. "What a shame."
Turchynov vowed Ukraine would avenge the attack and blamed Russia for encouraging the separatist conflict in eastern Donetsk and Lugansk provinces, now in its second month. Kiev and Western powers say Russia has financed, trained, and armed the fighters operating in the region with the intent of destabilizing the government formed after disgraced former president Viktor Yanukovych fled to Russia in February. Russia denies the claims and says the men are local "citizens driven to desperation" by the Kiev government's alleged persecution of Russian speakers in the country's southeast.
Those denials, however, have looked increasingly tenuous in recent days after several hundred well-equipped professional fighters from Chechnya appeared in the region in convoys of trucks that broke through the porous Russian border. Many of the fighters have told journalists on the scene they were sent by Ramzan Kadyrov, the province's pro-Putin strongman leader. Kadyrov said in an Instagram post on Wednesday that any Chechens in Ukraine were there "on their own business."
The conflict is centered around Slovyansk, a town of 118,000 in Donetsk province that was the first to fall when the uprising began in April. Ukrainian forces regularly shell the town and engage in firefights with rebels on its outskirts. Self-appointed "people's mayor" Viacheslav Ponomaryov has suggested evacuating civilians from the town.
On Thursday, Ponomaryov confirmed that his group was also holding four monitors from the Organization for Security and Cooperation in Europe who disappeared on Monday. "I addressed the OSCE mission to warn them that their people should not over the coming week travel in areas under our control. And they decided to show up anyway," Ponomaryov reportedly said, according to the Associated Press. Ponomaryov claimed he would release the monitors, who are from Denmark, Estonia, Switzerland, and Turkey, but did not set a timeframe. Forces nominally loyal to Ponomaryov have taken dozens of hostages during the conflict, including BuzzFeed's Mike Giglio and Vice News reporter Simon Ostrovsky.
Fighting in Donetsk, the provincial capital, and the surrounding region has intensified in recent days, notably during a battle on Monday for control of Donetsk's international airport where Ukrainian troops used helicopter gunships and fighter jets to reclaim the building from rebels. Rebel leader Alexander Borodai said about 100 fighters died in the battle, including 33 Russian citizens.
Billionaire confectionary magnate Petro Poroshenko, who won a convincing first-round victory in Ukraine's presidential election on Sunday, has pledged to step up military operations against the rebels, whom he likens to "Somali pirates" intent on destabilizing and criminalizing the region. Moscow has yet to recognize the results of the election, but appears increasingly willing to negotiate with Poroshenko, leaving the rebels without obvious political cover.
The fiercer fighting and higher casualty tolls may be the result of rebel desperation as their movement sputters, with support from the local population still relatively low and infighting between the 1,500 to 2,500 different rebel groups increasingly visible. Repeated calls from the rebel political leadership for Russia to annex the provinces and send military assistance have gone unanswered.
Denis Pushilin, leader of the self-proclaimed "Donetsk People's Republic," attempted to rectify the problem Wednesday by sending a new, "official" request for help. Russian President Vladimir Putin has yet to respond.
The Ukrainian general killed in the helicopter crash was initially misidentified as Volodymyr Kuchylsky. His name is Serhiy Kuchylsky.
Max Seddon is a correspondent for BuzzFeed World based in Berlin. He has reported from Russia, Ukraine, Azerbaijan and across the ex-Soviet Union and Europe. His secure PGP fingerprint is 6642 80FB 4059 E3F7 BEBE 94A5 242A E424 92E0 7B71

Contact Max Seddon at max.seddon@buzzfeed.com.

Got a confidential tip? Submit it here.