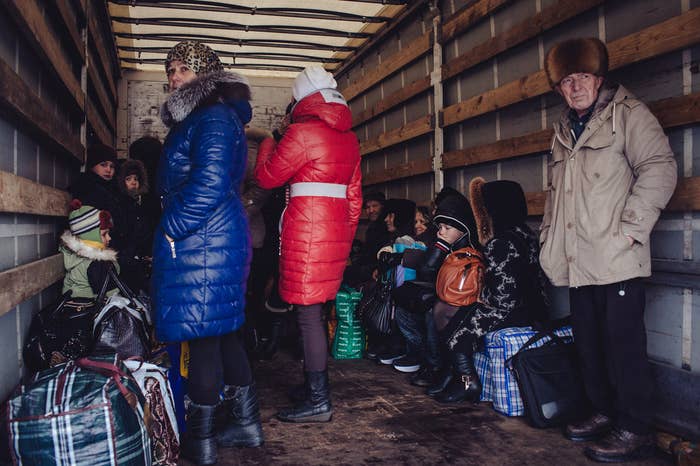 DEBALTSEVE, Ukraine — Hopes for peace in eastern Ukraine looked more fragile than ever on Sunday, as fierce shelling rocked a key front-line town and monitors accused pro-Russian rebels of sabotaging peace talks.
At least 20 people, including seven civilians, died overnight and on Sunday morning during artillery and rocket attacks in and near Debaltseve, the center of fighting as Russian-backed separatists wage an offensive against government forces, Ukrainian officials said. Holding the area, a railway link between the two rebel rump states, is crucial to Ukrainian efforts to beat back a rebel offensive Kiev and NATO say is being coordinated by the Russian army.
Debaltseve, until recently a major Ukrainian staging post 45 miles northeast of the rebel stronghold, Donetsk, and home to negotiations between Russian and Ukrainian generals, had the air of a macabre ghost town on Sunday, with the streets all but deserted and seemingly every building damaged by shelling. Booms from outgoing artillery fire and rapid-fire Grad rocket explosions rocked the city every few minutes, sending the few remaining residents scurrying for basements.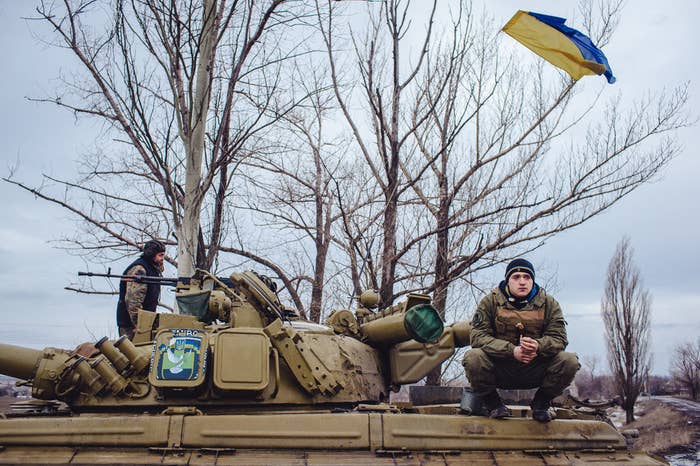 Ukraine said it had evacuated 956 locals from Debaltseve, who have been without water, heat, and electricity for nearly two weeks since the offensive began, over the last few days. Those efforts, though, clearly still have a long way to go. Residents fled north on Sunday to the relative safety of Artemivsk in private cars, buses, and even 18-wheeler trucks, while locals said there were at least several hundred of them still in Debalsteve.
Further rebel advances may make their escape even more precarious. Continued fighting across the only safe road north has already severely damaged the main bridge, now partially held together with tank treads. A tanker truck with the acronym of Ukraine's emergency services ministry hastily painted on its side drove up by an abandoned railway administration building for locals to fill up plastic bottles with water, suggesting officials expect them to remain longer. Ukrainian army and interior ministry units have largely left the town for battles on its outskirts, leaving its security to a small handful of volunteer fighters.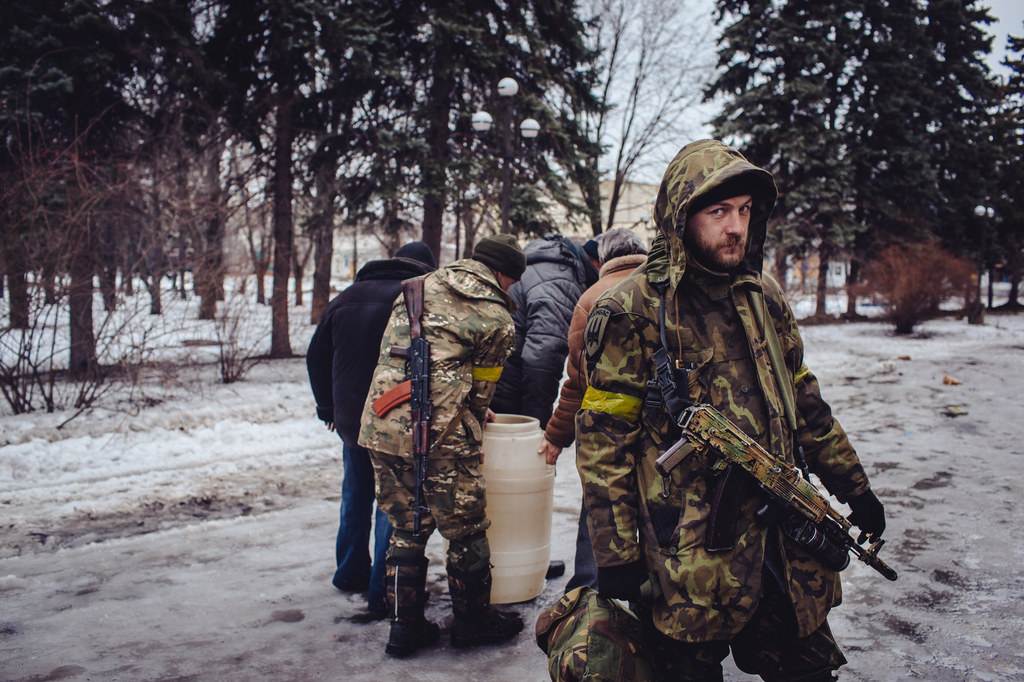 Towns to the east and west, where rebels have made their greatest advances in recent days, are faring even worse. Denys Onishchenko, a volunteer from the capital, Kiev, who had brought medical supplies to the frontline city of Vuhlehirsk, said he fled eight miles to the relative safety of Debaltseve on foot Sunday morning after coming under fire from rebel snipers.
"Even Debaltseve is fine compared to Vuhlehirsk," Onishchenko said as outgoing artillery fire rattled the town. "There are dozens of Ukrainian soldiers' bodies just lying around in pieces everywhere. Everyone is hiding in a basement and every window in the city is smashed."
Though rebels have made several claims to have captured Vuhlehirsk, the town is still clearly up for grabs. A volunteer battalion claimed on Sunday that a government assault had failed, destroying four tanks and all but leaving the town to the rebels. Ukrainian officials said they still controlled much of the town.
Rebel boasts have not been convincing either. When self-proclaimed Donetsk People's Republic leader Alexander Zakharchenko took to Russian state television to demand that government forces surrender earlier this week, his troops immediately came under fire, wounding a man standing behind him in the shot.
About two dozen women, elderly men, and children from the nearby town of Chornukyne packed into the back of a mud-stained truck at an abandoned service station just outside Debaltseve, carrying pet dogs and possessions in cheap plastic carrier bags. Small children tried to console others who burst into tears after being separated from their parents.
"They're transporting us like cattle, but it's still better than staying in Chornukhyne," one middle-aged woman who declined to give her name said as she was lifted up by the truck's ramp. "All of our officials ran away as soon as they could, and everyone forgot about us."
Talks in the Belarusian capital, Minsk, aimed at striking a fresh cease-fire collapsed on Saturday night after rebels demanded a complete revision of an earlier deal concluded there in September, the Organization for Security and Co-operation in Europe, which is monitoring the talks between the two rebel states, Ukraine, and Russia, said on Sunday. Representatives from the self-proclaimed Donetsk and Luhansk People's Republics released a statement later in the day that demanded Poroshenko publish a full, unilateral cease-fire decree, Russian state newswire RIA Novosti reported.
Russian President Vladimir Putin, who gave tacit backing to the rebel offensive last week by blaming the fresh violence on Ukrainian forces, has expressed his support for a cease-fire, but apparently one less advantageous than the original September deal. An alleged leaked copy of a peace plan Putin sent to Poroshenko in mid-January proposed that Ukraine accept the loss of territory that it conceded in sporadic fighting after the cease-fire. Rebels, according to Leonid Kuchma, the former Ukrainian president who is Kiev's representative at the talks, threatened all-out war if Ukraine did not accept the further losses it has suffered since then.
At least 5,100 people have died since the conflict began last April, according to the United Nations. The difficulty of confirming deaths, especially among rebel forces and the Russian soldiers Moscow still denies are fighting in Ukraine, leads U.N. officials to say that they suspect the real figure may be significantly higher.