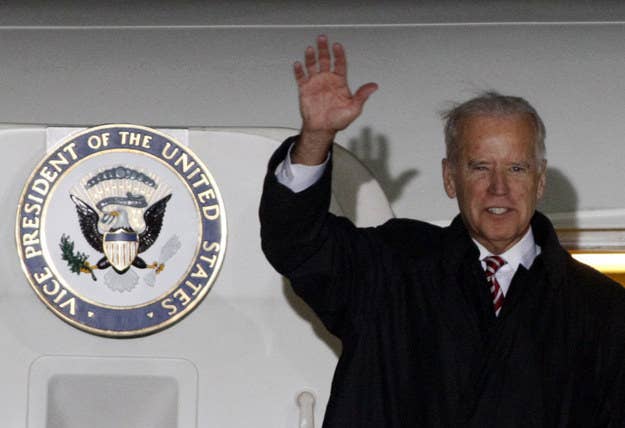 KIEV, Ukraine — The conflict between Russia and Ukraine would be a classic David and Goliath tale if the scales didn't tip so heavily towards Vladimir Putin's Goliath. Ukraine's army is hopelessly ill-equipped to take Russia on, and the U.S. — cast as the higher power in this version of the story — has steadfastly refused to intervene.
As U.S. Vice President Joe Biden arrived in Kiev on Thursday to commemorate the one year anniversary of pro-democracy protests, hopes are high that things are different. Tony Blinken, up for the position of deputy secretary of state, told a Senate confirmation hearing on Wednesday that providing Ukraine with defensive weapons was "something that we should be looking at."
Biden remained tight-lipped ahead of his visit, promising only to help Ukraine "defend itself against this continued aggression." Reuters reported Thursday afternoon, citing unnamed US officials, that the package that Biden will present will be devoid of weapons. But the fact that lethal aid is on the table so soon after President Petro Poroshenko left Washington empty-handed in September despite an emotional appeal that "it is America's war too" marks a significant shift in thinking.
Previously, there was little obvious upside. The White House was wary of getting embroiled in a fresh theater of war. Moscow, too, was obviously prepared always to go one step further than Ukraine's Western allies, who urged Poroshenko to sue for peace.
But there is now a sense that something has to give.
After suffering catastrophic losses during Russia's counter-offensive in late August, Kiev wants improved hardware to prevent that happening again. The White House's current $116 million non-lethal aid package is hardly a panacea for Ukraine's hollowed-out, demoralized, underfunded army. Much of its supplies come from crowdfunding. Soviet-era equipment, weapons, and even rations dating back decades have quite literally been dusted off. Endemic corruption and incompetence mean that significant sums are squandered.
Nearly three months after a shaky ceasefire deal was struck in Minsk, the resumption of full hostilities looks closer than ever. Nearly 1,000 people have died in the fighting since. Poroshenko says the country is "ready for total war" not just against the rebels, but also the 40,000 Russian regular troops and numerous armored columns that Ukrainian officials and NATO claim are regularly crossing the border.
"What it looks like they are talking about is that providing more defensive weapons may deter further Russian military action," Steven Pifer, a fellow at the Brookings Institution and a former U.S. ambassador to Ukraine, told BuzzFeed News. "The view in the government now is that the Russians have done absolutely nothing to implement those parts of the agreement that required Russian action. The calculus has changed."
Ukrainian officials consider the lack of U.S. support a particular slight. Some frame the conflict as an existential one for the West. And they smart at the sales made to other, decidedly less democratic states. Others feel Washington had effectively promised to arm Kiev by saying it would help Ukraine "build a capable army," as senior State Department official Victoria Nuland put it in the spring, but then left it in the lurch. Igor Smeshko, head of Ukrainian military intelligence, complained at a conference on Wednesday that U.S. and European officials had urged Kiev to hold off airstrikes when the first Russian armored columns crossed the border in the summer, then
"The West made us lose this war," a Ukrainian official involved in discussions with the U.S. told BuzzFeed News recently, speaking on condition of anonymity. "They promised they would help our army, and then they stabbed us in the back," he added, weeping slightly and tapping his fist on the table.
What does arrive — there is particular hope for Javelin anti-tank weapons — won't be enough to turn the tide. The Ukrainian army is so ragtag and so incompetently run that providing it with sophisticated equipment requiring lengthy training would be useless. Nor has it exactly covered itself in glory in recent weeks, when troops have shot at foreign observers, probably shelled civilian areas, and deployed cluster munitions and incendiary bombs.
But supporters of a Senate bill aimed at arming Ukraine hope that American weapons could at least steam a potential advance.
"I don't think anybody thinks, by the way that, you know, us providing lethal weaponry to Ukraine is going to change the balance," a Republican member of Congress said at a background briefing with reporters on Thursday. "We all understand Russia can crush Ukraine whenever it decides to do so. All it does is raise the price [...] that Putin will pay if he chooses to do this," the member said, speaking on the condition of anonymity.
The danger for a more active U.S. policy in Ukraine, on the other hand, is that it will simply antagonize the Kremlin further and deepen Putin's resolve to get his way.
Moscow has long hinted that it sees the Ukrainian conflict as a proxy battle between Russia and the U.S., which it blames for organizing the pro-European Maidan revolution that began a year ago on Friday. Then, grandstanding appearances in Kiev by prominent U.S. diplomats and politicians helped convince the Kremlin that Washington was hell-bent on organizing a "color revolution" to overthrow its client president. When he fled in February, Putin responded by seizing Crimea.
Six months of continually deteriorating relations have only raised the risks of engagement. At a Russian security council meeting in Moscow on Thursday, Nikolai Patrushev, its secretary, blamed the U.S. for starting the Ukrainian conflict, which he said "would only deepen if they start selling weapons there."
Putin, for his part, railed against "color revolutions" and vowed to "do everything necessary so that nothing similar ever happens in Russia." With Crimea gone and half of industrial east Ukraine in ruins, one can only wonder what that might be. Supporters of a U.S.-armed Ukraine are betting it won't come to that.
Jacob Fischler contributed reporting from Washington.