Russian Soldiers Still In Ukraine As Shadow State Takes Form
Russian soldiers are still in Luhansk, Buzzfeed News reports, but aren't doing much to make the rebel state a reality.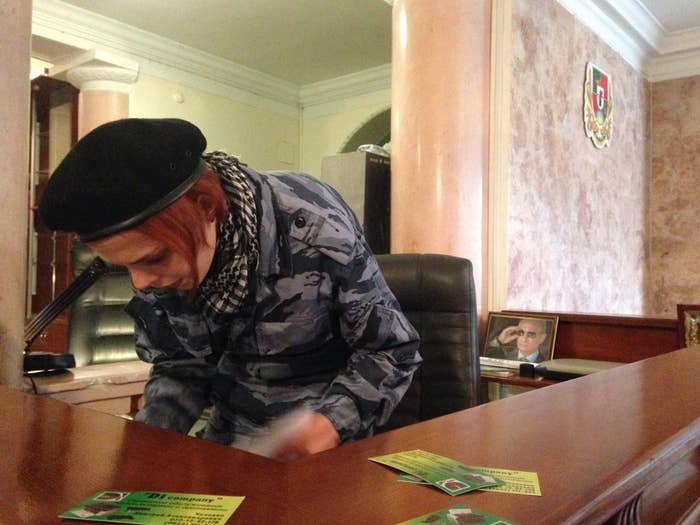 LUHANSK, Ukraine — The only other customers at the Weeping Willow, one of two working restaurants in this war-ravaged city near the Russian border, were wearing camouflage and discussing Love Actually as the movie's soundtrack played on a CD that periodically skipped. They asked us to join them.
"We're Russian military servicemen," they said, by way of introduction.
The six men had been in Luhansk for about a month, said one, who gave his name as Maxim. When they first came to the Weeping Willow, it had no electricity and no kitchen, and they drank lukewarm bottles of beer in the dark. Maxim said they had come to Luhansk to "train the local population," without elaborating.
"No one sent us here. We're volunteers," Maxim said. "They gave us an order: who wants to go volunteer? And we put our hands up like this," he said, meekly raising his hand in mock compliance. "We're on a business trip."
Moscow casts a long shadow in Ukraine's eastern provinces, where rebels have carved out two separatist pro-Russian rump states. A massive Russian counter-offensive in late summer routed Ukraine's military just as it seemed on the verge of victory. Ukraine was forced to conclude a ceasefire that essentially formalized a frozen conflict zone and conferred semi-legal status on the self-proclaimed Donetsk and Luhansk People's Republics. The open presence of Russian active duty soldiers — who spoke to reporters from BuzzFeed News and the Financial Times on Saturday, weeks after combat operations had ceased — indicates that Moscow still has a tight rein on security, though the Kremlin has repeatedly denied that its soldiers were ever even there.
Luhansk is half-deserted after a months-long siege by the Ukrainian military this summer. Nearly every store is closed. Some buildings are missing most of their windows. Others are missing walls and roofs. Others have been completely reduced to rubble. The eternal flame at the World War II memorial has gone out.
It's hard to see how this depressed industrial city, which had a pre-war population of 600,000, will recover without Russia's help. Rebels are keen to use the ceasefire to build the foundations for a future state and have set elections for Nov. 2. But they have no way of independently securing enough water or electricity to sustain the city. Moscow is providing all of the republic's gas and most of its food and medical supplies. There is no clear way forward for the region's industrial- and mining-based economy, which slowed to a standstill as the war intensified. Kiev considers the rebel governments "terrorist organizations" and has told residents to flee to territory it controls.
The Kremlin denies that it has ever been a party to the Ukrainian conflict or that it has any intention of annexing Donetsk and Luhansk, as it did Crimea. But rebel leaders say that months of war with Kiev has made reintegration into Ukraine impossible.
"We're prepared to live as an independent country because we are waiting and know that sooner or later [Russian annexation] will happen," Igor Plotnitsky, the republic's highest official, told BuzzFeed News in an interview. "It cannot not happen. Parents always recognize their children."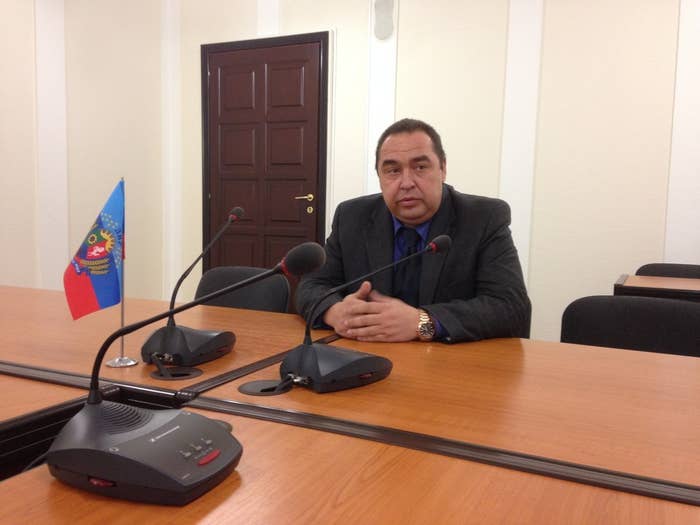 Luhansk is the poorer cousin of the two "people's republics," and the more obscure. Rebels in Donetsk were poster children for Vladimir Putin's pan-Russian revanchism: mercenaries and mercurial ex-Russian secret service officers led the republic's military, while "political technologists" with ties to Kremlin circles ran its government.
On the other hand, day-to-day policy in the Luhansk People's Republic headquarters, a dingy Soviet neo-classical government building with faulty plumbing and sandbags at its windows, is largely the domain of a motley band of locals. Stanislav Vinokurov, the deputy speaker of parliament, was previously a personal trainer and English teacher in the central Chinese city of Yuncheng, despite having a less than fit frame and only rudimentary English.
David Katz, a 22-year-old law student, was unloading aid from a Russian truck convoy in August when rebels asked him if he had legal qualifications. A few days later, he found himself in charge of ensuring that the republic's laws comply with international norms.
Katz is still studying for his master's at the local university, whose rebel administrators have abandoned the teaching of Ukrainian law while they wait for the republic's own legal system to take shape. "Nothing is ratified yet," he said. "But we're not trying to agree things with other [states]. We're doing what our republic needs."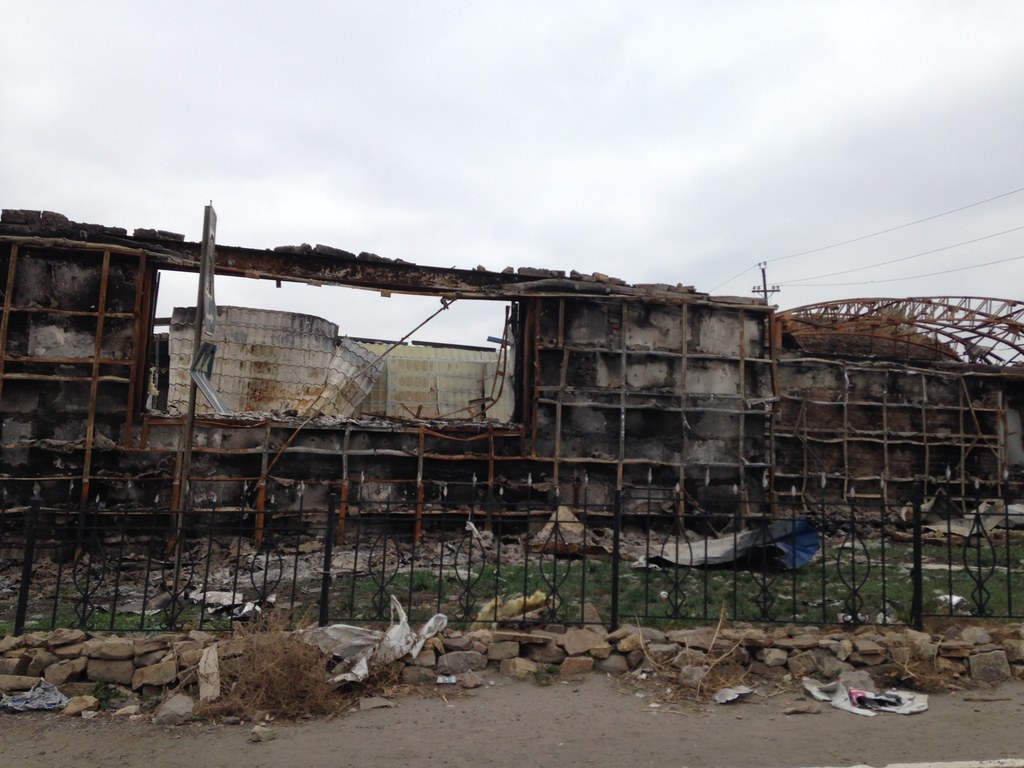 The most pressing order of business for the Luhansk People's Republic is providing for the welfare of its elderly, who make up about 70 percent of the population, according to Vasily Nikitin, who calls himself deputy prime minister. Ukraine ceased paying pensions and state employees' salaries in rebel territory in early summer, leaving many people without income for several months as the conflict entered its most intense phase.
"It's not enough that they bomb us, they won't give us our money either," said Raisa Tarasova, an elderly woman who declined to give her age.
Rebel officials began pilot payments to the worst-hit area of Luhansk in late September, offering pensioners 1,800 hryvnia ($140) a month. They planned to extend the payments to the rest of the city this week. Since the republic has no functioning banks, pensions are given out in cash at post offices where large crowds of elderly people gather every morning in the hope of being paid.
People with disabilities or who have lost property and loved ones in the war are also eligible for benefits. A law even stipulates that the families of men who die fighting against the Ukrainian army are eligible for a one-time compensation of 800,000 hryvnia ($61,750).
Rebel officials are evasive about where the republic's money comes from, and give wildly contradicting answers. Nikitin, the deputy prime minister, said the budget is in the tens of millions of dollars contributed by "local businessmen" who pay taxes voluntarily. Vinokurov, the deputy speaker of parliament, said the government was actually running a budget deficit and not collecting taxes at all. After several people referred enquiries to the finance ministry, BuzzFeed News spent an hour searching for it in the headquarters building, only to find that it did not exist.
Vinokurov admits that developing a financial system will be difficult as long as the Luhansk People's Republic is an international pariah. In June, the republic's previous leader, Valery Bolotov, sent 15 appeals to foreign heads of state asking them to recognize its independence from Ukraine. The only one to reply was South Ossetia, one of two tiny republics that broke away from Georgia after a 2008 war with Russia. "We're still working on Abkhazia," Vinokurov said, referring to the other republic.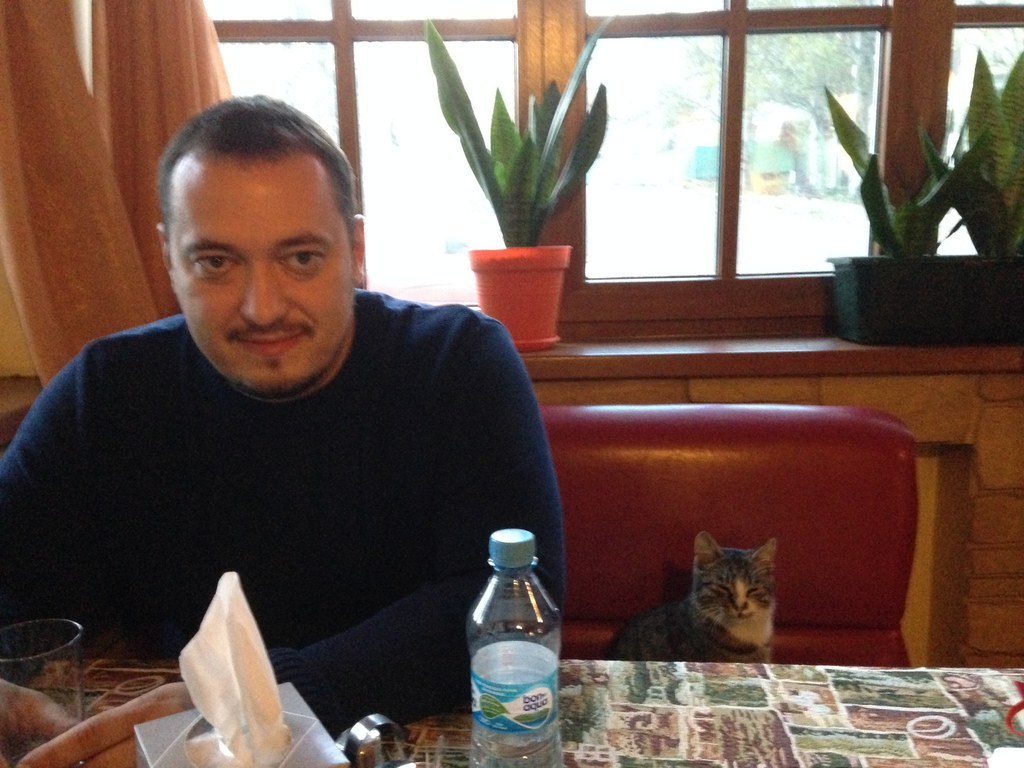 Since Plotnitsky replaced Bolotov in August, the leadership has adopted a different approach. After mass protests broke out in Hong Kong last month, Vinokurov sent a letter to the Chinese government expressing the Luhansk People's Republic's support for a crackdown. He is still waiting for a reply. Last week, Plotnitsky wrote an appeal to Putin, U.S. President Barack Obama, and British Prime Minister David Cameron, asking them to reform the coalition their countries led against Hitler and "de-Nazify" the Ukrainian government.
For now, the Luhansk People's Republic intends to develop as best as it can on its own. Though rebels, their supporters, and Putin frequently refer to the area as "Novorossiya," or "New Russia," as if it were a single territory, rebels in Luhansk do not even have plans to merge with the Donetsk People's Republic. Plotnitsky says he rarely speaks to Alexander Zakharchenko, his counterpart in Donetsk. "We haven't had any disagreements but we have a clear understanding that these are two republics — two separate republics," he said.
Help, Plotnitsky says, will have to come from elsewhere. He has looked to the heavens. Every day, priests spend an hour preaching to children in schools about the evils of Western values, which Plotnitsky defines as "gay marriage, lesbianism, and buggery." He predicts "a second Sodom and Gomorrah," saying: "You won't be able to escape God's punishment."
"It is written: if it is the Lord's deed, it will stand, but if it is made by human hands, it will fall to pieces," Plotnitsky said. "I think the meaning's clear. If the birth of the Republic is God's handiwork, it will come to pass and live in spite of everyone; if it is the handiwork of men, then it won't survive."
In a sense, the Luhansk People's Republic is its own universe — so cut off from the outside world that the six men in the Weeping Willow seemed almost completely oblivious of the risks of telling two American reporters that they were Russian soldiers operating illegally in a foreign country.
Their apparent officer, who said his name was Slava, had a Russian flag patch, two stars, and the inscription "RUSSIAN ARMED FORCES" on his uniform. "You didn't see us here," he said as he walked out the door, carrying a bottle of vodka.
Max Seddon is a correspondent for BuzzFeed World based in Berlin. He has reported from Russia, Ukraine, Azerbaijan and across the ex-Soviet Union and Europe. His secure PGP fingerprint is 6642 80FB 4059 E3F7 BEBE 94A5 242A E424 92E0 7B71

Contact Max Seddon at max.seddon@buzzfeed.com.

Got a confidential tip? Submit it here.