American Dies Fighting Separatists In East Ukraine
"He swore in Ukrainian absolutely beautifully."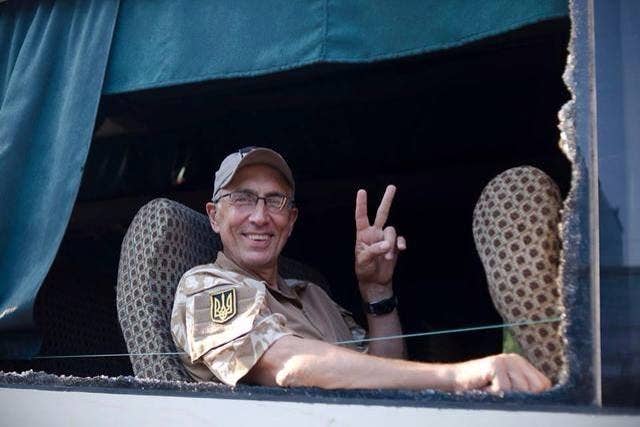 LYSYCHANSK, Ukraine — An American West Point graduate who took up arms to fight pro-Russian separatists in East Ukraine died on Tuesday in a fierce street battle, a Ukrainian official said.
Anton Gerashchenko, an adviser to Ukraine's interior minister, wrote on Facebook on Wednesday that the Ukrainian-American, who went by the call sign "Franko," died alongside eight other volunteer fighters during a battle for Ilovaisk, a suburb of the rebel stronghold, Donetsk. Max Levin, a Ukrainian photographer who has embedded with various Ukrainian units including Franko's, wrote that a fellow photographer had seen the battalion come under heavy fire from tank, sniper, and artillery fire, as well as barrages from notoriously destructive GRAD missiles.
Gerashchenko said that the man, whose name has not been officially disclosed, moved from the U.S. to the steel port city of Mariupol 10 years ago, and had lived there ever since. According to Levin, the photographer, he owned an apartment in the Western Ukrainian city of Lviv and planned to retire to the Carpathian Mountains after the conflict in the east ended.
"He swore in Ukrainian absolutely beautifully," Levin wrote.
Franko, who appeared to be in his mid-fifties, was a graduate of West Point, Gerashchenko said, but insisted on undergoing the same training as the other volunteers when he joined the battalion, Donbass, in April. After the annexation of Crimea in March exposed Ukraine's armed forces as underfunded, derelict, and largely incompetent, Ukraine formed motley volunteer battalions like Donbass to fight alongside regular army units in the country's east. They operate under the guise of the Interior Ministry and have largely replaced the police in the area, most of whom stood idly by while the separatists seized their towns or deserted to join them.
"When I asked him why he, a former U.S. citizen, went to fight for Ukraine," Gerashchenko wrote, "he said these words: 'Ukraine is my second homeland. I don't plan to go back to the U.S.. I love Ukraine and the duty of every citizen and man is to defend his homeland when a threat looms over it!"
Though several other foreigners have joined Ukrainian volunteer battalions, they have tended to be far-right activists who sympathize with the anti-Russian cause rather than ethnic Ukrainians, like Franko. No other Americans are believed to be fighting in the east. The U.S. Embassy in Kiev declined to comment.
Two weeks before his death, Franko gave an interview to Vice News. "I took on Ukrainian citizenship so that I could fight as a Ukrainian, he said.
Max Seddon is a correspondent for BuzzFeed World based in Berlin. He has reported from Russia, Ukraine, Azerbaijan and across the ex-Soviet Union and Europe. His secure PGP fingerprint is 6642 80FB 4059 E3F7 BEBE 94A5 242A E424 92E0 7B71

Contact Max Seddon at max.seddon@buzzfeed.com.

Got a confidential tip? Submit it here.