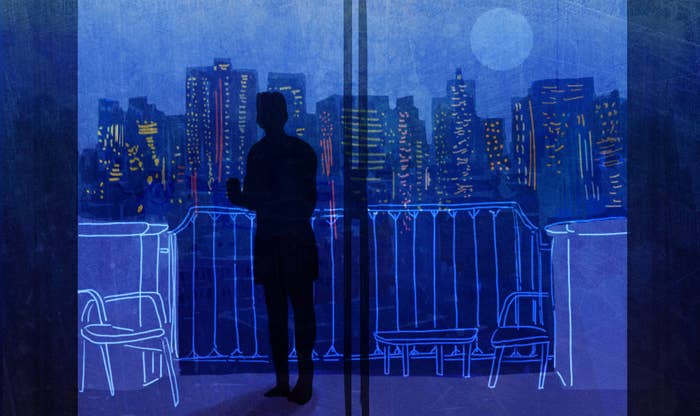 It was around 10 in the evening when Gareth finished his rounds at the hospital. I'd been waiting all evening, grip on my phone viselike, for him to get home. When he did, he messaged me via Grindr: hey you can come over now if you like ;)
I grabbed my overnight bag. The floorboards of my summer sublet creaked as I put on my sneakers. The harsh fluorescents in the building lobby flickered as I stepped out onto 151st Street, beginning the hundred-block journey to a queen bed and a park view.
At Gareth's, I pressed the heels of my palms into the headboard. I was careful not to get any lube on the tufted fabric. It was a French wing piece in slate gray. Restoration Hardware, I guessed. I'd seen something like it the other day, still well beyond my price range after a handful of markdowns.
I told Gareth to slow down. He complied, I got to breathe. His chest was hard and hot against my back, his duvet soft and cool beneath my knees. I'd asked him where he got it once, but he wasn't sure. I wanted to order something like it online, but packages tended to disappear from my sublet lobby.
After Gareth set his alarm clock and began to snore, I slipped out of his arms and into the shower. I loved his bathroom. I loved the granite countertops, the tiled floor, the soft glow of the wall sconces. I toweled off and put on Gareth's white terrycloth robe, one size too big for me.
I made a cup of the Earl Grey he always drank for breakfast. I opened a floor-to-ceiling glass door and stepped onto the balcony, the stone warm against my wet feet. The air was different up here, 40 stories above Manhattan. The summer heat would smother you on the sidewalk. On Gareth's balcony, it made my skin tingle. Maybe these were aftershocks from a very good orgasm. Either way.
Some blocks north, only a few paths were alight in Central Park. Cabs and town cars orbited Columbus Circle. It was a bit past midnight, as Gareth's Movado watch read, dangling like a tennis bracelet on my wrist. It was on the bathroom counter, as usual. I'd borrow it, just to try, always careful to put it in the same spot next to his wallet.
I leaned back against the balcony railing and sipped my tea. Lukewarm, bland. I went into the kitchen, hoping Gareth had some honey or milk or something. But I couldn't find anything in the dark, not in this place where I didn't quite live.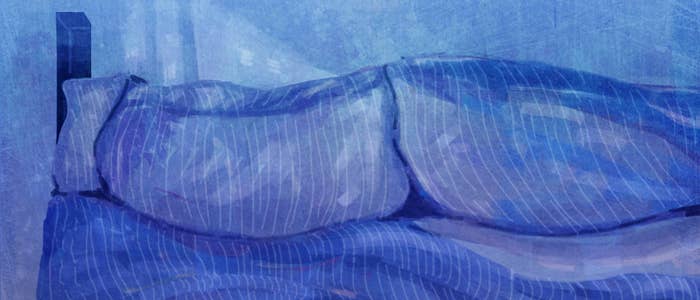 That summer, I sat for hours at coffee shops in neighborhoods I loved — Chelsea, the West Village, Columbus Circle. I told myself it was to find inspiration and write. Instead, I found myself facedown in queen beds with handsome men. I forgot names and numbers, but committed TriBeCa addresses to memory. Some people browsed the Times' real estate section on Sundays; I was on Grindr.
Casual sex was like an open house. My fantasies were built on beefy forearms and exposed brick, so I had a tendency to check Grindr while I was on expensive blocks. Sure enough, I'd receive invitations from men with selfies in suits or on sailboats. As I'd take off their socks and shirts, I'd ask them how long they'd been in their apartments, how much they were paying, usual first-date chatter.
There was the investment banker with a Chelsea loft who mumbled five-figure rents into my mouth. And there was a hotelier with a sweeping view of the Hudson I could see from his bed. As nice as they were, I came in these apartments only once. The hotelier had a boyfriend, the banker a girlfriend. These were places for visiting, I thought, never living. There must be nicer places to visit.
Using Grindr was like window-shopping for a life I could return within an evening. No final sale, no commitment, no questions asked. So in the morning, I could return to my creaky sublet, only to leave it again, free to pursue the thrill of waking up in other queen beds, with other possibilities. I wanted to glimpse real homes with real adults. I wanted to glimpse Real Adulthood.
But then there was Gareth, a doctor with a one-bedroom in the sky. His Yorkshire accent would get so thick, I'd kiss him when I didn't understand him. He'd invite me to dinner and sleep with an arm around my waist. He had a doorman, a savings account, and a career, amenities that were, in my thesaurus, synonymous with having made it, having no worries.
The day before I first met Gareth, my mother called me from Las Vegas. It's where I grew up. I hesitate to call it "home" because it wasn't ever really home. I was born in the Philippines, moved to America, spent 10 years in Las Vegas. After I left for college, my high school friends got married at 20, had children at 19. Las Vegas was a place for visiting, I thought, never living. There must be nicer places to live.
The summer I was subletting at 151st, my mother and stepfather decided to return to Manila. They sold the house in Las Vegas at a price well below what we bought it for. I hadn't planned on going back to tie up loose ends before their trans-Pacific move, so I had effectively moved out of the house when I left it the Christmas before.
My mother and I switched our voice call to FaceTime, so that I might help her pack up my room. One by one, she pointed her phone at every article of my youth and asked, "Keep, toss, or donate?" She found the cashmere turtleneck I bought at a sample sale when I was 16 and precocious. I'd never worn it, only hoped there'd be a day when I would at last fill it out.
I told her to get rid of everything. Clothes, video games, my tear-stained copies of the Harry Potter series all went to the nearest donation bin. My mother hung up and I sat on the sofa bed at 151st. The contents of my life now amounted to a storage unit in upstate New York and the open suitcase at my feet.
My mailbox at Vassar became my only address, which I had for just one more year — nine months, maybe less. Pointless, I thought, to count on anything more than the feeling of my hand viselike around my phone, my ass on a sofa bed, as I waited for some real-adult open-house. I didn't give out my number because I didn't want to invest, then yield diminished returns.
I gave up on the milk and honey. I went back under the covers with Gareth and fell asleep in this place, not quite visiting, not quite living.

My mother called the next morning. It was 9 a.m. in New York, 6 a.m. in Las Vegas. She was awake at this hour because she liked to rise with the sun, my stepfather. He would do so out of habit, to be at the hospital early for his rounds. Gareth didn't have his rounds until later, so he was making breakfast.
I took my mother's call in the bedroom. She had a package to ship to me: vitamins, a cocktail shaker, cookies she'd baked that I loved. She needed an address. I could've had it sent to 151st, but didn't want to risk missing the delivery. My office address was an option, but I thought it presumptuous, as I was only an intern at the time. I couldn't bank on being anywhere very long.
I suggested my mother send the package to Vassar. But the cookies, she said. I told her I would figure something out.
Gareth was in the kitchen, cooking eggs in just his underwear, light flooding the place through floor-to-ceiling glass, stories and stories above the city. It was a sight I wanted to get used to.
With his thick accent, he offered me a cup of tea. I understood him. I kissed him. He asked who called. I told him about the package from my mother, how I didn't know where I could count on it arriving safely.
"You could have it sent here, if you like," Gareth said. He put some fried eggs and toast on a plate. "You're here all the time, so the doorman must know you by now."
I accepted the fork he handed me. "That wouldn't be weird?"
Gareth smiled and shook his head. He toasted his mug to mine, gestured for me to have a sip. It was stronger and warmer than what I was used to. Not bad.
I'd only wanted glimpses and visits, test-drives of possible lives I might lead. But then open-houses grew tiresome. I longed for my own real adulthood — to have made it, to have no worries — even though I thought it easier to drop in on someone else's permanent address.
And I was welcome at Gareth's, it seemed. He offered me an address, the fantasy of its permanence far-off, but possible. His life was a life I wanted to fit into — even if his robe was too large, his watch too loose. With him, I'd wake up to an arm around my waist, to eggs and toast and tea, to terrifying potential.
But back up the Hudson I'd go at the end of the season, summer giving way to nine months, maybe less, of I don't knows and I hopes — terrifying potential. Although he might wait for me, for nine months, maybe less. I might visit and never leave.
When I picked up my mother's package from his doorman, I asked Gareth why he'd been so nice to me all summer. I never gave him my number, never promised him anything beyond great sex and infringement of his personal space. He laughed.
"Because I'm nice," said Gareth. He took another cookie from the box. He thought they were delicious. "And you're nice. It's always good to know a nice person in New York."
I left the city for Vassar early the next morning. Still, I opened Grindr on the train and messaged Gareth with my number, saying, if you like :) He never texted me. Maybe he found someone who didn't mind getting lube on the headboard.
So I graduated and started working on my own terrifying potential. I looked for a job, attempted permanence with boys — one pursuit more successful than the other. I also found an apartment of my own. A lease is, by definition, impermanent, but the address is less foreign to my tongue with every passing day.
There's no balcony, but it's got a fire escape. I sit there sometimes and spoon honey into tea. I still need a bathrobe. At least I have a full bed. It's a lot of space in which to wake up alone, but I wake up in a place in which I've come to live.