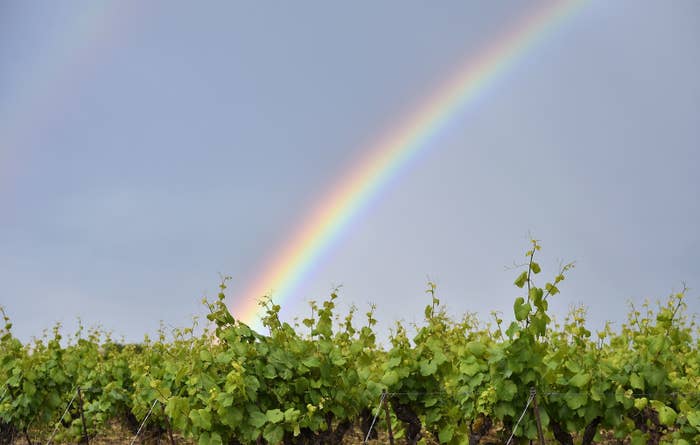 The election night debate over whether the long-awaited "blue wave" has really arrived is still being fought out by the pundits, but there is no doubt we just witnessed something even more historic: a rainbow wave. This year, more openly gay, lesbian, bisexual, and transgender people were elected to office than in any previous election, showing continued progress even as Donald Trump and his administration work to curtail rights for LGBTQ Americans.
In the LGBTQ in America survey that our organization conducted earlier this year in partnership with BuzzFeed News, we found LGBTQ Americans were especially energized this year, motivated by animus toward Donald Trump's anti-equality agenda. A full 79% of LGBTQ Americans said the country was headed in the wrong direction, and 72% said the Trump administration was bad on LGBTQ issues. The survey found respondents were not just energized to vote but were donating to campaigns and political organizations, and even running for office themselves.
But the midterm results outdid even the most optimistic of expectations. A record 399 LGBTQ candidates ran for office this year, at all levels of government, including 22 for Congress and four for governor. We now know that a record-breaking 164 of those LGBTQ candidates won their races and will be representing their communities in elected office. For the first time in history, there are now a double-digit number of LGBTQ representatives in Congress.
This new Congress will feature eight LGBTQ leaders in the House (an increase from six in the previous Congress) and two in the Senate (an increase from one). More remarkably, just under 10% of this new freshman class of Democrats in the House is lesbian, gay, or bisexual. As such, this congressional class is more reflective of the actual makeup of America than ever before.
Democrats won the House by doubling down on their diversity and following the lead of their grassroots, employing a pragmatic bottom-up strategy that took advantage of the party's vibrant base. They focused heavily on understanding the values of voters in individual districts and recruiting strong candidates who embodied them. There was perhaps no better example of this than Sharice Davids, a Native American lesbian and first-time candidate who will now represent Kansas in Congress after unseating a Republican in a traditionally conservative district.
Down-ballot races across the country offered some of the starkest examples of LGBTQ progress, particularly for transgender rights and representation of voices from the transgender community. In Massachusetts, voters overwhelmingly supported an effort to uphold a state law protecting transgender people from discrimination in public places like bathrooms and restaurants. The law was challenged by conservative activists who collected enough signatures to put a repeal measure on the ballot, but their efforts were soundly defeated.
Essential gains were also made in states with lower equality for the LGBT community across the country. Kansas, which had previously lacked LGBTQ representation in its state legislature, will now have two LGBTQ leaders, Brandon Woodard and Susan Ruiz, in the state House. And there were important successes for transgender candidates like Brianna Titone, who was inspired by Danica Roem's victory in Virginia to run for state legislature and will now be Colorado's first transgender legislator.
According to exit polls, this year LGBTQ people made up 6% of national voters, the largest share of the electorate in recorded history, and supported Democrats by record margins.
By a 65-point margin (82% to 17%), LGBTQ voters supported the Democrat running in their local House races. This is a substantial margin and is also the largest ever recorded. The previous record for Democratic support among this voting cohort was 2016, when Hillary Clinton won LGBTQ voters by a 63-point margin (77% to 14%) against Trump.
These results, and the findings from the LGBTQ in America survey, suggest that Republicans continue to ignore LGBTQ voters at their own peril. Republicans are not reaching LGBTQ voters or speaking to issues that are important to them. In fact, their efforts at the state and federal levels to push anti-equality legislation have only further alienated this important (and engaged) community of voters. With growing ranks of LGBTQ leadership across America, Democrats are well-positioned to not only win strongly among LGBTQ voters moving forward but continue to mobilize this already engaged voter segment into action.
Matt McDermott is a director at Whitman Insight Strategies and a campaign board member of the LGBTQ Victory Fund.
Bernard Whitman is the founder and CEO of Whitman Insight Strategies.