Yahoo's Investors Excited About A Company That's Not Yahoo
Yahoo has a huge stake in Alibaba, an e-commerce company that is basically the equivalent of Amazon in China. That company just reported a blowout day in sales on one of China's biggest shopping days.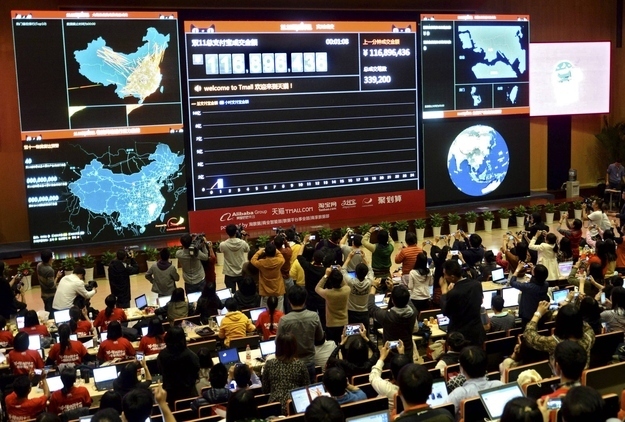 In the past year, Yahoo's share price has nearly doubled under the reign of new CEO and former Googler Marissa Mayer. During her tenure, she's spent a lot of time overhauling most of Yahoo's products and making them more mobile-friendly.
Her efforts, however, are not the only tantalizing prospects of owning shares in Yahoo. In addition to going through a big makeover, Yahoo also has roughly 24% ownership of Alibaba, an e-commerce giant in China that is basically an analogue to Amazon.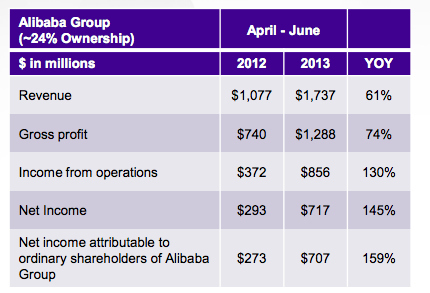 In addition to continuing to grow at a healthy clip, Alibaba just recorded one-day sales of about $5.8 billion on Chinese shopping holiday "Single's Day." This isn't the amount of money that it will make at the end of the day, given that a logistics operation like Alibaba has a lot of overhead costs, but it's still a massive number that should please a lot of investors. Shares of Yahoo are also up more than 2% today.
For some perspective, here's Yahoo's advertising revenue for the past several quarters, excluding costs related to traffic acquisition — which, even across the past four quarters, is still less than the revenue that Alibaba brought in that day:

When Yahoo last reported earnings, it said it had reached an agreement with Alibaba that would allow it to hold on to more shares when it finally went public. That means that if the stock pops when it goes public and continues to trade higher, Yahoo's stake in Alibaba will be worth even more than it would be if it sold off its shares during the initial public offering.
Mayer has funded much of her big overhauls with proceeds for the sale of part of the company's stake in Alibaba. While Yahoo as a company proper is still trying to find its way, investors are able to be a little more patient with the prospect of a huge payout when Alibaba goes public.