Facebook Begins Cracking Down On "Low Quality" Page Posts
The company is cracking down on posts from brand pages that it says are "too promotional."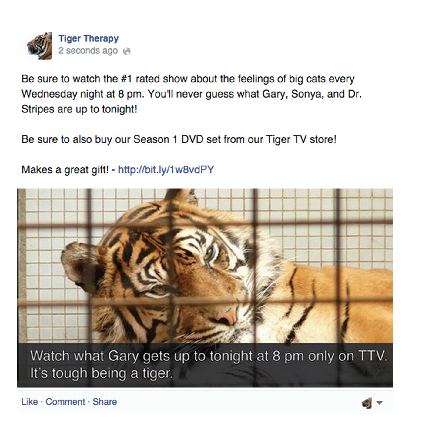 Beginning in January next year, Facebook will begin filtering out what it considers low-quality posts from brands, businesses and others that publish via a Facebook Page.
The decision is sure to draw some attention from brands that rely on Page posts appearing in people's news feeds to drive business. Many such companies have lost out as Facebook cut back the so-called organic reach of brand pages, meaning how many of the followers of a given page will see its updates in their feeds.
Facebook says the new cleanup is targeting low-quality posts it considers to be too promotional, much in the same way it rewards high-quality advertisements with better placement in News Feed.
"What we discovered is that a lot of the content people see as too promotional is posts from Pages they like, rather than ads," the company said in a statement signaling the changes. "This may seem counterintuitive but it actually makes sense: News Feed has controls for the number of ads a person sees and for the quality of those ads (based on engagement, hiding ads, etc.), but those same controls haven't been as closely monitored for promotional Page posts."
Facebook's changes were driven by a survey of more than 500,000 Facebook users on the News Feed experience. Problems with promotional posts were among the highest complaints from the survey, which can theoretically go beyond just typical advertisements in News Feed. The kinds of posts Facebook is targeting look more like low-quality ads to buy something or participate in a sweepstakes without any kind of context. If a business creates higher-quality Page posts that users tend to engage with, they are less likely to be bumped from News Feed.
Facebook has largely responded to complaints about organic reach with a blanket statement explaining that there is much more content running in News Feed than there used to be. Facebook has to ensure the roughly 11 million to 12 million ads in its system are shown to the right users on a daily basis, alongside the flood of content posted by friends, brands and promotional pages.
The mix of things that end up making it to each person's feed are the result of a complex algorithmic filtering system that decides what is best for each users. That decision needs to strike a balance between Facebook's own business interests and the need to keep users happy and refreshing their news feed over and over again.
The company has begun providing more guidance on what kinds of posts publishers should stop running, and its broader aim is to make sure user engagement with the News Feed does not drop off as a result of any changes, a person familiar with the conversations said. Retaining high engagement in News Feed — arguably one of the most important places on the Internet for businesses and users alike — is important because it means Facebook can continue to run a healthy advertising business.
Facebook said more than a billion people visited Facebook Pages in October, with more than 750 million of those visits coming from mobile devices.
"Pages still matter – a lot," the company said. "They offer a free, easy-to-maintain online presence for people to discover and learn about a business channel. Businesses should think about their Page as a cornerstone of their online identity, not simply as a publishing service. The businesses that are doing this well understand the discovery and communication that happens when people come to their Page."