What Apple's iPad Sales Say About The Growth Potential Of The Tablet Market
It is becoming clear that there is a different psychology among consumer buying habits for tablets than smartphones, namely that they are holding out longer to replace them.
Apple CEO Tim Cook mounted a spirited defense of the company's iPad sales results in the face of intense questioning from analysts on its second-quarter earnings call last week. But the fact that he even had to, after selling 16.4 million units over the first 90 days of 2014, suggests that the expectations of analysts and investors about the growth potential of the tablet market is out of step with consumer buying habits.
"It absolutely has been the fastest-growing product in Apple's history, and it's been the only product that we've ever made that was instantly a hit in three of our key markets, from consumer to business, including enterprise, and education," Cook said on the earnings call. "And so if you really look at it in just four years after we launched the very first iPad, we've sold over 210 million, which is more than we or I think anyone thought was possible in that period of time. So I think it's important to kind of — to put that in perspective. We've come a long way very, very quickly."
But for many analysts, Cook's words were cold comfort. Since the iPad ranks as the top-selling tablet, missing sales expectations by more than 3 million has provoked worrisome questions from analysts and industry observers about the potential of the tablet industry writ large. As more is learned about the intricacies of tablet purchasing habits, the more it becomes clear that they are vastly different from their smartphone counterparts. While new software updates render smartphones like the iPhone obsolete quicker — with most devices like the iPhone relying on a baseline two-year replacement cycle — tablets seem have a longer lifespan. Or at least consumers are holding out longer to replace them.
"We don't know the replacement cycles around tablets yet; it's still a relatively new category," Morningstar equity analyst Brian Colello said. "What Apple's results are showing is people are using their iPads and holding onto them for a longer period of time than what we would have expected."
Further, tablets aren't thought of as being compatible with a subsidy model like their smaller smartphone counterparts, meaning consumers have to pay a larger sum upfront for new ones.
"The big carriers play a role in people thinking and believing that they need an upgrade every year or two," said Scott Kessler, senior equity analyst at S&P Capital IQ, of the smartphone lifecycle. "On the other hand, with respect to tablets, it's reasonable to believe that people have a first-generation iPad that they're still using."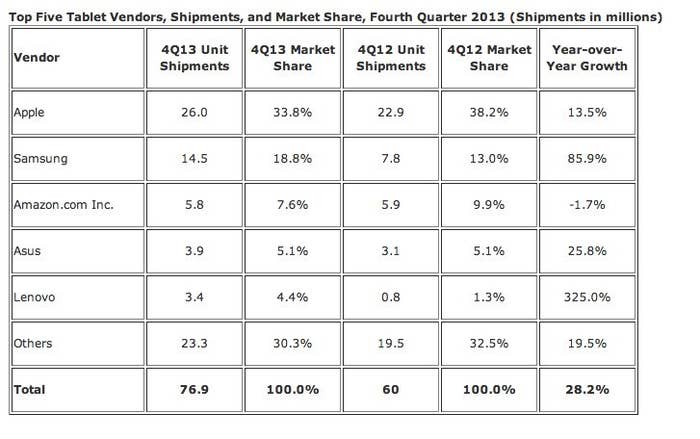 For Apple specifically, a longer replacement cycle leaves it vulnerable to less expensive devices that provide enough functionality and efficiency for consumers who don't need the iPad's premium status, particularly those in more cost-conscious emerging markets. According to IDC, Apple's year-over-year growth was only 13.5%, while emerging tablet manufacturers like Samsung and Lenovo, which have started to hit their stride as genuine competition with the iPad, have seen strong growth.
Emerging markets are a big area for growth for all tablet manufacturers, and not unlike with smartphones, Android devices are beginning to gain momentum over Apple due to their lower price points. According to research firm Gartner, Android has taken a controlling share of tablet operating systems as of the end of 2013.
On Apple's earnings call, Cook talked up the company's growing presence in China and pointed to the iPad's strength in the enterprise and education markets as a sort of counterargument.
"In the enterprise market, we're seeing virtually all, 98% of the Fortune 500, that are using iPad," Cook said. "And we're seeing, according to Good Technology, which looks at activations of tablets, the latest data we have from them is that 91% of the activations of tablets in enterprise were iPads."
What Cook didn't mention is that if the iPad and tablets in general are seen as a situational stand-in, if not all-out replacement for PCs in schools and businesses, it can be even worse for the market's growth potential since industrial clients typically take even longer to upgrade their technology than consumers.
"Those customer bases aren't as likely to upgrade as quickly," Colello said. "If Apple does get a richer mix toward enterprise and education customers, that leads to better stability. But the growth will most likely come from the average consumer."
And if growth is limited for Apple, then by extension it may also be limited for the tablet industry overall. What seems clear is that the iPad isn't going to replace the iPhone as the key driver of Apple's earnings anytime soon. Small wonder then that, in light of those two data points, both Microsoft and Google bought smartphone companies (though Google subsequently divested theirs), and some reports point to Amazon building its own smartphone.
Because even though Apple has sold 210 million iPads since its inception, Microsoft is still selling Surface tablets, and Amazon continues to release vanity stats about the growth of its super-cheap Kindle tablets, it's becoming clear that there's a different kind of psychology around tablets.