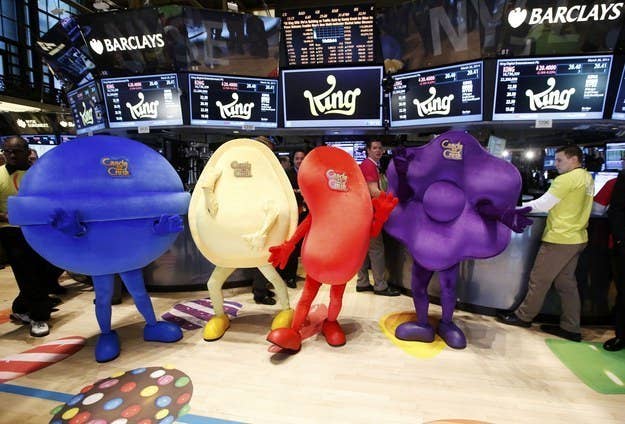 King.com, the company behind Candy Crush Saga, reported its second-quarter earnings today, and Wall Street was decidedly not impressed.
After missing expectations for its revenue numbers and showing a slight drop in the number of people playing its games every day, investors quickly sent shares of the company down more than 25% in extended trading, erasing more than $1 billion in value from the company. King.com said its daily active users fell 5 million from the previous quarter, though they are nearly double what they were in the same quarter in 2013, when Candy Crush Saga was still at the height of its popularity.
The company attributed the drop to the number of people playing its game on Facebook. That's natural given that players are shifting to mobile devices — but the company was not able to offset the Facebook user decline with enough new mobile players.
A drop-off in people playing King.com's games daily is often the first troubling sign for a company coming down from a massive hit. In many ways, the arc of King.com is beginning to resemble that of Zynga, the previous superstar gaming company that went public on the strength of its FarmVille and CityVille games. Zynga was unable to come out with an additional hit and, even though it acquired one in the form of a Pictionary-type game called Draw Something, it failed to develop a hit mobile game.
King.com is still certainly making a lot of money. It recorded $611 million in bookings — the metric that often stands in for revenue for mobile gaming companies — in the second quarter. However, gross bookings declined on a quarter-over-quarter basis, which the company said was due to lower gross bookings from Candy Crush Saga. Again, this is often not a good apples-to-apples comparison (usually the same quarter from the previous year is the best comparison), but a hit-driven gaming company that's not entirely dependent on the holiday season needs to show strong continued growth if it is going to convince investors that it is a valuable public company.
King.com has come out with a slew of new titles, including soft-launching a sequel to Candy Crush Saga, and still has a number of games in the top-grossing ranks of the Apple App Store. But as the company begins to look for a future after Candy Crush Saga, it needs to release a hit that will be able to re-ignite growth and bring in new players that it can then convince to play the company's other games, like Farm Heroes Saga and Bubble Witch Saga 2.