Twitter's Stock Explodes After Making Its Trading Debut
Twitter began trading at $45.10, well above its IPO price of $26. Already there was an enormous amount of demand for Twitter's shares.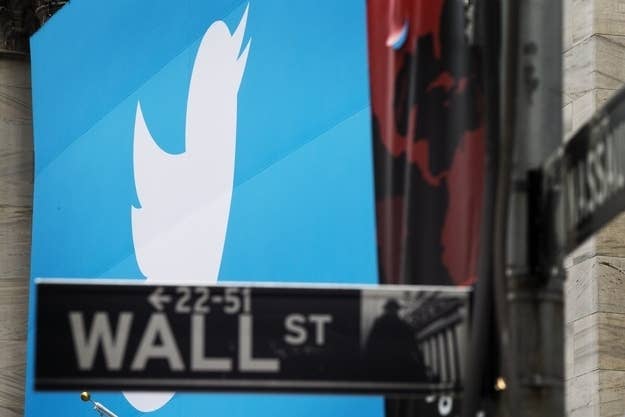 Twitter is well on its way to avoiding a fate similar to Facebook's disastrous IPO.
The company finally went public today, capping off a rather tame tech IPO process as compared with many of its peers and beginning trading at $45.10. That's about a 74% premium to Twitter's IPO price of $26, which was kept low despite a lot of demand for the shares. Right after making its debut at 10:50 a.m. ET, Twitter's shares shot up to near $50, an 80% premium on the IPO pricing, before settling back around $45.

Twitter CEO Dick Costolo and some of Twitter's co-founders were at the New York Stock Exchange, where some of Twitter's most prolific users — including Sir Patrick Stewart — actually rang the opening bell.
Meanwhile, Twitter's employees, fueled by doughnuts (including cream-filled cronuts) and coffee after an early start to the workday, watched from their office on Market Street in San Francisco. They crowded in the cafeteria and viewed the start to trading on screens where Twitter often hosts guests like Kobe Bryant and Tom Hanks as speakers.

At $45.10, Twitter is valued at $24.5 billion (not including greenshoe, options, and restricted stock units — it's more than $30 billion including that) after raising about $1.8 billion in its initial public offering.
Twitter was expected Wednesday night to price around $27, but disclosed late in the evening following a call to discuss the price that it would set its IPO price at $26. The intent seems to have been to ensure that the stock performed well the next day, and not mirror the initial days of trading Facebook had. By pricing much lower than what it opened at, it left a lot of money on the table that it could have raised.
Meanwhile, reporters were corralled into a roped-off section as Costolo and several others gave live interviews. According to one reporter who was at the opening, they weren't even allowed to leave for a bathroom break.
Throughout Twitter's IPO process, it has found ways to keep the whole process relatively without drama. But Twitter still faces questions over whether it will continue to grow its user base, which has essentially stalled on a quarter-over-quarter basis in recent quarters. Twitter, unlike Facebook, is still seen as somewhat of a niche product with only about 100 million people using the service every day.
To grow revenue, Twitter has to either find better ways to monetize its advertisements, grow its user base, or find new advertising products like Facebook did when it released Mobile App Install Ads — a new advertising business that now healthily contributes to Facebook's total advertising revenue.
That, however, doesn't appear to be a concern among investors, who sent the stock up nearly double after the company made its trading debut.