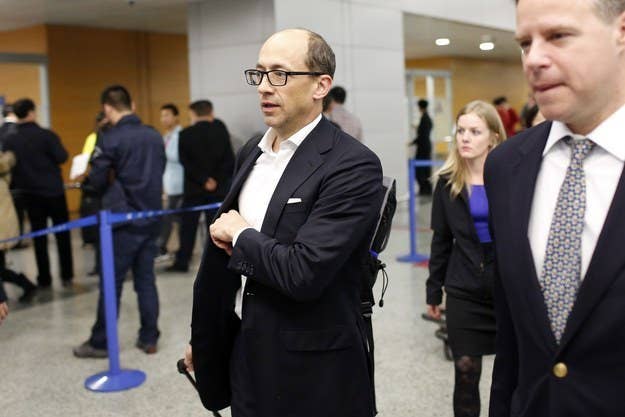 Ali Rowghani, Twitter's chief operating officer, who anonymous insiders anointed "co-CEO" in a Wall Street Journal profile — resigned this morning amid concerns over the company's stalling growth.
The resignation was foreshadowed in a report last night from Re/Code's Kara Swisher that detailed growing tensions between Rowghani and the executive suite of the company. Rowghani's inability to spur growth, a much-needed signal for public shareholders that are now determining the value of the company, along with a controversial stock sale that netted him $9.9 million and the implied power grab in the WSJ article were seen as tipping points that eventually led to his departure.
Under Rowghani, Twitter had spread the company's growth team across other existing teams, rather than operating as a single team on its own, according to one person familiar with the company's operations. After Rowghani's resignation, that team will once again become a centralized unit, according to two people familiar with the company's operations.
Twitter's new "triumvirate," as it's called internally, is now CEO Dick Costolo, VP of engineering Alex Roetter — who ascended to power recently — and former Google Maps head Daniel Graf, now VP of consumer product, according to one person familiar with the company's operations. Internally, the company is pointing to the fact that many technology companies do not actually have a chief operating officer — such as Apple, Square, Google, and now Twitter.
"Our read through is that product innovation hasn't kept up with the pace as expected by management and investors," wrote Robert Peck, Internet equity analyst at SunTrust Robertson Humphrey. "Hence we think the reshuffling makes sense for the company."
Rowghani's departure is the latest chapter in Twitter's identity crisis. To grow, the company needs to settle on a vision and a strategy, neither of which it has been able to do consistently in its eight years of life.
There was first early Twitter, the cryptic instant messaging platform for entrepreneurs and tech types. Following that was a time in Twitter's history when developers experimented with the platform and drew in new users — before being promptly shut out by the company when it limited developer clients and extensions. Then, Twitter optimized itself for media, courting news and building out a platform that would allow information to be shared more efficiently — with big embedded images, easy retweets, and more favorite buttons. Then, of course, came the IPO and the focus on Twitter as an advertising company.
And it's not just the product; the company is constantly shuffling around its organizational chart, always with little in the way of results. While the revenue has been successful to a degree, Twitter is still a company that doesn't know what it is. Its vague mission statement is basically unchanged since the company's earliest stages, before the product grew sophisticated:
"We think of Twitter as it's not a social network, but it's an information network. It tells people what they care about as it is happening in the world," co-founder and former CEO Evan Williams said in October 2009. In an earnings call in April this year, Costolo said, "We think of Twitter as this companion experience to what's happening in the world."
In the years between Williams' and Costolo's statements, and the various iterations, the company largely missed out on instant messaging. It ignored its DM feature until recently and has watched as companies like WhatsApp have ballooned to twice Twitter's size.
This sort of identity crisis or confusion is tolerable for a younger, rapidly growing company, but as Twitter's growth and growth prospects slow, Twitter's still cryptic product and vague vision threaten to stop the company in its tracks. After eight years it's still a platform that alienates new users.
For all the company's constant experimenting with small design tweaks, it is still hampered by the one thing it won't change: its timeline, which is the center of so many of its ad products. The decision to go public has locked Twitter into its product, and now the company has less room to play as it looks to court new users.
The company has been playing so hard not to lose, it's no longer clear how they can win.