Twitter's Business Secrets Have Finally Been Revealed
IT'S HERE! IT'S HERE! Twitter's S-1 IPO filing has finally landed.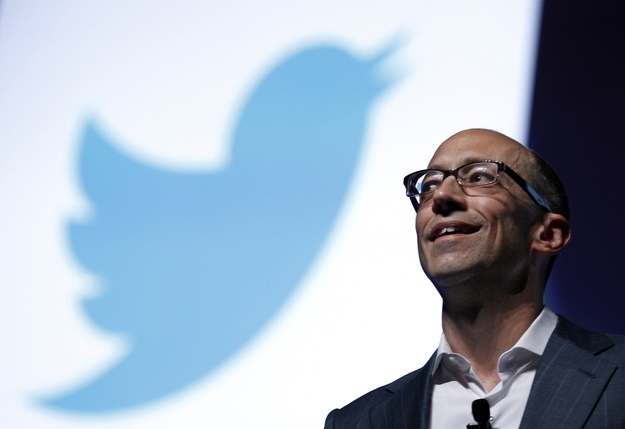 Twitter's official filing with the Securities and Exchange Commission has finally been made public!
Here are the most important details to get things started. They didn't include a share price range, or the number of shares they are selling in the IPO, yet — those will come in a later filing.
Revenue: $139 million in most recent quarter, up from $68 million in the year ago quarter.
Twitter's revenue primarily comes from its advertising tools — the biggest of which is "Promoted Tweets."
For the quarter ending March 31 this year, it was $114.3 million. A year earlier, it was $68 million.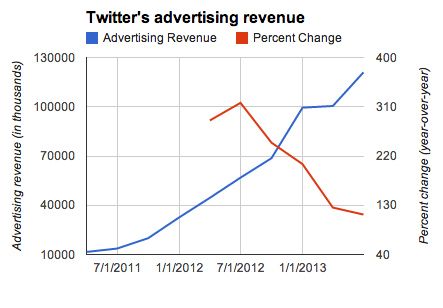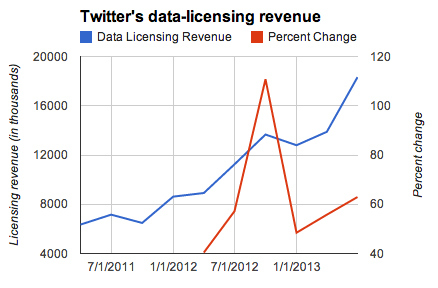 Annual revenue: $317 million in 2012, up from $106.3 million in 2011.
In 2010, most of the company's revenue came from data-licensing, but that's now completely dwarfed by ad revenue.

Cash: $164 million in cash and cash equivalents
Revenue to-date the first half of the year: $253.6 million for the six months enduing June 30, up from $122.4 million.
Twitter's ticker symbol will be "TWTR"
Income: loss of $42 million in the most recent quarter, up from a loss of $27 million a year ago.
On a non-GAAP basis, it was a loss of $16.3 million this quarter, up from a loss of $11 million a year ago.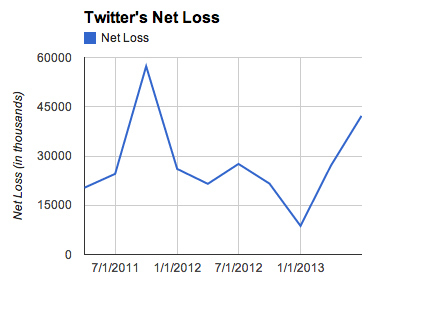 Users: More than 215 million monthly active users, and more than 100 million daily active users.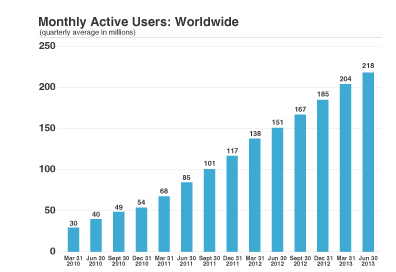 However, MAU growth is slowing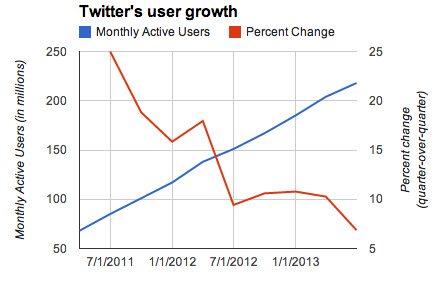 Here are the advertising products that launched as those MAUs continued to grow, taken from the S-1.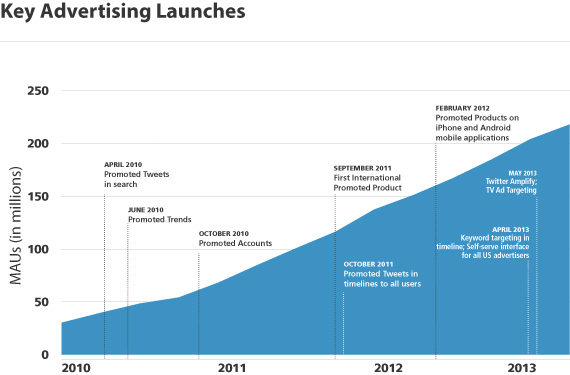 Of those mobile monthly users, 75% accessed it through a mobile device by the end of June, up from 66% a year earlier.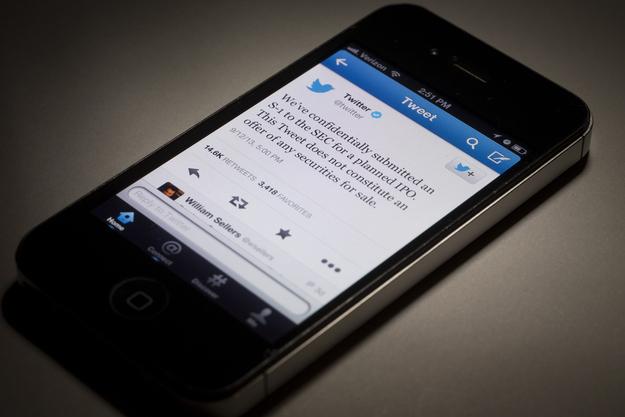 Ad Revenue: $121 million in most recent quarter, up from $56.8 million a year earlier.
This is up even more from $13.6 million in the June quarter two years ago. Twitter's ad revenue is now contributing most of the company's total revenue.
Twitter's lead risk factors include being unable to grow the user base, and if user engagement drops.
Some things that could negatively impact engagement:
"Influential users, such as world leaders, government officials, celebrities, athletes, journalists, sports teams, media outlets and brands or certain age demographics conclude that an alternative product or service is more relevant."
"Users engage with other products, services or activities as an alternative to ours."
"There is a decrease in the perceived quality of the content generated by our users."
Employees: approximately 2,000 as of June 2013
Twitter didn't disclose much as to who owns the company. Founders Ev Williams and Jack Dorsey are listed, at 12% and 4.9% respectively.
Typically these sections are a little more robust.

Finally, here's the mission statement, starting with a Tweet from co-founder Jack Dorsey.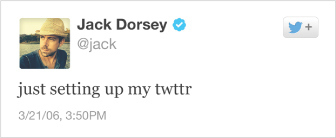 Twitter was born on March 21, 2006 with just 24 characters:
We started with a simple idea: share what you're doing, 140 characters at a time.
People took that idea and strengthened it by using @names to have public conversations, #hashtags to organize movements, and Retweets to spread news around the world. Twitter represents a service shaped by the people, for the people.
The mission we serve as Twitter, Inc. is to give everyone the power to create and share ideas and information instantly without barriers. Our business and revenue will always follow that mission in ways that improve–and do not detract from–a free and global conversation.
Thank you for supporting us through your Tweets, your business, and now, your potential ownership of this service we continue to build with you.
Yours,
@twitter