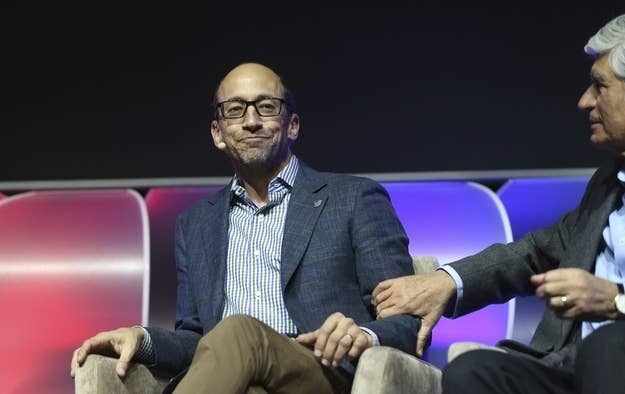 Despite beating analyst expectations on nearly every measure — revenue, guidance, earnings and the like — shares of Twitter are still tanking in extended trading after the company reported its fourth-quarter earnings.
That's likely partly because Twitter also said it had 241 million monthly active users at the end of the quarter, a gain of only 9 million new users since the last quarter when it went public with 232 million monthly active users. Twitter's shares fell 12% in extended trading just after the results came out, erasing much of the gains it made following a euphoric post-IPO run that sent shares north of $60.
On the earnings call, CEO Dick Costolo acknowledged that the company had to ramp up that growth, and said the company had begun making a number of changes to the product in order to spur user growth. "We need to make Twitter a better Twitter, he said."
"We need to get a broader audience to get Twitter and understand Twitter more quickly," he on the earnings call. "Because of that success in increase in interactions, we believe the cumulative effect of the changes we make over the course of the year... will result in changing the slope of the growth curve. What exactly the slope of that curve looks like and when it will occur is not something I can guess at."
Costolo said the company worked on improving the new user experience on mobile and including richer media in Twitter Timelines that would make it "accessible" to a broader audience, as well as making it a better conversation tool, "both private and public," hinting at an increasing importance for messaging.
Still, Twitter's stock continued to fall after his remarks, sagging to a drop of about 15% during the earnings call. The company reported fourth-quarter earnings Wednesday of $243 million and earnings of 2 cents per share, above analyst estimates of $217.8 million in revenue and a loss of 2 cents per share.
Not shown: a drop to a share price of around $57.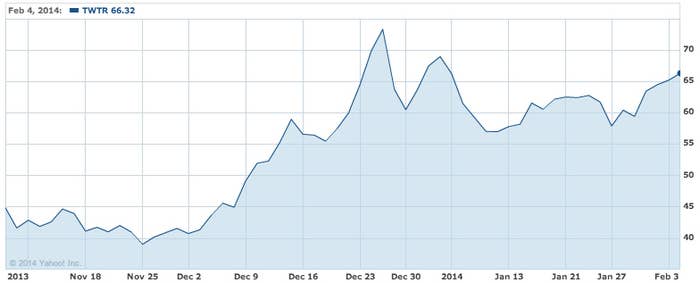 In order to continue to grow Twitter's business, it has to do a few things: find better ways to target advertisements so it can charge more for advertisements, build new advertising businesses so it can sell new ads, and increase its user base in order serve more ads across the board. While Twitter has done a good job convincing investors that it is building new advertising products, including some that would allow it to advertise on networks outside of Twitter, it still hasn't quite addressed a core question about its growth: can it get more users.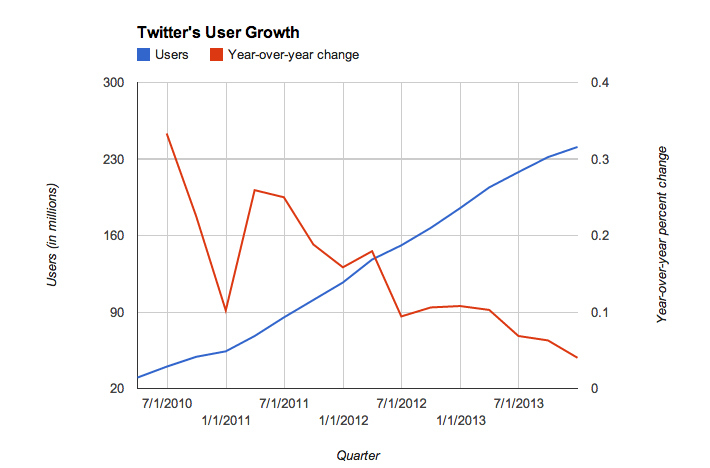 In addition, Twitter only added 1 million new users in the United States.
Prior to Wednesday's earnings announcement, Twitter had reached a share price higher than $73 and performed well on its opening day — erasing much of the fear that Twitter's IPO would be a repeat performance of Facebook's. However, shortly after the IPO, it became apparent how quickly the frenzy and excitement around Twitter died down, as evidenced by the diminishing day-to-day media coverage of the company.
Twitter's Timeline views — one of the ways Twitter measures engagement — also declined sequentially, one of the first times that has happened for the company, though they were still up year-over-year.
Twitter is projecting revenue between $1.15 billion and $1.2 billion this year, which would more than double its revenue for 2013.
Update: The post has been updated to include comments from Twitter's executives from the earnings call.