Twitter Now Has A Direct Line Into Your Living Room
In its battle with Facebook to control live conversations around TV, Twitter just took a massive leap ahead of its nemesis. It has announced a monster deal with Comcast that will give it direct access to your TV set-top box from a tweet.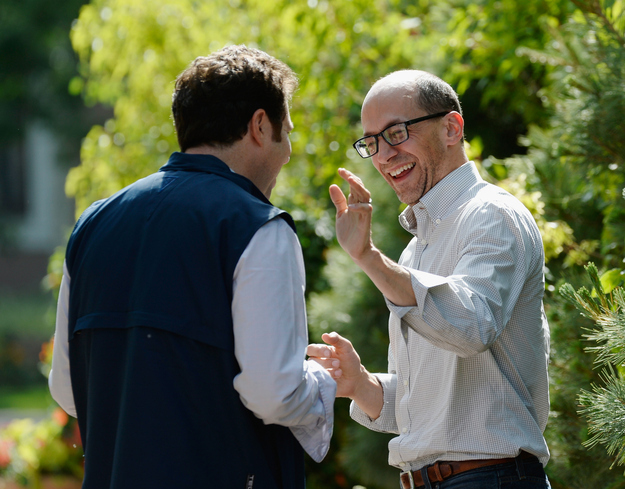 Twitter just signed a very, very interesting deal with Comcast, the largest pay-TV provider in the country with around 22 million subscribers.
Later this year, a new button will pop up in Twitter's cards that says "see it," which, when a Twitter user clicks on it, will reveal more information about the show — and give the user the option to view it live or record it on their Xfinity DVR.
The deal gives Twitter both direct access to people's living rooms and a huge advantage over Facebook, which is trying to push its way into live conversations around events like television shows.
It also further solidifies Twitter's umbilical cord to television at a key moment in its business evolution: Bankers are due to set out shortly on a roadshow to get investors to buy into Twitter's IPO in part by pitching its ability to sell advertising and generate revenue around live events like television shows. Having a deal in place with Comcast — which also owns the NBC broadcast network and cable channels USA, Syfy, Bravo, CNBC, and others — that allows the service to tie directly into the box that powers televisions in millions of homes across the United States will make for a convincing argument about Twitter's ability to grow and monetize.
"See It is a simple yet powerful feature that creates an instant online remote control," Comcast CEO Brian Roberts said in the release.
Sam Schwartz, Comcast's chief business development officer, told AllThingsD that Twitter was the company's social partner, though he did say it was "for now." Still, the lack of a mention of Facebook is telling.
Schwartz also told The New York Times that he expects other cable and satellite operators and network owners to sign up for the new service "pretty quickly."
For its part, Comcast has been trying to shed its identity as a traditional cable provider in favor of being a technology company — Roberts is frequently quoted as saying Comcast is a tech company. The deal speaks to the company's corporate ethos by allowing them to get ahead of other TV providers, whether it be Disney on the programming side or Time Warner Cable on the distribution side, when it comes to the interplay between social media and TV. For instance, while other cable distributors allow for remote DVR programming from their own apps, Twitter users won't even have to take an extra step of jumping out of the service to a specific app to record shows under the new deal.
A partnership like this also gives Twitter a way to measure its ability to direct users to a television show, a firehose that it could turn around and show to advertisers as well as other TV companies. There hasn't yet been a way to directly measure the overlap between Twitter users and the television show they are tweeting about.