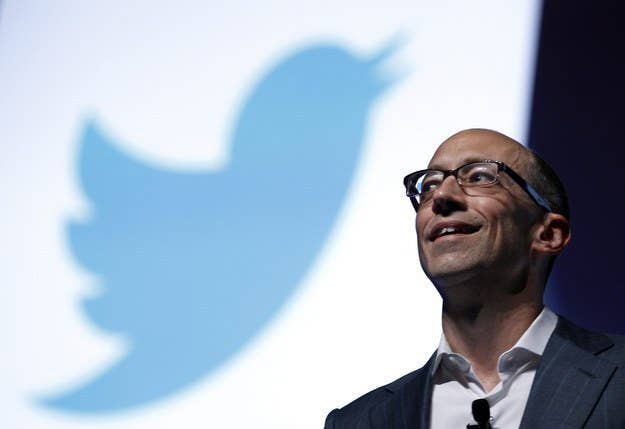 Twitter about met expectations set by investors for its growing user numbers, making slightly more money than expected — but that wasn't enough for Wall Street, sending the stock down about 10% and erasing about $3 billion in value for the company.
Twitter reported 284 million active users in the third quarter, up from 271 million in the second quarter this year. Without a major event like the World Cup, Twitter wasn't able to continue dramatically boosting its user base, suggesting that it needs flagship events like that to juice its numbers. Even though the company has been touting user activity around events like NFL games, it hasn't quite hit the highs that it achieved during the World Cup over the summer.
Even though it brought in more revenue than what Wall Street was expecting, Twitter's stock began tanking shortly after the earnings report came out. Analysts were expecting the company's user numbers would hit 284 million, which they did. Twitter said it brought in earnings of 1 cent per share, on $361 million in revenue. That too was in line with expectations.
User growth is an important metric for the company, which has to prove to investors that it can continue to grow, in turn, boost its advertising revenue. Last quarter, Twitter's user growth rate actually improved on a quarter-over-quarter basis, bucking a trend of slowing user growth that goes back to 2012.
Twitter also said its average timeline view per monthly active user, a proxy it uses to measure engagement, was down 7% worldwide year over year. The company has previously said it its work to improve the user experience may result in declining timeline views per monthly active user.
The last quarter was helped with a large number of people tweeting about the World Cup. At the time, CEO Dick Costolo said on the earnings call today that the company had 2 billion additional tweet impressions from across the web during the tournament.
Twitter said it expects to make between $440 million and $450 million next quarter. Analysts were expecting Twitter to report guidance of $448.1 million for the fourth quarter.
"Recall, second-quarter user metrics were much stronger than expected (user growth of 16 million quarter-over-quarter versus estimates in the 10 million to 12 million range) and the subsequent debate has been whether this metric was boosted primarily by the FIFA World Cup or the impact of the product changes," Sterne Agee analyst Arvind Bhatia wrote in a note.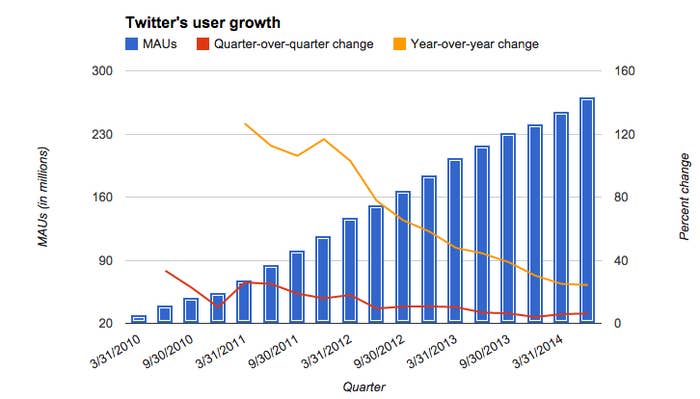 Twitter accounted for 0.5% of global digital ad revenues in 2013, according to eMarketer, and is expected to increase to 0.8% this year. By comparison, Facebook is expected to increase its share of the worldwide digital ad market from 5.8% in 2013 to 8% this year.
Twitter's advertising growth may soon transcend its user base. Last week, at the company's first developer conference, Twitter rolled out a suite of tools that would allow developers to let users sign in with their Twitter accounts and run ads powered by its mobile ad network, MoPub. That's a big change for Twitter, which has historically not been very receptive to developers and instead shifted its narrative of the Twitter "platform" to mean embedding content from Twitter on other parts of the internet.
Those new tools may increase the overall footprint of Twitter's advertisements, if developers choose to begin using them. If its new developer tools, like one that enables users to log in with just a phone number, become popular, it can increase Twitter's overall footprint among applications, and by extension the distribution of its advertising network.
While the stock is off from its highs after its mobile active user growth was lower than expected, Twitter's share price has found some stable footing through much of the quarter, hovering around $50. Should Twitter be able to continue growing its user base and rolling out new advertising tools, as well as expanding that advertising network, it can continue to grow its business — and in theory that should make investors a little more willing to return Twitter to its initial valuation shortly after it went public.