Twitter Begins Rolling Out Its Commerce Plans
The company is adding the option to buy products from within Twitter.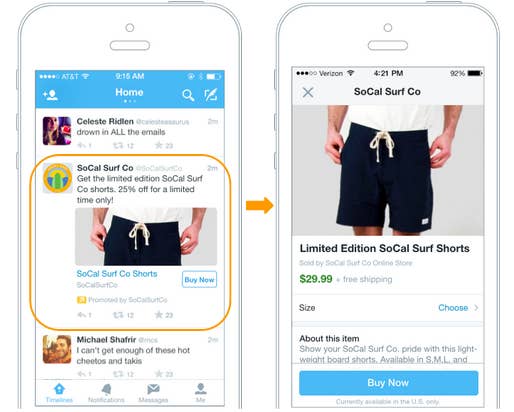 Twitter is beginning to roll out the option to buy products from within the app's timeline to a small percentage of its users.
The company is essentially handling all the details. Twitter will store its users' credit card information and shipping and billing addresses. Once a user decides to purchase something on Twitter, they tap to buy it and the company sends all the relevant info over to the merchant. Twitter is beginning the test with a few brands, musicians, and nonprofit organizations to start.
The goal for Twitter, as with Facebook, is to capture an impulse purchase by showing its users a product they might not realize they wanted to purchase. Twitter, like Facebook, knows what its users like based on the other accounts they follow, building up what is typically called in the industry an "interest graph." While Facebook is seen to have one of the strongest stores of data about its users — including real name, age, gender, location, and the things they like — Twitter too is making the case to investors that it also has a strong understanding of its users.
A Twitter user, for example, might follow a number of professional athletes and other sports-focused personalities on Twitter. In that case, Twitter could divine that the user is interested in sports, and using other data points, determine what kind of running shoes or pieces of fitness clothing to show to that user. The better the advertising, the more likely Twitter users are to buy those products — which in turn makes the ads much more valuable and can deliver additional revenue to Twitter.
"We built this test experience with your trust and security at the forefront. Your payment and shipping information is encrypted and safely stored after your first transaction, so you can easily buy on Twitter in the future without having to re-enter all of your information," group product manager Tarun Jain said in a blog post. "Of course, you can always remove this information from your account. Your credit card is processed securely and won't be shared with the seller without your permission."
In August last year, Twitter hired Ticketmaster CEO Nathan Hubbard to be the company's head of commerce. Signs of Twitter's commerce product, which include a partnership with payments provider Stripe (among others), began emerging in January this year.