The Same Old Problem Is Still Hounding Google's Money-Making Machine
Shares fell more than 5% after Google reported its earnings. Once again, the company is making less money off each advertisement.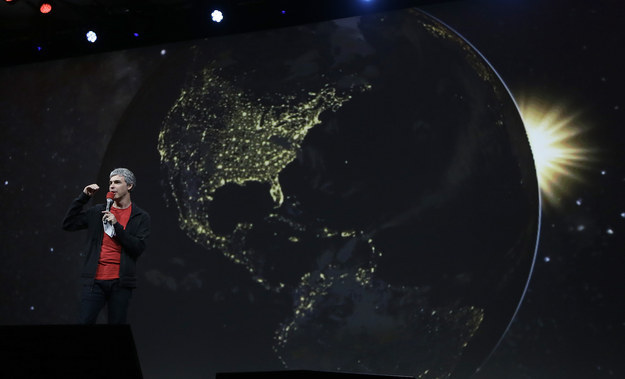 For all its talk of investing billions in "moonshots" like self-driving cars and wearable computers, Google still can't shake a nagging problem in its business model that supports all its crazy side projects.
Shares of Google fell more than 5% after it reported its first-quarter earnings as the company missed targets set by Wall Street analysts for both its earnings and revenue. A major culprit appears to, again, be a metric that is falling and has been for what seems like ages: the amount of money Google makes off each ad clicked (or "cost per click" in industry parlance).
Adding to Google's troubles is an increasingly volatile market, which has seen a broad sell-off in tech-based stocks ranging from advertising-based companies like Facebook, all the way to more insulated companies like Apple. What looks, on paper, to be a slight miss is less forgiving amid major turmoil across the tech industry as a whole.
This quarter it was down 9% when compared to the same quarter a year earlier. Google is making up for it in part with more advertisements clicked overall — paid clicks were up 26% compared to the same quarter a year ago — but it is a nagging problem that Google hasn't quite been able to solve.
Many industry watchers point to this as part of a wider shift in the way people use the internet, on their smartphones and tablets, rather than on laptops and PCs. Traditional-format advertisements, such as search advertisements and banner ads, on mobile devices tend to make less money, so they end up being worth less for larger providers.
That's part of the reason companies like Google and Facebook are trying to expand their portfolio of advertising products. Google, for its part, is making a bigger push into video advertisements, and investing in other areas. Some have been successful, as in the case of its mobile operating system Android and its browser Chrome; and some have been not quite so successful, such as its divestment in its Motorola Mobility smartphone manufacturing unit.
Unlike Facebook, however, Google hasn't quite cracked the code for mobile advertising. Facebook has already built a multibillion-dollar ad business on the strength of high-fidelity advertisements in its "News Feed" and its critically important and newer App Install Advertising unit, where app developers can pay Facebook to get people to install and access the app. For an advertising company, Google is appearing increasingly flat-footed compared to its younger rivals.